BWW Review: 'ANYTHING GOES!' at Westchester Broadway Theatre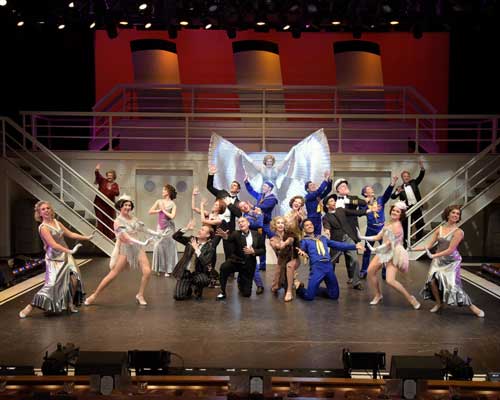 "Anything Goes," the crowd pleasing 1930's musical composed by Cole Porter, is back at Westchester Broadway Theatre with gusto! (Westchester Broadway Theatre's 206th performance!) This musical hearkens back to a time when characters were larger than life and amplifying singers was a sometime thing (after all, Ethel Merman, as Reno Sweeny sang to the back of the house and then some). The humor is broad, the mugging is shameless, and the plot tries for depth. However, the luscious score and tasteful arrangements are what make this production worth losing oneself in for a couple of hours.
Stacia Fernandez, as Nightclub singer/Evangelist Reno Sweeney, leads a hard-working cast with effortlessness in this highly energetic and well sung production. Ms. Fernandez immediately grabs hold of the audience with "I get a kick out of you" and never lets go. I've never really considered the roles of Billy Crocker and Hope Harcourt to be anything but conventional romantic characters, but Zach Trimmer and Jackie Raye were anything but; Triple threats, complete with Fred and Ginger staging and costumes made this pair stand out!
Of course, comic relief was in abundance with Jon J. Peterson as Moonface Martin and Kevin Pariseau, who stopped the show with "The Gypsy in Me." Mychal Phillips as Erma was lovingly ditsy. The ensemble tapped and sang so thrillingly, staged and choreographed by Richard Stafford. Such standout numbers include the title number "Anything Goes" and "Blow Gabriel Blow!" It took every ounce of self control for me not to get up and join in the chorus!
Everything from the musical direction by Patrick Hoagland, to the dazzling costumes by Keith Nielsen, and set design by Steve Loftus embodies the era. The usual theatre in the round at Westchester Broadway was lit professionally by Adam Gmoser. I always marvel at the way the platforms work to bring the actors to different levels, which was used to great effect - especially during the dance numbers.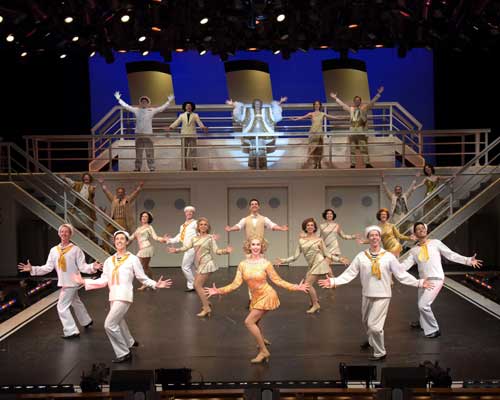 However, it is truly the score that keeps one from groaning at the twists and silliness of the plot. My fourteen year old son asked me why some of the songs were long, and I explained that Cole Porter needed to pack the lyrics with enough analogies to satisfy phrases such as the "Tower of Pisa" and the "Mona Lisa." Wordplay like that is truly a character of its own. The joy of being able to experience this show with him, "It's DeLovely!"
Reservations: Call (914) 592-2222. Also at: www.BroadwayTheatre.com
Group Reservations: Discounts for Groups of 20 or More: Call (914) 592-2225. Luxury Boxes: Call (914) 592-8730. For private parties of 6 to 22. Enjoy dining and theatre in an elegant private box. Additional features include an expanded dinner menu, hot and cold hors d'oeuvres, private powder room, and Luxury Box reserved parking.
Show Times:
Wednesday & Thursday & some Friday Matinees: Lunch: 11:30 am & Show 1 pm.
Thursday, Friday, & Saturday Evenings: Dinner: 6:30 pm & Show: 8 pm.
Sunday Matinees: Lunch: 12 pm & Show: 1:30 pm
Sunday Evenings: Dinner: 5:30 pm & Show: 7 pm.
Ticket Prices: Dinner & Show range between $59.00 to $89.00 PLUS TAX depending on the performance chosen. Beverage Service & Gratuities are not included in the ticket price. Discounts are available for children, students, and senior citizens at selected performances. Also check the website for on-going Special Offers!