BWW Review: AIN'T MISBEHAVIN' at Westchester Broadway Theatre
Back in the early '80s, when artists like Madonna, Prince, and Michael Jackson were all the rage, I was burning through my cassette tape of a musical that my father suggested I give a listen. It was a musical conceived in 1978 called "Ain't Misbehavin." The cover art popped with colors and imagery of Harlem, but there were no conventional musical theater hooks - especially for a middle school girl who lived to play "Annie" on Broadway.
However, the moment Nell Carter's opening vocals in "Honeysuckle Rose" make their entrance, I knew that this was my newest obsession. When I got past Ms. Carter's brilliance and quality of voice, I began to study Fats Waller's music and complex arrangements. Not only did he play piano like a virtuoso, but his songs and biting lyrics have not lost their luster. Lyrics such as "One Never Knows, Do One" and "your Peddelic Extremities are colossal" are just some of the cleverness of Fats Waller's point of view.
The Harlem Renaissance is wonderfully represented at Westchester Broadway's newest production of "Ain's Misbehavin'." It is also touching to have Richard Maltby, Jr., who conceived the original Broadway production with Murray Horowitz, direct this actual production and witness him on opening night to accept a special award.
"Ain't Misbehavin'" is basically a musical revue with the band and an upright piano on stage. Willian Foster McDaniel does double duty as the pianist and music director and it shows in the
tightness of overall musical ensemble. In fact, the musicians should be recognized as actors since they are onstage for most of the show and convey such happiness throughout!
The hardworking cast truly gives one hundred percent in singing, dancing, and liveliness. Most of the numbers require complex movements and Arthur Faria's original choreography is completely intact. What is interesting is the original actors from the Broadway production are the characters names in this reimagining. M. Martine Allard as Nell, Ron Lucas as Andre, Tony Perry as Ken, Amy Jo Phillips as Armelia and Anita Welch as Charlaine are all solid singers and the stark moment of "Black and Blue" is a vocal highlight by having them all sing in harmony with only miniscule underscoring.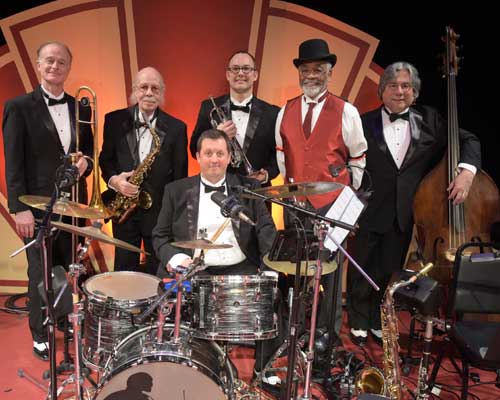 In contrast of that moment was Ms. Welch and Mr. Lucas's interplay in the entertaining "How ya Baby" in which they danced together with infectious joy. It was hard to keep from going onstage and joining them. Of course, my tape completely died in the past by overplaying the Finale, and Westchester Broadway atre did not disappoint!
There were some sound glitches in the first act, but generally, the creative team had it down. Keith Nielsen's costumes evoked the Harlem era with vibrant colors. Steve Loftus's set burst as well with eye-catching designs. Andrew Gmoser's lighting ably showed where one's attention should go during each moment.
"Ain't Misbehavin'" might not be on the tips of Musical Theater tongues this day and age, but it is quite an important work. Mr. Maltby is very generous to come back and direct it again for this new generation. If anyone is interested in studying jazz or the arts, this production would be most worthy.
"Ain't Misbehavin'" runs at Westchester Broadway Theatre, One Broadway Plaza, Elmsford, NY, through February 24, 2019. Wednesday, Thursday & some Fridays 1pm. Thursday, Friday & Saturday 8pm. Sunday 1:30pm. Sunday 7pm. Running Time: 130 Minutes
Tickets are $59.00 to $89.00 including lunch or dinner, not including Beverage Service & Gratuities. Meal service begins 90 minutes before curtain and seating is reserved. Visit BroadwayTheatre.com or call 1-914-592-2222 for more information.