Oregon Shakespeare Festival 2018 Season Opens 2/23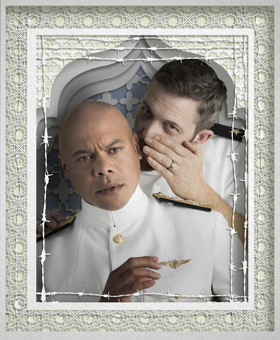 The Tony Award-winning Oregon Shakespeare Festival will launch its 83nd year with preview performances beginning on February 16. The 2018 season officially kicks off Friday night, February 23, in the Angus Bowmer Theatre with Shakespeare's Othello (director, Bill Rauch). On Saturday afternoon, Shakespeare's Henry V (director, Rosa Joshi) opens in the Thomas Theatre, and the West Coast premiere of Kate Hamill's adaptation of Jane Austen's novel Sense and Sensibility (director, Hana S. Sharif) opens that evening in the Angus Bowmer Theatre. On Sunday afternoon, Karen Zacarías's Destiny of Desire (director, José Luis Valenzuela) will be staged in the Angus Bowmer Theatre.
"I'm thrilled to share a playbill that strives for radical inclusion through illuminating productions of new and classic plays and celebrates OSF as an essential destination for new and returning audiences alike," said OSF Artistic Director Bill Rauch. "Now more than ever, we need to remind ourselves of what makes us human."
Once again U.S. Bank will sponsor the season. "For nearly four decades we've been honored to participate in celebrating the arts with the Oregon Shakespeare Festival," said Gloria Schell, U.S. Bank region president for southern Oregon and northern California. "We are excited for the 2018 season as OSF continues their mission to provide an exquisite lineup of performances."
The 2018 season is dedicated to the memory of beloved actor and 14-season company member G. Valmont (G. Val) Thomas, who passed away in December after his battle with cancer. "I am filled with gratitude to have known this man of such great of artistry and generous spirit," Rauch said. "As a company we are striving to create a season that will fully honor G. Val's deep reserves of creativity, playfulness and love of storytelling."
The full 2018 playbill includes Othello, Sense and Sensibility, Destiny of Desire, Rodgers and Hammerstein's Oklahoma! and Snow in Midsummer in the Angus Bowmer Theatre; Henry V, Manahatta and The Way the Mountain Moved in the intimate Thomas Theatre; and Romeo and Juliet, The Book of Will and Love's Labor's Lost in the outdoor Allen Elizabethan Theatre.
Preview and opening audiences will be the first to experience the results of the completion of Phase III of OSF's Access for All project. This phase has added five more wheelchair seats to the Angus Bowmer Theatre, bringing the total to seven seats, along with additional companion seating. Supported by Lead Donors Joel Axelrod and Dr. Judy Yin Shih, Access for All was launched in November 2016 to improve OSF's campus and create a more welcoming and accessible space. The first two phases added an elevator in the Angus Bowmer Theatre, a wheelchair lift in the Allen Elizabethan Theatre and a material lifts between the two theatres, and eased the central courtyard's steep grades, making the Bricks more mobility friendly and easier to navigate. A new Green Show stage was installed with improved lighting and sound, and seating was added for Green Show audiences. New lighting was installed to increase safety, and signage was placed to assist in way-finding.
Opening in February
Othello (February 16-October 28) by William Shakespeare
Lead Sponsors: U.S. Bank, Helen and Peter Bing, Bertie Bialek Elliott (Buffett Fund of the Community and Foundation for Monterey County); Sponsor: Jim Collier; Partners: The Birrell Family, Peter and Jane Carpenter, Jerome L. and Thao N. Dodson.
The Moor Othello, a celebrated general but also an outsider, shares a boundless love with Desdemona, a Venetian aristocrat. They marry, defying her family and social convention, and those who once praised the Moorish general now reject his marriage. The newlyweds are determined to overcome their bigotry, but Iago, Othello's military aide whose hatred and demons know no bounds, is resolute in undermining Othello and his marriage.
Bill Rauch directs one of Shakespeare's most intimate tragedies. In a recent interview, he describes the play as one in which "...Shakespeare aggressively tackles how a society navigates difference, in particular race, national origin and religious bigotry. Given all the struggles we are having as a society to navigate difference right now, it's an absolutely urgent story to tell." The intimacy of the play is reflected in its two and three-person scenes. Rauch has chosen to cast only 12 actors in the production-the smallest cast OSF has had in a long-running Angus Bowmer production-in order to increase the pressure of the plot in which the characters' lives unravel. The setting of the production will be contemporary America (Venetia) and Cyprus, with a naval military structure.
The cast features Chris Butler as Othello, Danforth Comins as Iago, Alejandra Escalante as Desdemona, Derek Garza as Cassio, Stephen Michael Spencer as Roderigo, Amy Kim Waschke as Emilia, Richard Howard as Brabantio/Kosta, Barzin Akhavan as Montano/Security Officer, Richard Elmore as Duke of Venice/Hektor, Rainbow Dickerson as Bianca/Security Officer, James Ryen as Lodovico/Sailor, and Sheila Tousey as Gratiana/Andela.
Scenic design is by Christopher Acebo; costumes by Dede M. Ayite; lighting by Xavier Pierce; composition and sound design by Andre J. Pluess; projection design by Tom Ontiveros. Dawn Monique Williams is production dramaturg; Barry Kraft is textual consultant; Rebecca Clark Carey is voice & text director; Shannon Davis is Phil Killian Directing Fellow; U. Jonathan Toppo is fight director and Gwen Turos is stage manager.
Henry V (February 21-October 27 by William Shakespeare
Sponsors: Hitz Foundation, Jed and Celia Meese Foundation
OSF's journey through Shakespeare's history tetralogy continues after 2016's run of Richard II, and 2017's productions of Henry IV, Part One and Part Two. Once again, the Festival's intimate Thomas Theatre will play host to the political intrigues, machinations and battles of early 15th-century England, and Daniel José Molina completes his immersive three-play transformation from reckless party-boy Prince Hal to the shrewd and ruthless young leader, King Henry V.
Seattle-based Rosa Joshi makes her OSF directorial debut with this play-one of Shakespeare's most popular and oft-quoted works. She has directed numerous Shakespearean plays, including the history plays, which she views as less historical and more political, focusing on how leaders' personalities and political and military strategies draw their countries into wars. As a director she likes to explore how these plays speak to modern audiences, particularly how the plays reflect on the significant impacts the personalities these leaders can have on the course of history. (Watch her interview here.) The setting of this play will reflect both a medieval and modern sensibility and will invite audiences to engage their imaginations in creating the world that is onstage.
The cast features Daniel José Molina as Henry V, Jessica Ko as Katherine/Montjoy/Boy, Michele Mais as Hostess Quickly/Alice/French Ambassador, Rex Young as Fluellen/King of France/Canterbury, Moses Villarama as Dauphin/Bishop of Ely/Gower, Shyla Lefner as Salisbury/Orleans, Shaun Taylor-Corbett as Nym/Cambridge/Bates, Robert Vincent Frank as Bardolph/Scroop/Williams, Jeremy Gallardo as Bedford/Burgundy/French Soldier, Kimberly Scott as Pistol/Grey/Governor, Tyrone Wilson as Exeter, and Christopher Salazar as Westmoreland/Constable/Macmorris/Messenger.
The scenic designer is Richard Hay, costumes are by Sara Ryung Clement, and lighting design is by Geoff Korf. The composer and sound designer is Palmer Hefferan, choreographer is Alice Gosti, production dramaturgs are Amrita Ramanan, and Alan Armstrong. Voice and text director is David Carey; fight director is U. Jonathan Toppo, and Jill Rendall is stage manager.
Sense and Sensibility (February 17-October 28) Adapted by Kate Hamill and based on the novel by Jane Austen; West Coast Premiere
Lead Sponsor: McMurtry Family Foundation; Producing Sponsor: Louise L. Gund; Sponsors: The Robert and Star Pepper Foundation, Betty and Jack Schafer; Partners: Lynne Carmichael, Samuel Dakin and Skye Taplin Dakin, Carole Howard
Kate Hamill's lively adaptation of Jane Austen's sparkling romance is full of comedic surprises and wicked social commentary. Life takes a sudden turn when Mrs. Dashwood and her three daughters lose their home, thrown out by their selfish half-brother. With no money to speak of, marriage prospects look bleak, but when love comes calling, the family is thrown into a tangle of gossip, scandal and unexpected fortune.
Hana S. Sharif, associate artistic director at Baltimore Center Stage and a passionate Jane Austen fan, will direct in her OSF debut. She has commissioned, directed and produced a world-premiere adaptation of Pride and Prejudice at Baltimore Center Stage, so she was thrilled to direct this adaptation of Sense and Sensibility. The setting will be true to period with its beauty and glamor, but with the wit and energy of a 21st century adaptation. (View her director interview.)
The cast features Nancy Rodriguez as Elinor Dashwood, Emily Ota as Marianne Dashwood, Kate Mulligan as Mrs. Dashwood/Gossip, Samantha Miller as Margaret Dashwood/Lucy Steele/Gossip, Amy Newman as Fanny Dashwood/Gossip, K.T. Vogt as Mrs. Jennings/Gossip, Kevin Kenerly as Col. Brandon/Gossip, Armando McClain as Edward Ferrars/Gossip, Nate Cheeseman as Willoughby/Robert Ferrars/Gossip, Michael J. Hume as Sir John Middleton/Gossip/Doctor/Mr. Dashwood, Brent Hinckley as John Dashwood/Thomas/Gossip, and Lauren Modica as Lady Middleton/Gossip/Anne Steele/Charlotte.
Scenic design is by Collette Pollard; costume designer is Fabio Toblini; lighting designer is Rui Rita; composer and sound designer is Justin Ellington, and choreographer is Jaclyn Miller. Production dramaturg is Lydia G. Garcia; voice & text director is Robert Ramirez; U. Jonathan Toppo is fight director and D. Christian Bolender is stage manager.
Destiny of Desire (February 18-July 12) by Karen Zacarías.
Partner: Julian and Willie Sue Orr
In Karen Zacarías's hilarious, provocative and revolutionary send-up of the telenovela genre, women take power over their futures, their families and their destinies. Two girls-one rich but sickly, one poor and healthy-are switched at birth by a scheming beauty queen. Eighteen years later, things fly apart when the two women meet, become friends and fall for men they are forbidden to love.
José Luis Valenzuela directs this effervescent musical production, with nods to Shakespeare's comedies and Brecht's epic theatre. He has directed the play at Arena Stage, Goodman Theatre and South Coast Repertory. Valenzuela is the Artistic Director of the Latino Theater Company and the Los Angeles Theatre Center (The LATC) and a professor of theatre at UCLA where he heads the MFA Directing Program. The LATC produces and presents programing that represents the diversity of Los Angeles. (For more information about DESTINY OF DESIRE, view his director interview here.)
Zacarías's award-winning plays include The Book Club Play, Just Like Us, Legacy of Light, Mariela in the Desert, The Sins of Sor Juana and How the Garcia Girls Lost their Accents. She is a commissioned playwright through OSF's American Revolutions and is working on the adaptation of Edith Wharton's The Age of Innocence for that project.
The cast of DESTINY OF DESIRE features Adriana Sevahn as Hortencia Del Rio, Eddie Lopez as Ernesto Del Rio, Ella Saldana North as Victoria Maria Del Rio/Nurse 1, Armando Durán as Armando Castillo, Vilma Silva as Fabiola Castillo, Esperanza America as Pilar Esperanza Castillo/Nurse 2, Eduardo Enrikez as Sebastian José Castillo/Paramedic 1/Cop 1, and Al Espinosa as Dr. Jorge Ramiro Mendoza/Casino Dealer/Cop; Fidel Gomez as Dr. Diego Mendoza/Paramedic 2/Cop 2, Catherine Castellanos as Sister Sonia and Agustín Lara as Juan Manuel Rivera Colón (Pianist).
Music is by Rosino Serrano, scenic design is by Francois Pierre Couture, costume design by Julie Weiss, lighting design by Pablo Santiago, and sound design by John Zalewski. Music Director is Deborah Wicks La Puma, choreographer is Robert Fleming, and Assistant Costume Designer is Carolyn Mazuca. Production dramaturg is Julie Felise Dubiner; Robert Ramirez is voice & text director; U. Jonathan Toppo is fight director and Jeremy Eisen is stage manager.
Biographies of directors, designers and actors for the 2018 season can all be found at www.osfashland.org/.
Previews, Openings and Tickets
Tickets remain available to previews and most opening performances. Please check ticket availability at www.osfashland.org or call the Box Office at 800-219-8161.
Preview and opening times and dates are as follows:
Othello Friday, Feb. 16, 8 p.m. (preview)
Othello Tuesday, Feb. 20, 8 p.m. (preview)
Othello Friday, Feb. 23, 8 p.m. (opening)
Henry V Sunday, Feb. 21, 8 p.m. (preview)
Henry V Thursday, Feb. 23, 8 p.m. (preview)
Henry V Saturday, Feb. 24, 1:30 p.m. (opening)
Sense and Sensibility Wednesday, Feb. 17, 8 p.m. (preview)
Sense and Sensibility Thursday, Feb. 21, 8 p.m. (preview)
Sense and Sensibility Saturday, Feb. 24, 8 p.m. (opening)
Destiny of Desire Saturday, Feb. 18, 8 p.m. (preview)
Destiny of Desire Wednesday, Feb. 22, 8 p.m. (preview)
Destiny of Desire Sunday, Feb. 25, 1:30 p.m. (opening)
The Oregon Shakespeare Festival's 2018 season runs from Feb. 16 through Oct. 28.
Founded by Angus Bowmer in 1935, the Oregon Shakespeare Festival (OSF) has grown from a three-day festival of two plays to a nationally renowned theatre arts organization that presents an eight-month season of up to 11 plays that include works by Shakespeare as well as a mix of classics, musicals, and world-premiere plays and musicals. OSF's play commissioning programs, which include American Revolutions: the United States History Cycle, have generated works that have been produced on Broadway, throughout the American regional theatre, and in high schools and community theatres across the country. The Festival draws attendance of more than 400,000 to approximately 800 performances every year and employs approximately 575 theatre professionals.
OSF invites and welcomes everyone, and believes the inclusion of diverse people, ideas, cultures and traditions enriches both our insights into the work we present on stage and our relationships with each other. OSF is committed to equity and diversity in all areas of our work and in our audiences.
OSF's mission statement: "Inspired by Shakespeare's work and the cultural richness of the United States, we reveal our collective humanity through illuminating interpretations of new and classic plays, deepened by the kaleidoscope of rotating repertory."
Photo: Chris Butler (Othello), Danforth Comins (Iago).