BWW Review: Jenn Colella Soars in PETER PAN at the Benedum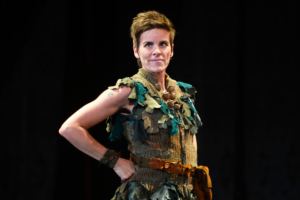 I won't grow up! And I don't have to watching the CLO's production of Peter Pan. The timeless musical brings all of the whimsy and adventure to life on stage, but the magic of this performance does not come just with the story; talented actors and a renowned choreographer/director take this production to new heights.
Peter Pan, as popularized by Disney in 1953 and Broadway in 1954, is the story of a young adventurous lad, originally put on paper over a century ago by Sir J.M. Barrie. Peter and his group of Lost Boys live in Neverland, where they battle pirates and Indians, all the while never growing up.
For the Pittsburgh CLO's production, Jenn Colella assumed the title role and offered a simply marvelous portrayal of the boy. Everything from Ms. Colella's mannerisms to her cadence mimics that of a young boy, making her role even more comedic than what is written. Ms. Colella's stage presence is also unsurprisingly intoxicating.
But Ms. Colella doesn't need the pixie dust to soar in this production; her uncanny voice and mastery of the role made her performance the best theatrical performance in Pittsburgh this summer.
Of course, what would Peter Pan be without its cast of characters? Accompanying Peter to Neverland to meet the Lost Boys are Wendy (Lori Eve Marinacci) and the Darling children. Once in Neverland, the Lost Boys play adventure, including battling Captain Hook (Charles Shaughnessy) and his pirates, and eventually making peace with the Indians. A high point of the show came from the choreographed Indian dances.
Patti Colombo, a highly accomplished choreographer and director, brings her talents to the Pittsburgh stage for this production. In addition to "Neverlander Dance," over a dozen actors join in on the 5- (maybe even 6-, 7-, or 8-) minute choreographed number "Ugh-A-Wug," involving a large drum and each actor beating drumsticks. Despite getting off 1/8th here and there, the number impressed and (surely) exhausted!
This musical ticks a timeless beat through its infectious music and loveable story. It allows children to see playtime and make-believe brought to life on stage. It allows adults to suspend their disbelief and be taken to a time where showering was a chore and stories accompanied us to sleep.
Peter Pan, though steeped in cultural norms of the past, is pure at its heart. Songs like "I Won't Grow Up" and "I'm Flying" leave audiences humming into the night. With a little bit of magical pixie dust from Tinker Bell, Peter Pan flies audiences on a memorable journey.
To see or not to see score: 7/9; Recommended Show

Photo By: Matt Polk
Related Articles View More Pittsburgh

Stories

Shows