Review: GREY GARDENS Blossoms at the New Hazlett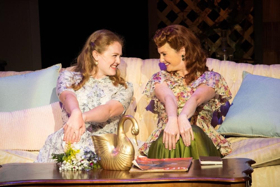 A family of riches and elegance surrounded by the decrepit conditions of a deteriorating estate: the paradox is suitable for the equally paradoxical name of Front Porch Theatrical's summer musical, Grey Gardens.
The gardens, filled with laughter, vibrancy, and life in 1941, depicts the lives of the Beale family as they prepare for the engagement party of Young Little Edie Beale (Kaylie Mae Wallace). She is the daughter of singer Edith Bouvier Beale (Daina Michelle Griffith) and contends with her mother, who insists on showcasing her musical talent and all but overshadowing her daughter's celebration.
"But...Mother darling, Let a daughter have her day," Little Edie exclaims in her song "Mother Darling." Indeed, this crusade may be in vain as the rest of the production documents this mother-daughter toxic, but symbiotic, relationship.
As it might help to provide some further context at this time, Grey Gardens is a musical based off the 1975 documentary of the same name. The musical was well received on Broadway, and the film was renowned amongst documentaries.
The documentary offers a glimpse into the life of the Beale's on the dilapidated property. Cousin and aunt to Jackie Kennedy Onassis, the mother and daughter were far from what most would associate with the privileged lifestyle of East Hampton.
The 2006 musical adaptation, with book by Doug Wright, music by Scott Frankel and lyrics by Michael Korie, weaves in some fact, some fictions, and some comedy that only becomes humorous when properly performed on stage.
Take the role played by Ms. Griffith, for example. In the second act, she is Little Edie, as the second act takes place almost three decades after the first. She breaks the fourth wall, as was seemingly done in the documentary, but her vivacious acting illuminates the text (she's even unafraid to call out a patron if their phone is ringing during the show). Likewise, she reaches out and touches the audience with her heartfelt rendition of "Will You?"
The production staff behind the work should be lauded too, as Robyne Parrish directs. With the sole scene change taking place between acts, Johnmichael Bohach's two designs encapsulate the mood of the show while Julianne D'Errico's costumes reveal more of each character than words have to offer.
At times, Grey Gardens is zany and light, with pithy jokes and pleasant moments. At other times, like the contradiction it is, Grey Gardens is depressed and somber, with moments of unabridged realness. See these moments and many more through August 26 at the New Hazlett Theater in Pittsburgh.
To see or not to see score: 6/9; Moderately Recommended Show
Photo Credit: Deana Muro