Squidsoup Returns to SMoCA, Making Canal Convergence Debut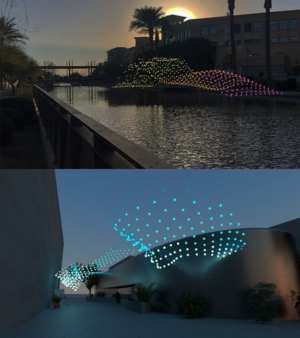 Squidsoup, the artist studio behind the popular 2017 exhibition "Ocean of Light: Submergence" at Scottsdale Museum of Contemporary Art (SMoCA), is returning to the city with two new installations - one at SMoCA and one at the Scottsdale Waterfront for 2019 Canal Convergence | Water + Art + Light.
"As SMoCA celebrates its 20th anniversary this year, we have looked back to meaningful moments in our history, and 'Ocean of Light: Submergence,' with its unprecedented popularity, stands out as a high point," said Jennifer McCabe, SMoCA director and chief curator. "Long wanting a light-based installation outside the Museum, it made sense to invite Squidsoup back to mark this important anniversary."
"Murmuration," a site-specific artwork, will use a networked data system to connect hundreds of lights and audio sources, creating a responsive data swarm. During the daytime, "Murmuration" will offer a harmonious auditory experience, but when the sun goes down, a dynamic audiovisual experience will swirl around the Museum like its namesake - a term for a flock of starlings whirling in unison through the sky.
Anthony Rowe, founder of Squidsoup, said it is an honor to return to SMoCA after the welcoming reception his studio received in 2017 and because Scottsdale Arts is on the same "wavelength" as Squidsoup. Because SMoCA and Scottsdale Public Art are both branches of Scottsdale Arts, having Squidsoup return to the Museum paved the way for the studio to bring another installation, "Standing Wave," to Canal Convergence, which is managed by Scottsdale Public Art.
"Scottsdale Public Art is delighted to work with SMoCA on having Squidsoup's art installations on display at Canal Convergence as well as at the Museum," said Kim Curry-Evans, director of Scottsdale Public Art. "Squidsoup's artwork is a perfect fit for Canal Convergence, which features interactive light-based installations."
"Standing Wave" is the first artwork to be announced for Canal Convergence, a 10-day event running from Nov. 8-17. The installation will use 600 interconnected orbs of light and sound to simulate a wave over the Arizona Canal. The orbs will act in choreographed harmony to create a series of emotive and enticing environments, referencing standing waveforms in canyons and canals.
Jennifer Gill, public art manager for Canal Convergence, said it is exciting to kick off Canal Convergence 2019 news with the announcement of "Standing Wave." The free public art event saw its most successful year yet in November 2018, drawing more than a quarter-million attendees to the Scottsdale Waterfront.
"'Standing Wave' is just the first of many captivating, interactive artworks to be featured at this year's event," Gill said. "We'll be announcing the rest of the lineup soon."
The artwork is part of Squidsoup's Wave series, which also includes "Desert Wave," an installation the studio is developing for Burning Man. Rowe said the installations will be presented as a pair: "Desert Wave" at Burning Man in August and "Standing Wave" at Canal Convergence in November.
"The works will contrast the wild expanse of the Nevada desert with the controlled urban waters of the Arizona Canal," Rowe said.
Because "Standing Wave" and "Murmuration" are outdoor installations and designed to respond to their environments, Rowe said they will be "much more in dialogue with the surrounding spaces" than "Ocean of Light."
Based in the United Kingdom, Squidsoup is an international group of artists, researchers, technologists and designers who work with digital interactive media experiences. Rowe said their works are deliberately abstract to allow people to draw their own conclusions and meanings from the art.
"From my perspective, the aim is to beguile, entrance, intrigue - and to use digital processes to create abstract but evocative experiences," he said.
Julie Ganas, curator of programming at SMoCA, said the Museum is thrilled to bring Squidsoup back to Scottsdale. "Murmuration" will be installed in early November, just prior to Canal Convergence, and remain through spring 2020.
"'Ocean of Light' was a meaningful milestone for the Museum, and we enjoyed working with Squidsoup so much we knew we wanted to invite them back," Ganas said.
SMoCA's partnership with Scottsdale Public Art in commissioning the installations includes plans for a joint artist talk with Squidsoup at SMoCA at 7 p.m. Nov. 7, the night before Canal Convergence begins.
"We are honored to act as an extension of Canal Convergence, linking these two sites together and providing more opportunities for the community to engage with these exciting works," McCabe said.
For the initial information about Canal Convergence 2019, visit CanalConvergence.com. For information about SMoCA's current exhibitions, including "Mutual Reality: Art on the Edge of Technology," visit SMoCA.org.
Photo Credit: Squidsoup
Related Articles View More Phoenix Metro

Stories

Shows