BWW Review: THE PLAY THAT GOES WRONG National Tour at Gammage Auditorium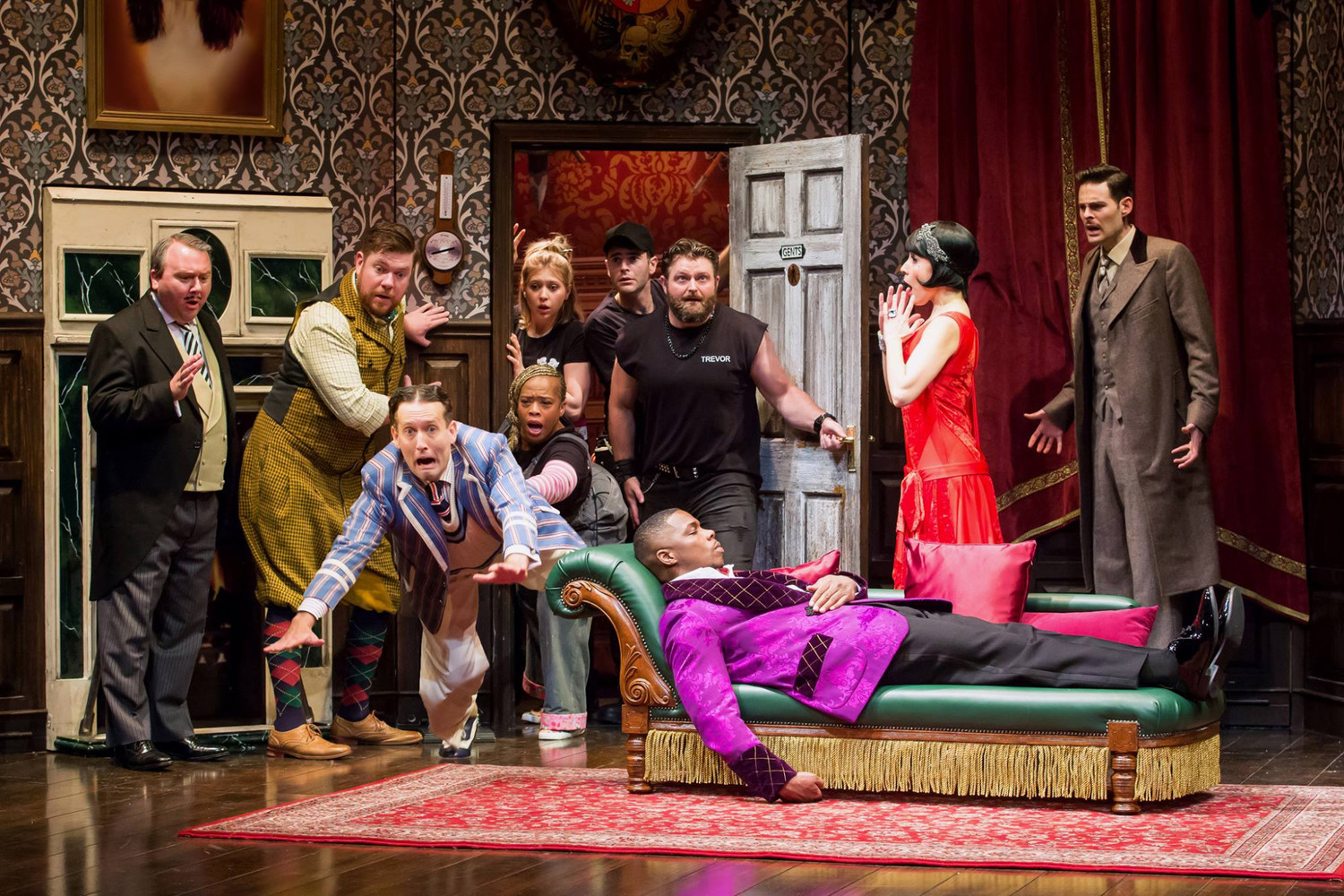 I may never have heard so much laughter in Gammage Auditorium as I did last night.
THE PLAY THAT GOES WRONG, the play-within-play by Henry Lewis, Jonathan Sayer, and Henry Shields, demonstrates over and over why stage comedy will always surpass film: the art of holding for laughs. An audience can enjoy any comedy (stage or film) so much that they curb their laughs in an effort to not miss a line. Often, a brilliant comedy first viewed in a movie theater has noticeably more humor in the Netflix viewing as many of the best moments were previously drowned out by high-volume crowd laughter. Really skillful holding can even be funnier than the joke itself. (Think Eddie Izzard.) This masterful eight-person cast uses that tool and dozens of others to have the audience laughing at length for a full evening of much needed comic escapism.
The show's success began in 2012 when it premiered at pub theatre in London. It transferred to a larger theatre, then toured the UK before opening on the West End in 2014 and Broadway in 2017. Just like the title says, it's the kind of live-theatre-gone-awry madness that fans of WAITING FOR GUFFMAN and NOISES OFF must be certain to see.
Upon entering the theater, we discover we are seeing "The Murder at Haversham Manner", an Agatha Christie style murder mystery produced by The Cornley University Drama Society. Similar to NOISES OFF, there is a program within the program giving us a window into the Cornley troupe when we see fictional director and cast member, Chris Bean (played impeccably by Evan Alexander Smith), is also listed in eleven other title page credits from costume designer and prop maker to box office and PR. This entirely active lack of fourth wall conceit opens up a whole set of comic possibilities and brings the audience in as the show's ninth cast member. (I'm still not sure if the gentleman brought onstage to help with last minute set repair was a plant or not.) Free to address the audience, Chris Bean stops the play at one point and admonishes the patrons for laughing at his work that is meant to be taken seriously. Moments like that give THE PLAY THAT GOES WRONG an extra kick that pushes it well above camp and into comic metatheatre. It's as clever as it is outrageous.
The precise and gymnastic staging by Matt DeCarlo and Mark Bell is a marathon sprint. Increasingly outrageous set and prop failures, injurious door openings and closings abound. Particular credit should be given to the show's stage manager. The fictional stage manager of "The Murder at Haversham Manor" (an audience favorite Brandon J. Ellis) is terrific, but I'm talking about the actual person calling the cues for THE PLAY THAT GOES WRONG, production stage manager Jeff Norman, who has no less comic timing than anyone on stage.
Patrons should arrive at the theatre ready to let go of any pretense. Buying into bizarre anarchy is necessary to enjoy this entirely fun comic obstacle course.
THE PLAY THAT GOES WRONG runs at Gammage Auditorium through March 24th.
Related Articles View More Phoenix Metro

Stories

Shows