BWW Review: Arizona Theatre Company Presents NATIVE GARDENS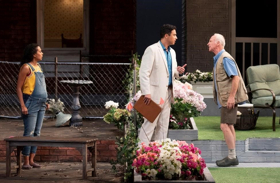 Why is Karen Zacarías "one of the most produced Latina playwrights in the nation?" The answer lies in the boldness and honesty of her work (Mariela in the Desert, Destiny of Desire, The Book Club Play), a voice given to "pushing boundaries and shattering biases one laugh at a time."
In NATIVE GARDENS, the boundary in question is the property line between the homes of neighborhood newcomers, Tania and Pablo Del Valle, and long-time residents Frank and Virginia Butley. When the newbies discover (what they should have ascertained during inspection?) that the Butley's have (unintentionally?) "encroached" on their land, their yards become the scene of a border war. The couples hurl assumptions about motives (thus, the ? marks in the parentheses) and (when civility and all else fails) accusations of racism, ageism, sexism, privilege, and environmental abuse that mirror the macro divisions that rip at our national fabric.
Ms. Zacarías's way with words, crisp and pointed and uninhibited, force the kind of laughter that comes with the recognition of familiarity. She mirrors the conflicted vernacular and controversies of our time.
In Arizona Theatre Company's Season-opening production of NATIVE GARDENS, directed by Jane Jones, the bloom is in the performances of four actors who are fountains of vibrancy:
Arlene Chico-Lugo, bursts with vim and vigor as Tania ~ a "New Mexican," pregnant, completing her dissertation, and as determined to restore the native plant habitat as neighbor Frank (played with gusto by Bill Geisslinger) is to preserving his almost-prize winning ivy and geraniums. Geisslinger is hilarious as his Frank reverentially kneels to and inhales his beloved plants (fawning over the fauna, if you will), now endangered by the "building of a wall" and the movement of the property line. Keith Contreras (Pablo) exemplifies the ambitious young lawyer who precipitates the hostilities by having impulsively invited the members of his prestigious firm to an as yet unfinished home. Robynn Rodriguez is splendid as Virginia whose indignation borne of her own trials in the workforce boils with every one of Tania's attempted apologies and efforts as reconciliation.
The stakes in this feud escalate until Zacarías conveniently and symbolically creates a common ground upon which these gardeners can find resolution.
Ms. Jones has directed a compelling and entertaining play, embellished by song bits that reflect the theme of a scene, Carey Wong's magnificent set, and the animated and grooving ensemble of landscapers (Victor Arevalo, Jordan-Kerry Mitchell, Christian M. Nicholas, and Sonia Rodriguez Wood).
Following its initial run in Tucson, this production of NATIVE GARDENS continues through October 21st at the Herberger Theater Center in Phoenix.
Photo credit to Tim Fuller
Related Articles View More Phoenix Metro

Stories

Shows