BWW Review: Arizona Broadway Theatre Presents SISTER ACT - A Class Act!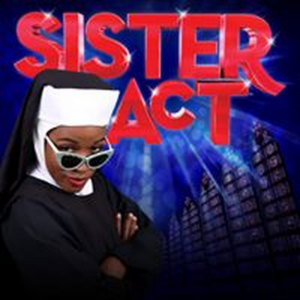 "Get thee to a nunnery" may seem an unlikely prescription for witness protection. However, for wannabee singing star Deloris Van Cartier, taking refuge with the Holy Order of the Little Sisters of Our Mother of Perpetual Faith turns out to be the soul-saving opportunity of a lifetime.
As the one on the run as a nun, Khadijah Rolle is the class act around which SISTER ACT revolves. (The musical, based on the popular 1992 film featuring Whoopi Goldberg, is Arizona Broadway Theatre's current production, directed by Stephen Casey.) Full of verve with a powerhouse voice to match, Rolle brings a more balanced and less flamboyant interpretation to her role than audiences may be used to...and it's just right.
Right, because the character of Deloris is an evolving one that requires, at each stage of her development, nuanced performance. And, in this regard, Rolle delivers the goods as she takes Deloris on a journey to enlightenment and selflessness.
In the opening scenes, she gives us Deloris as a night club singer with attitude and aspiration.
After witnessing a murder, she is Deloris the fearful, in flight from her gangster boyfriend Curtis (Matravius Avent).
Under the protective custody of the police ~ an Old Acquaintance from school, Eddie Souther (Justin Emmanuel Parker) ~ she is Deloris the relieved...but only until she learns that she'll be sequestered with a new identity, Sister Mary Clarence, under the supervision of the Holy Order's stern and implacable disciplinarian, Mother Superior (Lisa Franklin).
From here, Rolle rolls into a rollicking portrayal of a rebellious "sister" at odds with the conventions of the convent, assigned to bring harmony to the discordant church choir, and finding grace at last in the act of selfless commitment. Deloris at first is an unwelcome presence to the Mother Superior, whose earnest pleas to the Lord for her departure go unheeded. When the rubber hits the road and the church's survival is at risk, Sister M.C. is a virtual godsend.
At all points along the way, Rolle radiates with a perfect balance of glamor, sass, and vulnerability. She stands in perfect contrast to Lisa Franklin's hard-line by-the-book head nun. The two together, both possessed of impressive voices, deliver persuasive performances as polar opposites undergoing a process of mutual conversion.
They are joined in this hallelujah to SISTER ACT by an ensemble that draws from the chalice of Alan Menken's music and Glenn Slater's lyrics to deliver a bouquet of hearty performances.
Among the standout performances of this production are the following:
Kathi Osborne pulls out all the stops as Sister Mary Lazarus whom Deloris replaces as head of the choir. Unreceptive initially to Deloris's intervention, Sister M.L. gets reeled into the rhythms of soul at which point Osborne kicks her heels into high gear and ups the voltage of her voice and soars.
Trisha Hart Ditsworth knocks the ball out of the churchyard park with a stunning turn as the awkward and introverted Sister Mary Robert who breaks out of her shell in a moment of brilliant self-affirmation. I have marveled often at Ditsworth's past performances, but in this show, as she took center stage to sing The Life I Never Led, my jaw dropped in full admiration as she owned the audience with a terrific performance.
Justin Emmanuel Parker is endearing as the awkward cop (with the unfortunate nickname of Sweaty Eddie) who rescues Deloris (and has a crush on her, too). His rendition of I Could Be That Guy is full of panache and pathos.
LaRon Lee Hudson, Matthew Mello, and Alan Gonzalez team up as Curtis's three goons and are hilarious with their over-the-top self-possessed moves as sexy dudes, God's gifts to women, in When I Find My Baby and Lady In the Long Black Dress.
SISTER ACT runs through August 24th at Arizona Broadway Theatre in Peoria, AZ.
Poster credit to Arizona Broadway Theatre
Arizona Broadway Theatre ~ https://azbroadway.org/ ~ 7701 W. Paradise Lane, Peoria, AZ ~ 623-776-8400

Related Articles View More Phoenix

Stories

Shows