BWW Review: Arizona Broadway Theatre Presents MIRACLE ON 34TH STREET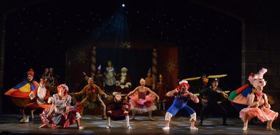 There are plenty enough editions of A CHRISTMAS CAROL filling regional stages that it is a relief to have other options for holiday entertainment like ELF at Phoenix Theatre, A CHRISTMAS STORY at Desert Stages Theatre, TWELVE DAYS OF CHRISTMAS at Fountain Hills Theater, A WINNIE-THE-POOH CHRISTMAS TAIL at Valley Youth Theatre...and, for the focus of this review, MIRACLE ON 34th STREET at Arizona Broadway Theatre.
The 1947 Academy Award winning movie has been a perennial source of joy and of nostalgia for more innocent times when a child's belief in Santa Claus would be reinforced with a solid declaration that Yes, Virginia, There is a Santa Claus.
Valentine Davies's book on which the movie and musical are based delivers an equally unequivocal rebuke to Santa deniers and pays tribute to unadulterated imagination. Sure, there will be time enough to forgo childhood belief in the tooth fairy and the sandman and, yes, Santa...but, the Holiday Season is the fine and perfect time to suspend disbelief.
Davies's story centers on the opportune appearance of one Kris Kringle (MJJ Cashman) to fill the boots of Macy's Santa Claus. Hired by the department store's events manager, Doris Walker (Melissa Mitchell), Kringle/Santa creates quite a stir when a.) he claims to be really and truly Santa and b.) he starts recommending that patrons shop at Gimbel's. Doris, seeking to regain the good graces of R.H. Macy (Tony Blosser), aims to parlay KK's gaffe into a stroke of marketing genius. While Doris, a divorcee and an unapologetic nonbeliever in Santa, plies her trade, her daughter Susan (Ava Newton) plays alone and apart from the holiday revelries. She is befriended, however, by a Marine named Fred Gaily (Cody Gerszewski), who, also has his amorous eyes set on mom. (Such circumstances might have passed muster in the late '40's/early '50's, but no doubt, in today's world, onlookers would look askance at a man playing seesaw with a child in the park and would be calling 911.) Matters reach their climax in a trial to determine Kringle's compos mentis.
It all worked so well in the film!
However, it seems near incomprehensible and feels mostly disappointing that the same composer, Meredith Willson, who created THE MUSIC MAN would have fashioned something as ill-conceived and uninspiring as his adaptation of the film classic into a musical.
ABT's production of MIRACLE ON 34th STREET, directed by James Rio, is more notable for some individual performances than it is for the flow of the story line or the overall staging. That is in part the fault of Mr. Willson. It is, however, also a matter of energy and passion, neither of which is in adequate measure to evoke the necessary moments of contrast, tension, and emotion...not enough even to offer a heartfelt recommendation that parents bring their children. Not even the portrayal of Kringle conveys the air of likeability, mischief or jauntiness that endeared the story's character to generations of families. Moreover, there are political and social references, particular to the times, that are likely to sail over the heads anyone younger than 50 and suggestive dialogue that a youngster will not comprehend.
On the other hand, the elements of the show that may attract a child are two and far between, spirited numbers adeptly choreographed by Heather Adams ~ the opening number, Big Ca-lown Balloons, and later in the show, an imagination party during which fairytale characters, rocking horses, tops and dolls come to life. In both instances, Savana Leveille's costumes add color and fancy to the goings-on.
As far as individual performances are concerned, there is delight in watching Renée Kathleen Kohler play a therapist's assistant, channeling and melding the comic sensibilities of a Lucille Ball and Judy Holliday; Tim Shawver, doing double duty, first as Mr. Gimbel and then sporting a fine Irish accent as the politics-wise Tammany O'Halloran; and Evan Dolan, eliciting oohs and aahs with his huge split jumps. Ava Newton (who rotates in the role with Emily Grace Anton) is refreshing as Susan, revealing a sweet stage presence that is remarkable for a ten-year-old. Cody Gerszewski brings charm and dash to his turn as Fred Gaily...and while Ms. Mitchell totes a lovely voice, there's not the spark of mutual attraction that makes their unfolding romance credible.
And then, there's the problem that is most difficult to reckon...that, in the closing number, Susan is absent...not, after all the effort to make her believe that dreams can come true, present to see the dream, her dream, fulfilled.
MIRACLE ON 34th STREET continues its run through December 29th.
Photo credit to Scott Samplin
Arizona Broadway Theatre ~ www.azbroadway.org ~ 7701 W Paradise Ln, Peoria, AZ ~ 623-776-8400
Herb Paine is President of Paine Consulting Services, now in its thirtieth year of operation, specializing in organizational development, strategic planning, turnaround management, mergers, and (read more...)