BWW Review: OLIVER! at QUINTESSENCE THEATRE GROUP Will Have You Saying 'Please Sir, I Want Some More'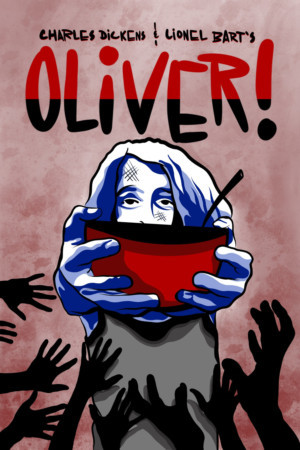 Most people know the musical Oliver! for its catchy show tunes, memorable characters, and of course the famous phrase "Please sir, I want some more." But Quintessence Theatre Group's rendition of Lionel Bart's musical is immersive and inventive, proving to be a refreshing new take on this musical classic.
After a hard day's labor in a parish workhouse for children, a nine-year-old orphan named Oliver asks for a second serving of gruel. The workhouse master, annoyed by Oliver's impertinence, sells him into an apprenticeship with a drunken undertaker and his abusive wife. Fearing for his life, the boy escapes to London, where he falls in with the Artful Dodger and a band of juvenile pickpockets led by the criminal Fagin. Oliver discovers heroes and villains in all manner of strange places as he learns how to survive and thrive on the streets of the city. Including such favorite songs as "Food, Glorious Food," "Consider Yourself," and "You've Got to Pick a Pocket or Two," Lionel Bart's adaptation of Charles Dickens' social satire of 19th-century London remains a cherished musical for all ages.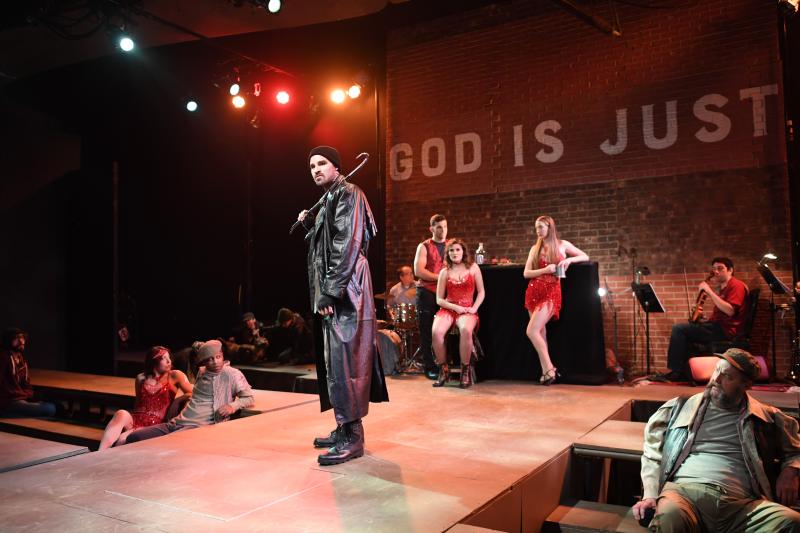 Lionel Bart's popular musical adaptation of Dickens' famous "Oliver Twist" is much more light-hearted than Dickens' dark and convoluted narrative about the "ruffians" of 19th century England. The original Dickens story was published episodically in monthly installments in the magazine Bentley's Miscellany from February 1837 to April 1839 and was criticized because of how it centered on the lives of the "lowest of the low" in society such as orphans, criminals, pickpockets, and prostitutes.
Quintessence Theatre Group's production of Oliver! is a part of the theatre's 9th season, featuring "dangerous stories for dangerous times," and has a distinctly "Brechtian" feel to it. Mid-20th-century German dramatist, Bertolt Brecht, pioneered "epic theatre", a genre of theatre that focuses on plays as a means to induce social change by making the audience aware that they are watching a play instead of creating a suspension of disbelief. Often "epic theatre" does not hide the elements that make it a theatrical production. Instead, it "breaks the fourth wall", engaging directly with the audience, not hiding any of the theatrical elements most plays use to create the illusion of a microcosmic reality (such as in "proscenium arch theatre").
QTG's Oliver! includes many elements that are typical of "Brechtian" theatre such as having the actors play multiple roles, having the set changes in full view of the audience, placing the band onstage, and an overall message to incite social change.
Oliver! director, and Quintessence Theatre Group's Artistic Director, Alex Burns writes in his director's note that he wanted to "explore a dystopian post-Brexit Oliver!" In a post-show discussion after last Thursday night's show, Burns told the audience that he wanted to compare what was happening in modern-day England to Dickens' portrayal of Victorian London.
Burns also told the audience that Oliver! is QTG's "biggest production to date" and only the second "traditional musical" the theatre has produced (though all of their previous productions have featured music). He was inspired by British Music Hall (similar to Vaudeville in the United States).
Quintessence Theatre Group is in residence at the historic Sedgwick Theater, a perfect environment to experience a literary classic come to life. The cobblestone streets of Germantown Avenue in Mt. Airy, Philadelphia are reminiscent of Victorian London. QTG's Oliver! is actually produced in what was once the interior lobby of the 1928 movie theater under elaborate art deco ceilings and beyond a mirrored anteroom.
Burns told audience members in the talk-back that Quintessence produces what they like to call "Bare-stage Classics" and "Modern Dress Classics", bringing classic plays back to their most-basic form and using a more timeless aesthetic to focus on the story-telling of a play rather than elaborate production and design elements.
Doug Greene's set of Oliver! is very bare-bones. The stage itself is in a sort of T-shape platform with small set pieces coming in and out as needed. The Oliver! 4 piece pit orchestra (appropriate named The Mudfog Four after the Mugfog workhouse where Oliver and the orphans are laboring) sits center stage under a painted flat to look like a brick wall with the words "GOD IS JUST" written in bright white paint.
Quintessence's production of this musical theatre classic is inventively "immersive". The production makes it clear that they want the audience to consider themselves at home. The set includes "onstage seating", where according to Quintessence's website "audiences can join the orphans at the workhouse benches, pick a pocket or two with Fagin and his gang in the thieves' den, and sing (and drink) along with the people of London at the Three Cripples Tavern..." There are two lengthy benches on either side of the extended platform, where audience members can sit, that shift to act as the workhouse benches as well as the tables of the Three Cripples Tavern. I had the opportunity to sit in the onstage seating area, and besides having to gulp down some gruesome gruel, the proximity really enhanced the experience. Quintessence is selling special packages for onstage seating that include two drink tickets, a show poster and an exclusive numbered art print by resident artist Lee Cortopassi. (And if you are sitting onstage, I do recommend that you eat all of your gruel.)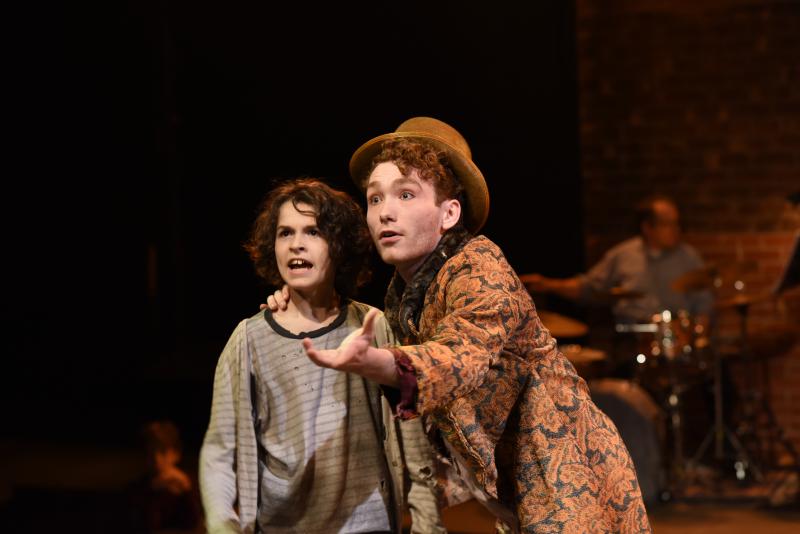 For costumes, designer Christina Bullard makes some colorful and creative choices. The costumes are generally timeless with a "period" flair to them, but distinctly more modern than most productions of Oliver! that I have seen. I particularly like the floral Mad Hatter-style for the Artful Dodger. The costume choices are very refreshing and complement the production as a whole. In general, the simplicity in the design of the show allows the audience to focus on the acting, the actors themselves, and the storytelling of the show.
QTG's production of Oliver! features an impressive ensemble including Wallace Acton as Fagin, Jacob Entenman as the Artful Dodger, Hanna Gaffney as Nancy, Brock Vickers as Bill Sikes, and Lyam David Kilker and Benjamin Snyder sharing the title role of Oliver at alternating performances.
Rounding out the adult cast is Steven Wright as Mr. Sowerberry/ Mr. Brownlow, Tasha Waters as Bet, Eleni Delopoulos as Window Corney, Kristin Devine as Charlotte, Daniel Miller as Noah Claypole, Bradley Mott as Mr. Bumble, and Marcia Saunders as Mrs. Sowerberry/ Mrs.Bedwin,
The children's ensemble stars Mia Bompensa, Cole Byrne, Susannah Hughs, Ethan Jih-Cook, Blaze Mann, Cella Reser, Caleb Ward, and Camiel Warren Taylor.
The cast of this show is very strong. I am particularly rapt by the way the adult actors embody Dickens' comedic caricatures. Dickens' characters are extreme, and Dickens as an author is notorious for naming characters based on their eccentric qualities. The actors in QTG's Oliver! invite you to laugh at the ridiculousness of Dickens' characters. They use their whole bodies and gestures to create specific characters (usually multiple specific characters as most of the actors play more than one character in the play). This acting style, "Gestus", where an actor takes on the physical embodiment of a social commentary, is also a staple of "epic theatre".
This production, more than any production of Oliver! I have seen, really places the focus on the story and holds its strength in the ensemble. The actors are open and immediately include the audience in their world. They don't shy away from engaging, even making direct eye contact. And Burns makes great choices regarding when, where and how the audience gets directly involved in the play.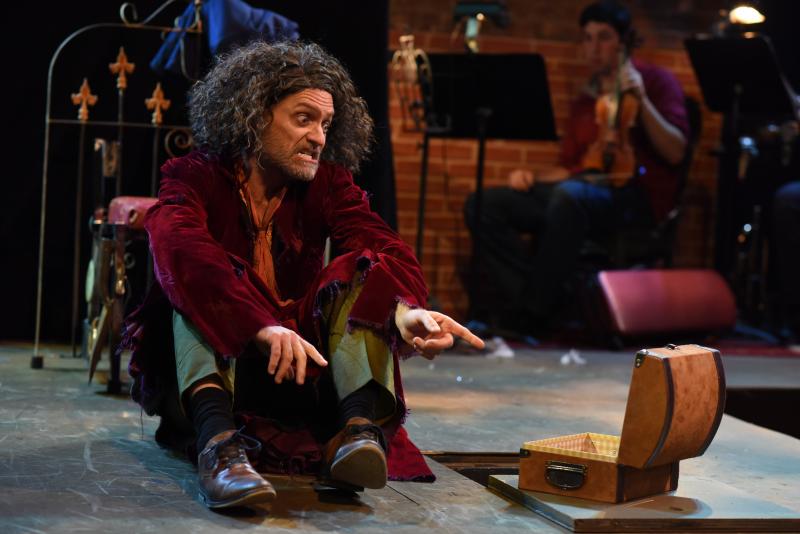 Burns choice to make the show "immersive" follows suit with Lionel Bart's script. Bart's book already includes many lines and lyrics that speak directly to the audience. One of my personal favorite moments that does this is Fagin's "Reviewing the Situation" (hilariously performed by Wallace Acton and definitely a highlight of QTG's production.) Another one of my favorite songs of Oliver! and QTG's show is "That's Your Funeral" where, while watching Mr. and Mrs. Sowerberry dance around a casket, Mr. Bumble breaks the illusion of the show singing "I don't think this song is funny."
Lionel Bart's music in Oliver! is very recognizable and catchy. I couldn't help but sing "Oom-Pah-Pah" along with the actors in the light-hearted opening of Act Two in the Three Cripples Tavern. There are so many fun musical numbers and heartfelt ballads. I particularly enjoyed the larger upbeat musical numbers that featured some imaginative choreography by Kaki Burns (even adding some modern step dance in "Consider Yourself").
Burns directing is very effective with quick and seamless scene changes, great pacing, and great usage of the playing space. Overall, Burns has a consistent vision for Oliver! and creates a fun show full of surprises.
Quintessence Theatre Groups' Oliver! is a unique rendition of this musical classic and is thoroughly enjoyable, inventive, and entertaining. The show is high-energy and unexpected. It features a strong and talented ensemble, effective directing and storytelling, and an overall fun atmosphere. You are sure to be singing as you exit the Sedgwick and I know that I for one will "be back soon!"
Quintessence Theatre Group's production of Oliver! runs through December 23 at the Sedgwick Theater in Philadelphia, PA. For more information about the show and to purchase tickets, please visit www.QTGrep.org or call 215.987.4450
Related Articles View More Philadelphia

Stories

Shows