BWW Review: SWEENEY TODD: THE DEMON BARBER OF FLEET STREET at WA Opera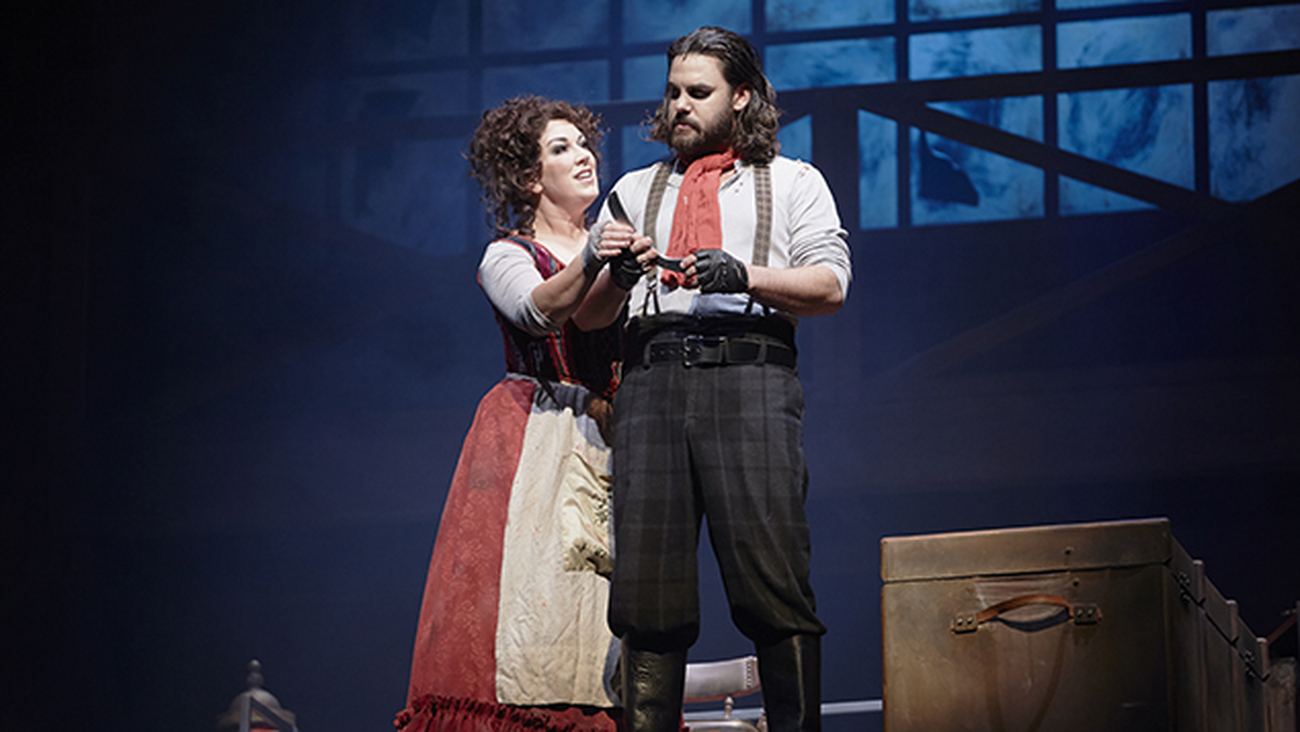 Stephen Sondheim's musical retelling of the gruesome tale of Sweeney Todd: The Demon Barber of Fleet Street hasn't lost its appeal in the 40 years since it opened on Broadway, and a sold-out season at His Majesty's Theatre by WA Opera is the proof in the blood pudding. Why we love our stories about the motivations of fiendish serial killers is a topic beyond my purview as a reviewer, though I do firmly admit to this guilty pleasure myself. And certainly Sweeney Todd sits at the top of my list of favourite musicals, so I was full of anticipation to experience WA Opera's take on this contemporary classic once the billboards for the show began to pop up around town.
Our state opera company has not let us down. Their Sweeney Todd, directed by Stuart Maunder after his 2015 Sweeney production with NZ Opera/Victorian Opera, and starring Ben Mingay as the Demon Barber and Antoinette Halloran as Mrs. Lovett, is two hours of solid, visceral, twisted fun. Mingay in the titular character gives us a brooding, heartbroken Benjamin Barker to sink our teeth into. His gruff exterior gives way to a sad resignation and single-mindedness that drives him to commit murder. His sadness is counterbalanced by the brazen, lusty wickedness of Halloran's Mrs. Lovett. Their needs are very different, but their paths converge in a terrifying way.
Halloran sings with a hearty gusto that's never too pretty and often verges on wild, playing around her passaggio with controlled chaos. Her clingy Mrs. Lovett is just mad enough to pull off being a closet homicidal maniac, though I would have loved to see even more of the scary jealous rage I know lives in Mrs. Lovett somewhere. James Clayton's malicious Judge Turpin gives us plenty of reasons to forgive Barker's crimes, and their pretty duet, "Pretty Women", is a velvety baritone-bass dream.
Matt Reuben James Ward's turn as Turpin's unctuous henchman Beadle Bamford deserves a special tip of the hat for his sheer creepiness, as does designer Roger Kirk for giving Beadle's costume such roach-like qualities that I could nearly feel him crawling up the back of my neck. Comic relief from all the bloodlust comes from Signor Pirelli and his Miracle Elixir, with Paul O'Neill's silly antics in an Italian accent literally ending on a high note. The young lovers (Emma Pettemerides as Johanna and Nathan Stark as Anthony Hope) play their parts dutifully, while the fresh-voiced and high-energy Joshua Reckless is perfectly cast as Tobias Ragg, and Fiona Campbell goes for laughs as the Beggar Woman. The ensemble makes light work of an arduous and complex score.
I don't know how anyone leaves the theatre without singing snippets from the show's gloriously earwormy set of tunes, but most do. Opening night drew an eclectic crowd of fashionable folk, the majority of whom were dressed in black and red garb, befitting the production's visual theme. It seems Perth was primed for some good old-fashioned barber-ous fun.
Related Articles View More Australia - Perth

Stories

Shows