BWW Review: DTW Skewers the Armadillo Acres Trailer Park in a Terrific Holiday Send-up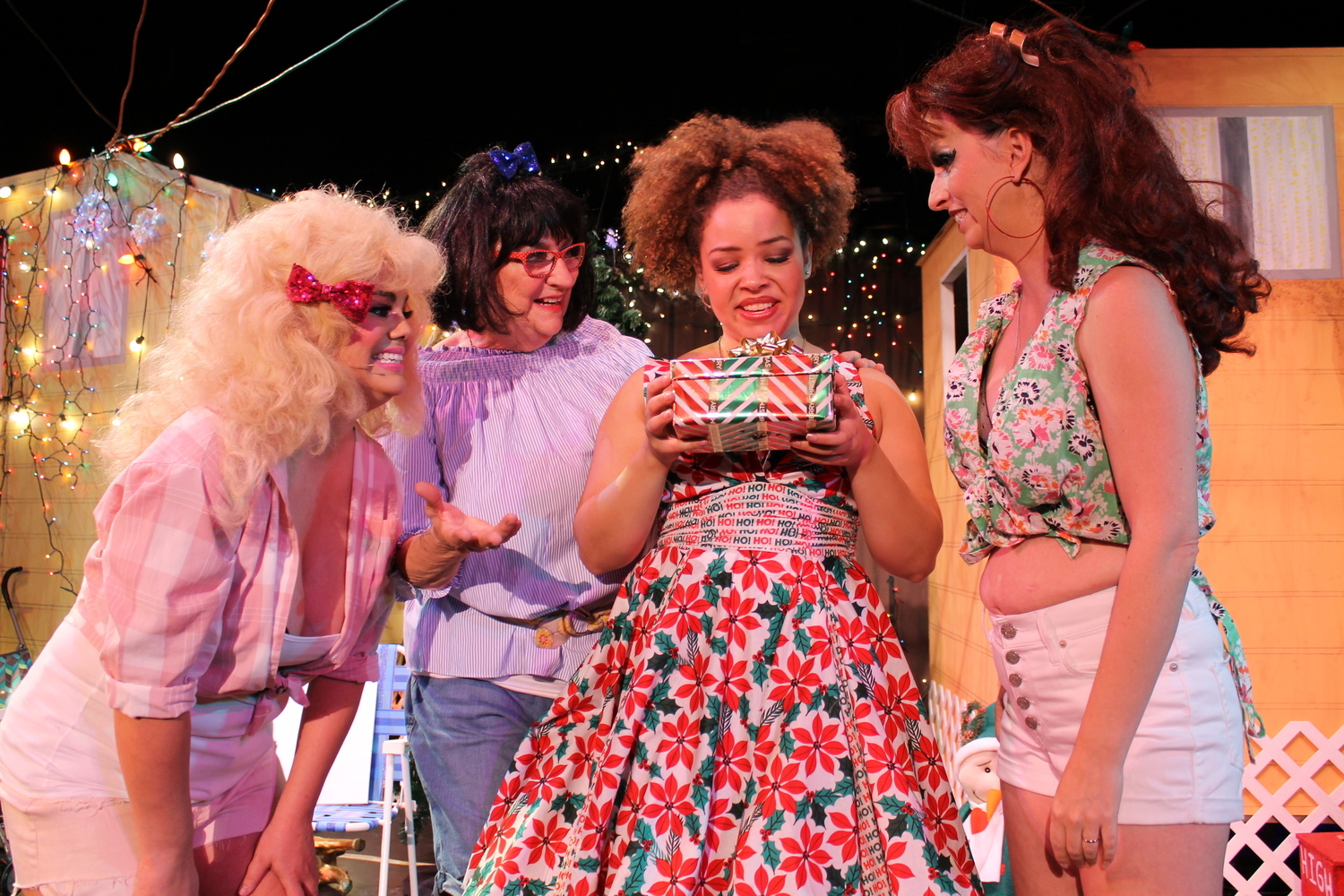 The residents of the Armadillo Acres trailer park are back at Desert Theatreworks (DTW), this time in a Christmas-themed sequel to their original off-Broadway send-up, THE GREAT AMERICAN TRAILER PARK MUSICAL (TRAILER PARK I). THE GREAT AMERICAN TRAILER PARK CHRISTMAS MUSICAL (TRAILER PARK II), with book by Betsy Kelso and music and lyrics by David Nehls, is a lowbrow, meshugas-filled raunch-fest. The raw material is not THE PHANTOM OF THE OPERA or LES MISERABLES, but it provides catchy tunes and lots of laughs, and DTW has mounted a high-quality production.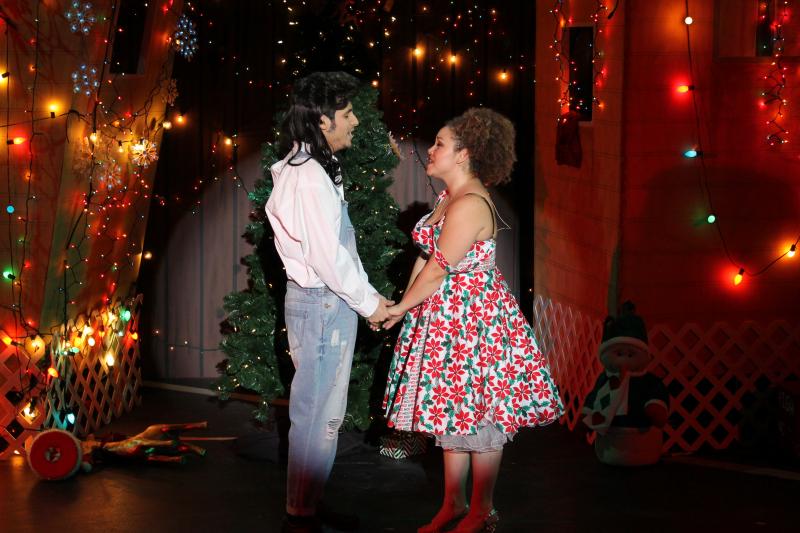 This is DTW's 37th show since its inaugural season in 2013-14, when the company performed TRAILER PARK I. In the interim, DTW has matured as a community theatre, to the point where its shows are not always distinguishable from those produced by professional companies.
TRAILER PARK II once again features the three women known as "the girls" to narrate the story: Betty (Rebecca Hertsgaard), Linoleum (Heidi Hapner, who also choreographed the show), and Pickles (Christine Michelle). The rest of the characters are new - Darlene (Alisha Bates), who despises Christmas and everything else; Rufus (Adam Genesta), who despises Darlene; and the smarmy Jackie (Stan Jenson), a sexual harasser who is as bad as the ones currently dominating the news.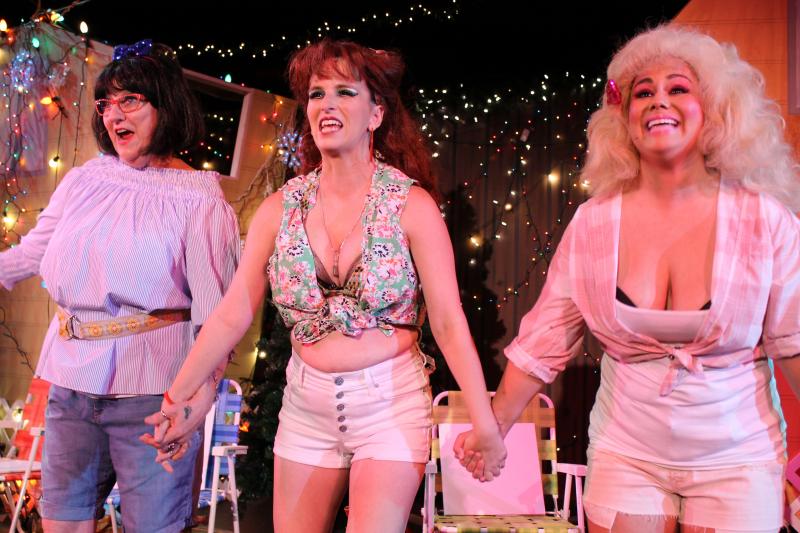 Betty, the park's manager, wants her beloved Armadillo Acres Trailer Park, in the aptly-named Starke, Florida to win the $10,000 decorating award from Mobile Homes & Gardens magazine. She also would like to break the Christmas curse that causes extremely bad luck for the park's residents during the Christmas season. When bitchy Darlene gets hit by a bolt of electricity caused by jerry-rigged power for the lights and wakes up a nice person, everyone else loves the transformation and worries it won't last. Meanwhile, Darlene wants to recover her memories, and winds up being visited by visions from her past who help her not only with her amnesia, but with her cynicism.
TRAILER PARK II has a great deal of singing and dancing, and the talented cast and director Steve Fisher are up to the assignment. Heidi Hapner, DTW's resident choreographer, has come up with clever dance numbers that take advantage of several cast members' expert dance abilities. Musical director Don Kelley obtains great vocal performances from all six performers, although one was hard to hear sometimes. "The girls" have to both belt and sing contrapuntally in relatively high registers. They all pull it off seamlessly.
Rebecca Hertsgaard, who usually plays curmudgeonly roles, imbues Betty with a touch of humanity, and more brains than the other two "girls" put together. The scene is sublime when Ms. Hertsgaard, who is, ahem, one of us women of a certain age, plays her second role as a young male - I won't give the fun away by saying more. Christine Michelle performs the role of the vapid, but sweet Pickles with verve and wide-eyed innocence. Choreographer Hapner once again successfully convinces the audience of the humanity of a cartoonish tough girl. Alisha Bates, in her DTW debut, is a charismatic standout, with her professional quality singing, dancing, and acting. In my opinion, she is very much pro material, and the Coachella Valley is fortunate to have her in community theatre.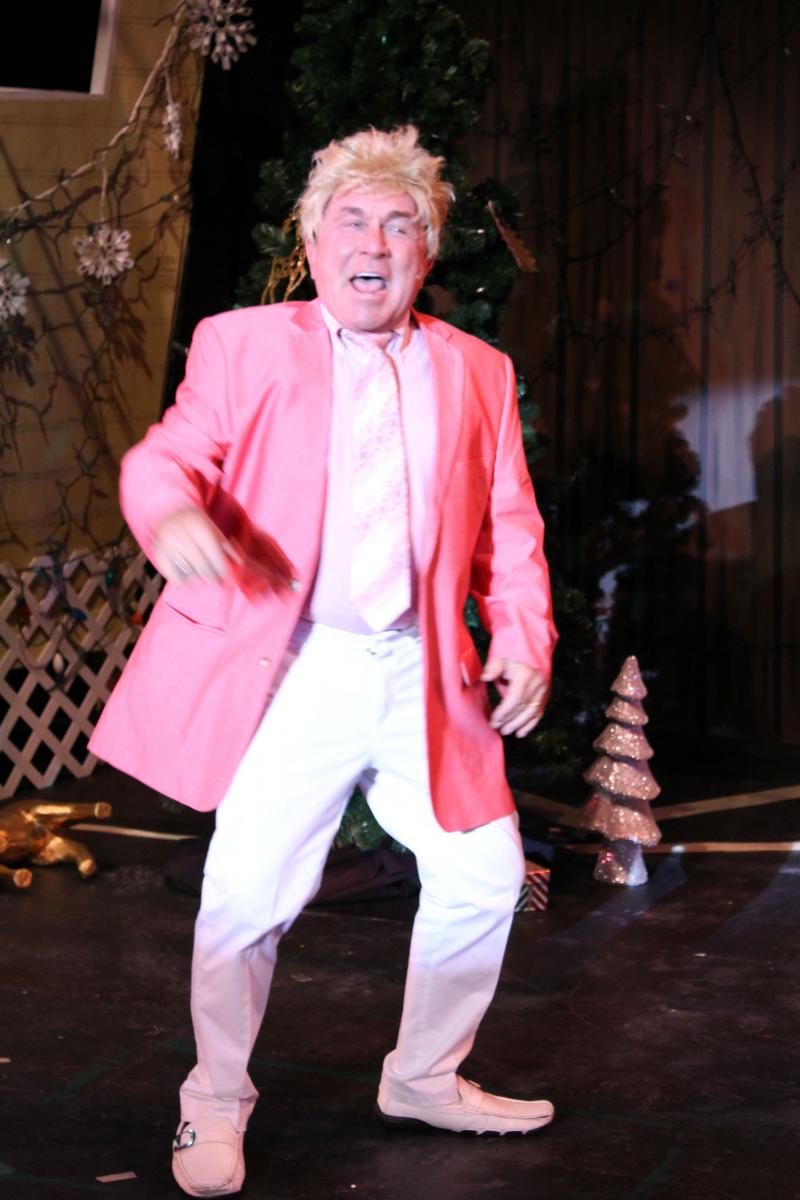 The two men in the cast are hardly slouches either. Adam Genesta, who looks like an updated Fonzie from Happy Days, has a fine singing voice and great dance moves. I really believed his portrayal as a hardworking handyman who makes up for his lack of brainpower with a huge heart. Veteran Stan Jenson, costumed like a sleazy televangelist, is an old-fashioned song-and-dance man. I dare anyone not to laugh at his characterization of a heartless good-ole-boy businessman, who thinks that grabbing women is his due as the rich man who employs them. (How's that for timeliness?) As one of my acting teachers would say, the whole cast performs with "honest energy," which is essential for characters that would otherwise be one-dimensional.
The designers have done a fabulous job. Morris Stein's set really evokes the feel of a manufactured home community, with realistic trailer exteriors. The design of the tacky Christmas decorations is sublime. Jennifer Stowe's costume and Art Healy's hair and make-up designs are perfectly suited (pardon the unintentional pun) to the characters. Phil Murphy's lighting and Miguel Arballo's sound designs are top-notch. My only complaint is the sound system itself, which is old and appears to need extensive work; no one has been able so far to cure the popping and crackling that arise during a significant number of performances.
I'm a sucker for silly plays with a touch of sentimentality - especially if they're musicals. This show is loaded with politically incorrect humor yet is sweet enough for the audience members to care about the goofball characters. If you're looking for a traditional Dickens CHRISTMAS CAROL, such as the one that DTW presented so successfully in 2015, this is not the musical for you. However, if you're looking for toe-tapping melodies, corny albeit raunchy jokes, and Great Performances, you won't want to miss this show.
DTW, which used to perform solely on weekends, has added weekday shows from Tuesday, December 12th through Thursday, December 14th. However, the Tuesday and Wednesday performances are close to being sold out.
In addition, DTW will perform an R-rated version of TRAILER PARK II, with some extra yuletide debauchery added, on Sunday evening, December 17th. This performance benefits DTW's educational programming. Guests are asked to arrive at 8 pm for a naughty preshow featuring naughty performances, trailer park festive booths, trailer park themed Christmas contests and a photo with Naughty Santa and his Very Naughty Elf. Tickets include the show and a speciality drink. Preshow 8pm, show 9pm. Show runtime: about 90 minutes with one 15-minute intermission. RECOMMENDED FOR AGE 17 AND UP.
All performances take place at the Indio Performing Arts Center, 45175 Fargo Street, Indio, CA 92201. Individual ticket prices are $30.00 (general admission), $16.00 (ages 13-18), and $12.00 (ages 12 and under). Seating is reserved. For tickets, go to the Web site at www.dtworks.org or call (760) 980-1455.
Disclosure: I have performed with DTW in the past and have been cast in an upcoming production. I also know some of the cast members, one of whom writes for Broadway World.
The rest of DTW's 2017-18 season consists of:
NUNSENSATIONS: THE NUNSENSE VEGAS REVIEW, January 12-28, 2018.
The Little Sisters of Hoboken are back trying to earn money, but this time, they're involved with feathers and sequins.
ON GOLDEN POND, February 15-25, 2018.
This classic drama about an aging couple who must cope with the husband's dementia.

GREASE, March 8-25, 2018.
The beloved 1972 musical about the '50s romance of innocent ingenue Sandy and bad-boy greaser Danny Zuko. Danny believes their hot summer fling is over ... until Sandy unexpectedly enrolls at his high school.

JEWTOPIA, April 19-29, 2018.
A barbed satire in which a young Jewish man wants out, to his parents' dismay, while his Christian friend wants in.
PHOTO CREDIT: Paul Hayashi