BWW Review: MSMT Brings Glitter of Hollywood's Golden Age to the Pickard Stage
As its main stage finale in this Diamond Jubilee season, Maine State Music Theatre chose to present the stage version of one of the most beloved musicals of all time, Singin' in the Rain. With its book by Betty Comden/Adolph Green, and songs by Nacio Herb Brown/Arthur Freed), based on the famed MGM musical, this iconic classic receives a production that recreates the glitter of Hollywood's Golden Age on a dazzlingly grand scale. MSMT's staging, directed/choreographed by Marc Robin, sparkles with the effervescence of fine champagne, bubbles with energy and originality, exudes sunshine and joy, and offers its audiences an exhilarating, entirely magical entertainment experience.
Envisioned on a majestic scale, filled with cinematic visual splendor, technical bravura, and sensational song and dance sequences, MSMT's production, nonetheless manages to keep a tight narrative and tell a heart warmingly human story as well. Robin knows the show inside and out - (this is his ninth production) - and he brings to the material his long experience, as well as many inventive and fresh touches created especially for this new cast. He smoothly spins the familiar narrative and succeeds in referencing all the film's iconic moments at the same time that he translates them into stage vocabulary that reads vividly as drama. He often finds surprisingly original solutions to constraints posed by live theatre so that the fancy camera work and rapid shift effects of the movie are cleverly suggested. And his choreography is brilliantly filled with a feeling of abundance, generosity, and old-fashioned sentiment. Robin is a master of extravagant production numbers at the same time that he knows how to create intricate, witty tap sequences, and romantic, elegant ballet and ballroom moments.
No small part of this musical are the silent film sequences (videography by the WGME team and directed on location at New Hampshire's Searles Castle and Portland's Victorian Mansion by Curt Dale Clark and Raymond Marc Dumont), that capture perfectly the silliness of the style and the authenticity of the look.
Music Director Ray Fellman leads the ten-person orchestra with melodic verve, sounding opulent even when the pit is covered for the rain sequence, while Assistant Music Director Ben McNaboe's skillfully reduced orchestrations manage to sound lush and vivid in the Pickard.
The entire physical production, like Beauty and the Beastearlier this season, is almost mind-boggling in its lavish complexity. Robert Andrew Kovach creates the studio lot world that is the single locale of the stage show and uses vintage props to transform the cavernous interior into various movie montages. Projections by Ryan Swift Joyner - both atmospheric ones like the rain drops or stars and actual photographic indicators of architectural elements - add kineticism, color and dimension, all of which are handsomely lit by Jesse Klug, whose ever-changing palette of rich blues, roses, and sunny yellows shifts with a musical feeling. Shannon Slaton creates a well-balanced sound design that artfully differentiates the live voices and recorded ones and supplies some amusing and well-placed aural effects.
Travis M. Grant is responsible for the spectacular array of costumes - some 130 for "Broadway Melody" alone - all with finely crafted detail, gorgeous fabrics and textures, and striking silhouettes. Jeff Hendry provides the parade of eye-catching millinery - each hat more droll, more outrageous, more eye-catching than the next, and Gerard James Kelly completes the looks with his excellent wigs.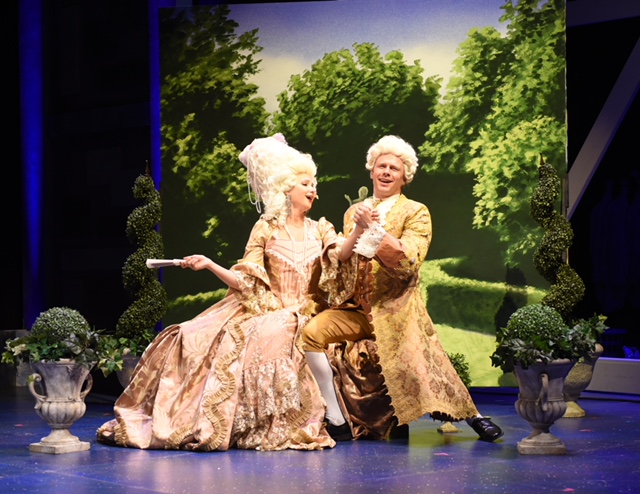 It is also no secret that Singin' in the Rain is a show that requires mega technical proficiency and resources with challenges like the rain and fog and rapid-fire wardrobe changes, and so, it only seems appropriate to single out not only the expert Stage Manager Mark Johnson and Assistant Stage Manager Amy Bertacini for their sure-fire, cool-headed coordination, but also to give a special shout out to the entire crew in every department under the supervision of Charles S. Kading. (The intermission clean up of the stage after the rain sequence is a well-choreographed effort that won applause by the audience who remained in the house).
The cast of principals and ensemble is built on amazing triple threat strength. Making his debut as Don Lockwood, Nicolas Dromard proves himself a dancer to be reckoned with - proficient in the character's many styles, possessed of an elegance and insouciant flair, at the same time that he uses his strong vocal gifts and stylish musicality to excellent effect in both the romantic and comic aspects of the role, and convincingly conveys Lockwood's transformation from self-absorbed screen star to an endearing lover. His work in the "Broadway Melody" ballet alone is noteworthy. Also making a role debut, Kate Fahrner as his love-interest, Kathy Selden, brings a freshness and girl-next-door genuineness, without ever opting for the saccharine. She is a persuasive songstress with a lovely soprano; she impresses especially in "Lucky Star" and "Would You," and she holds up her end of the bargain in the dance numbers, especially in the perky tap of "All I Do Is Dream of you" and "Good Morning." Three-time veteran of this musical, Brian Shepard completes the company of friends as Cosmo Brown, projecting brio, whimsy, and savvy warmth. A consummate dancer and compelling singer, with seemingly limitless plasticity and agility, he brings a breathless exuberance to numbers like "Make 'Em Laugh," "Moses Supposes," and "Good Morning."
As Lina Lamont, Kim Sava creates the perfect contrast of glamor and grating demeanor. She nails the street-wise mannerisms, accent, and high-pitched cadences that doom the silent star's career, and her moments in the silent film and then studio talking film sequences are hilarious.
David Girolmo humanizes R.J. Simpson and adds subtle elements of humor to the beleaguered studio mogul. Charis Leos turns in two delightful, amusingly overbearing character performances as gossip columnist Dora Bailey and diction coach Miss DInsmore, while Andy Kindig provides humor as the exasperated and stressed director Roscoe Dexter. David Scott Purdy as the Production Tenor uses his rich tenor to deliver a vocally show-stopping moment in "Beautiful Girl." Other notable cameos come from Dance Captain Buddy Reeder who also plays the diction coach and gets to have his own dance moment in "Moses Supposes;" Reagan Danel Ogle as a tough, sexy Zelda Zanders, Jesse Lawyer as the sultry Vamp in the "Broadway Melody" ballet and Dan Bob Higgins as a limber gangster. Glen Anderson has an amusingly quirky, pompous moment as the Man on Screen discussing talkies, and Drew Carr plays studio publicist Rod with appropriate nervous subserviance.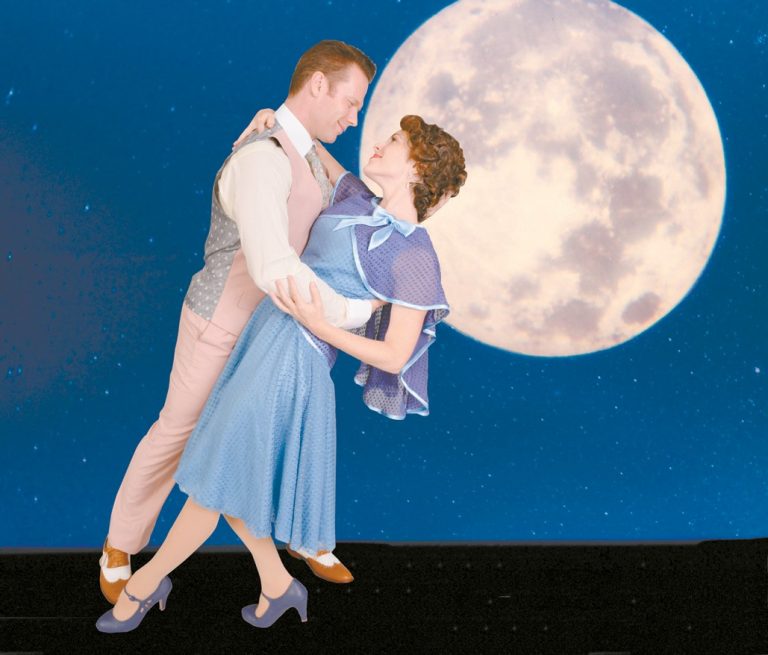 The large ensemble (Kelly Liz Bolick, Elisabeth Christie, Michael Peter Deeb, Alex Eisenberg, Carissa Gaughran, Caleb James Grochalski, Jake Hartman, Rebecca Rene Kelly, Mallory King, Ryan Lambert, Stevie Ann Mack, Matthew Marvin, Lauren Mac Donald, Michael Olaribigbe, Melaina Corey Rairamo, Matty Rickard, Alec Duffy Talbott) is filled with talent, especially as dancers and actors able to interpret a wide-range of changing characters.
In recent years where each season seems to top the previous one and the bar is raised artistically higher show by show, MSMT's Singin' in the Rain still creates a frisson - a moment for the audience to pause and wonder at the magnitude of magic taking place before their eyes. Though the season does not officially close for three weeks (and there are several more celebratory events and performances planned), it feels safe to say that MSMT's Diamond Jubilee has been one for the record books. The company, led by Artistic Director Curt Dale Clark, possesses not only professionalism of the highest order, but also dedication, determination, even daring of the kind that distinguishes truly extraordinary artistic accomplishment.
This main stage finale is yet another testament to this achievement. In a musical where "RAIN" is the operative word, MSMT's Singin' in the Rainis pure SUNSHINE and joy!
Photographs courtesy of MSMT, Roger S. Duncan, photographer
Singin' in the Rainruns from August 8-25, 2018 at MSMT's Pickard Theater, 1 Bath Road, Brunswick, ME 207-725-8769 www.msmt.org
Related Articles View More Maine

Stories

Shows