Review: RIDE THE CYCLONE at Arena Stage's Kreeger Theater
Hilarious cult musical runs through February 9th.
You wouldn't think that six teenagers in a high school choir being tragically killed in a freak rollercoaster accident would be the basis for a brilliant musical comedy.
You'd be wrong.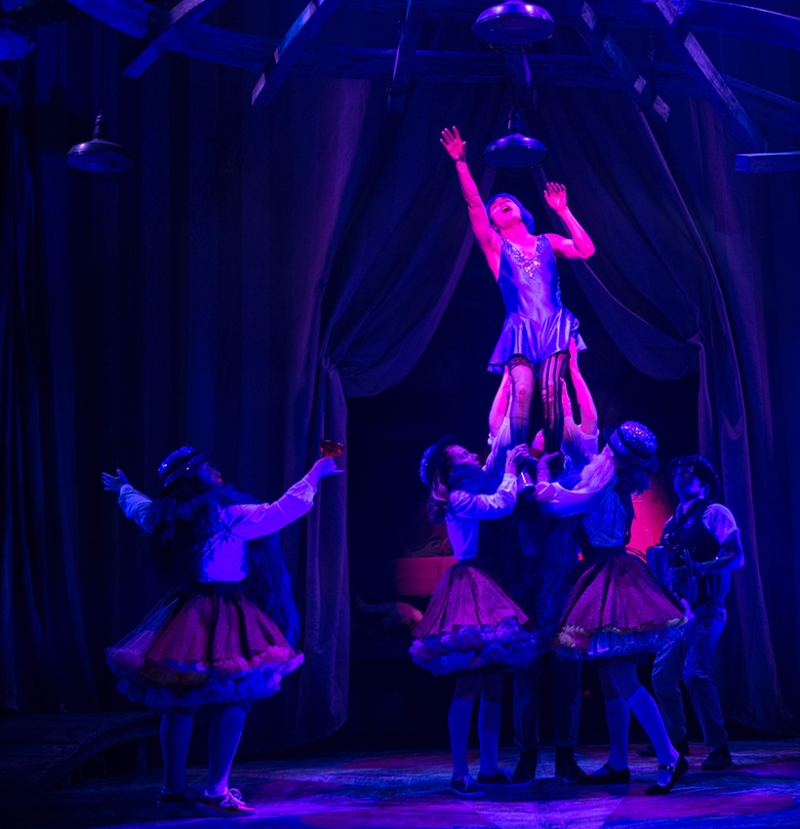 Ride the Cyclone is quirky and unconventional - think Defending Your Life meets A Chorus Line, performed by the cast of Glee, with a nod and a wink to the mysterious Zoltar arcade game in Big, and an homage to the zombie genre. It's 90 minutes of raucous laughter, clever songs, and poignant moments, playing at Arena Stage's Kreeger Theater through February 9th.
Set in a boneyard full of equipment and paraphernalia from various carnivals and amusement parks, the show opens with The Amazing Karnak (Marc Geller) setting the scene for the audience. Encased in an ornate cabinet, Karnak is a fortune teller, and Geller perfectly embodies the type of mechanical mannequin that leaves people saying "he looks so life-like!" By turns droll, jaded, snarky and prophetic, Karnak is the erstwhile narrator of the show, and he doesn't just break the fourth wall - he obliterates it, to hilarious effect, welcoming both the audience and the young teens to his macabre little corner of limbo.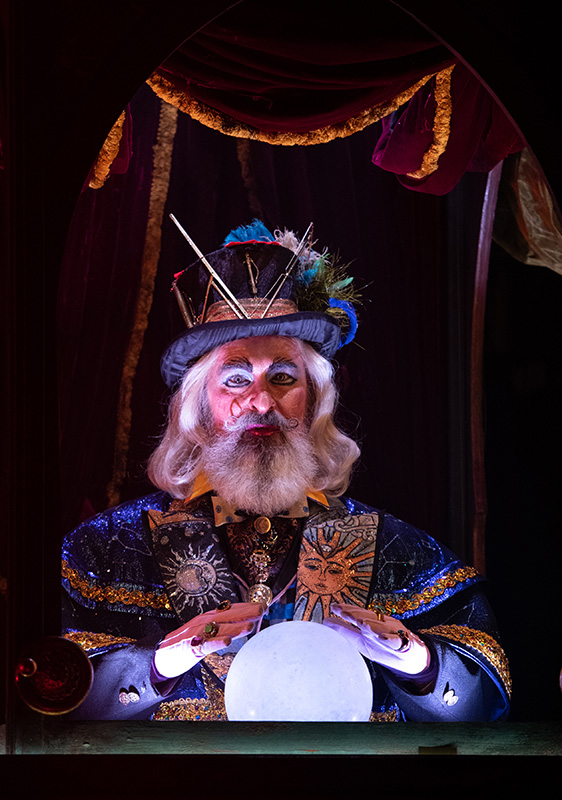 The kids quickly learn that they've been brought to Karnak's realm for a special purpose: each will be given an opportunity to share their story, and one lucky soul will get a chance to return to the land of the living.
Show creators Jacob Richmond and Brooke Maxwell based the ensemble characters on tried and true theatrical archetypes: Ocean O'Connell Rosenberg (Shinah Hey) is the perky, popular class president and classic overachiever, and Constance Blackwood (Gabrielle Dominique) is her BFF - a shy, plain, insecure girl who is happy to follow in her wake. Angst filled Noel Gruber (Nick Martinez) is the only gay kid in a small, rural Canadian town. Ricky Potts (Matthew Boyd Snyder) is the nerdy, comic book collecting loner who dreams of being a superhero. Mischa Bachinski (Eli Mayer) is a Ukranian adoptee that longs to return to his homeland (and the girl he loves there). Rounding out the ensemble is Jane Doe (Ashlyn Maddox), so named because she can't be identified...because (spoiler alert) they can't find her head. (Production note: Maddox is playing the role through January 29th; Katie Mariko Murray (who is currently enchanting audiences as Cinderella in Signature's Into the Woods) will take over on February 1st, after Into the Woods closes.)
The teen ensemble is uniformly well cast and extremely talented - they are all strong singers, actors and dancers, and their respective roles feature polished and nuanced performances that elevate the archetypes into characters that the audience can't help falling in love with.
Structurally, the show definitely has roots in A Chorus Line. Karnak slides seamlessly into the space occupied by Zack, directing the action and ultimately, passing judgment on the group. And each one of the teenagers has a scene in the spotlight that consists of an expository monologue and corresponding musical number. The musical numbers are clever and witty - Noel's Lament/That F#@&ed Up Girl is an absolute show stopper, with Martinez going from lonely gay outsider to flamboyant Parisian paramour (in drag), and Mayer shines in the rap/techno/emo inspired This Song is Awesome. Jim Lichtscheidl's original choreography is augmented by additional choreography from Associate Director Tiger Brown, and the overall effect is a complex tapestry of movements that the cast makes look effortless. Likewise, Director Sarah Rasmussen has created a tight, well-paced show with a lively, ever-changing flow of feelings and emotions that feels very natural.
Supporting the stellar work of the cast is the solid work of Music Director Nice Wilders and Music Supervisor Mark Christine. The staging is impressive - Set Designer Scott Davis has the twisted wreckage of the ill-fated Cyclone rollercoaster hanging over a stage that uses multiple levels and entry points, with surplus carnival pieces artfully strewn about. Projection Designer Katherine Freer has tackled the hardest job in the show with aplomb and great dexterity, creating numerous videos that aren't just background and scenery - they advance the plot in a very meaningful and poignant way. Tony-nominated Lighting Designer Jiyoun Chang has created an array of complex lighting effects that cover the full emotional range of the show, including a number of old school, traditional lighting treatments that evoke the feel of carnival rides and the midway. Sound Designer André Pluess adds another layer, with sound that further draws the audience into the moment. Trevor Bowen (Costume Designer) and J. Jared Janas (Hair, Wig, and Makeup Designer) have combined to create the perfect look for the cast, particularly in the production numbers, where the cast members become other characters and have to make quick changes. Every element of this production is spot on - the creative team didn't miss a trick.
All-in-all, Ride the Cyclone is a simply wonderful evening of fun, escapist theatre. Although there's a message in the closing number (It's Just a Ride), there is no great moral imperative or deeper social commentary. For a subject that could easily become maudlin, it's an exuberant, upbeat celebration of young lives, well lived. Add in an energetic and stellar cast, with voices that blend beautifully together, and it all equals a joyful, entertaining experience.
Ride the Cyclone is produced in partnership with McCarter Theatre Center and runs at the Kreeger Theater through February 19th. Running time is approximately 90 minutes, with no intermission. For more information about Arena Stage, click here.