Latest News on Alyse Lo Bianco
Alyse Lo Bianco News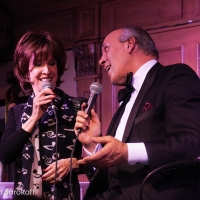 Photo Coverage: 'Baby It's Cold Outside' at the Friars Club as Deana Martin Duets With Steven Maglio
by Stephen Sorokoff - Dec 17, 2019
Some Radio and TV Stations may be refusing to play Frank Loesser's Academy Award-winning song, but Deana Martin and Steven Maglio sang it last night at the Friars Club to a jam packed room of gloriously festive and politically incorrect Friars. They joined the ranks of celebrities who have recorded the tune such as, Idina Menzel & Michael Buble', Esther Williams & Ricardo Montalban, Ella Fitzgerald & Louis Jordan, Margret Whiting & Johnny Mercer and the composer Frank Lesser and his wife Lynn Garland.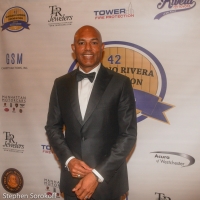 Photo Coverage: Yankee Legend and First-Ballot Hall Of Famer Mariano Rivera Honored At Marina Del Rey
by Stephen Sorokoff - Nov 17, 2019
Last night, celebrities, sports icons, family, and friends gathered at the Mariano Rivera Foundation Gala to benefit The New Learning Center For Children in New Rochelle, NY.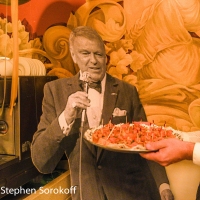 Photo Coverage: Deana Martin & Tony Danza Celebrate 75 Years of Patsy's Italian Restaurant
by Stephen Sorokoff - Sep 24, 2019
You can go to the Museum of the City of New York to relive our town's exciting history or you can walk into Patsy's Italian Restaurant on 56th street and sit at the same table that Frank Sinatra and his pals dined at.  Dean Martin also had his spaghetti at Patsy's. Last night his daughter Deana Martin enjoyed some Pasta (although she doesn't look like she ever touched the carbs) topped with Patsy's great sauce (also on your grocers shelves) during the establishment's 75th Anniversary  invited guests only celebration.  You can also sit at the tables where present celebrities such as Al Pacino, Alec Baldwin, Tom Hanks, Madonna, George Clooney, Sean "Diddy" Combs, David Letterman, Oprah Winfrey, Keanu Reeves, Jennifer Lopez, Barbara Streisand, Tony Bennett, Robert DeNiro, Michael Buble, Don Rickles, Josh Groban, Jacklyn Smith, Phyllis George, Calvin Klein, Jerry Seinfeld, James Gandolfini, Christie Brinkley, Jon Bon Jovi, Liza Minelli, Chris Noth, Tony Danza, Farrah Fawcett, Kate Hudson, Chevy Chase, Cheryl Ladd, and Patty LaBelle,  regularly enjoy arguably some of the finest Italian cuisine in the world.  Geno Vento, Owner of the Philadelphia Original Geno's Cheesesteak even flew in for the event to get tips on how to successfully serve food for 75 years.  Who knows, maybe they served Italian baby food in 1944 when "Patsy" Scognamillo opened the place and my parents took me along with them.
Photo Coverage: Deana Martin Sings Dino at Lorenzo's Cabaret
by Stephen Sorokoff - May 4, 2019
I don't think a day goes by that I don't hear Dean Martin's voice in my head coupled with a flashback of an image of how cool he looked in his tux walking out on stage. Last night at Lorenzo's Cabaret in the Hilton Garden Inn his daughter Deana brought Dino's music and charisma back to life in Richard Nicotra's Las Vegas type supper club located on Staten Island in NYC.

Photo Coverage: International Singers Lilian & Maycol Ring In The New Year at Trevini
by Stephen Sorokoff - Jan 1, 2019
The love and spirit of many cultures was the perfect theme to start off the New Year, and the famed Internationally acclaimed entertainers Lilian & Maycol provided the perfect harmony to begin 2019 at one of the most famous destinations in the world...Palm Beach.
Photo Coverage: Billy Crystal Presented Friars Icon Award by Robert De Niro
by Stephen Sorokoff - Nov 13, 2018
When you enter the Friars Club on 55th street the world immediately becomes a better place. The first space you encounter is the Billy Crystal Room where you hear the laughter and the animated conversations as Friars share stories with one another. Last night in only the 8th time in the Club's 114-year history The Icon Award was presented by Robert De Niro to Billy Crystal at the Ziegfeld Ballroom to a capacity filled New York/Hollywood audience. The Icon Award honors individuals whose extraordinary accomplishment raise the standard of entertainment and positively redefines our culture. Billy is following in the footsteps of entertainment icons Douglas Fairbanks, Cary Grant, Frank Sinatra, Martin Scorsese, and Robert De Niro.

Photo Coverage: 'And Now Direct From the Bar...' The Friars Toast Deana Martin
by Stephen Sorokoff - Jun 5, 2018
In a darkened Frank Sinatra Dining Room an off stage voice using that classic Dean Martin intro ' And Now Direct From The Bar' announced co-hosts Bill Boggs, Bruce Charet and countless actors, singers, celebrities and friends to toast one of the most beloved entertainers in show business…..Deana Martin.
Photo Coverage: Steve Tyrell Celebrates 13 Years & His Birthday At Cafe Carlyle
by Stephen Sorokoff - Dec 20, 2017
No, it wasn't his Bar Mitzvah even though it's Steve's 13th year playing the Holiday Month at Cafe Carlyle. However it sure was a joyous evening of music and love as Steve Tyrell's family of fans from NYC and around the country were there to enjoy his show and celebrate Steve's birthday.
Photo Coverage: On the Red Carpet for the American Theatre Wing's Centennial Gala!
by Jennifer Broski - Sep 19, 2017
The American Theatre Wing just held its Centennial Gala last night, September 18th, celebrating the power of musical theater in American life over the past 100 years.
Photo Coverage: Mandy Gonzalez & Paulo Szot Join Jamie deRoy & Friends Tony Show at Birdland
by Stephen Sorokoff - May 8, 2017
 Broadway Producer and three time Tony Award winner Jamie deRoy held her annual Jamie deRoy & friends Tony Award show last night and the Red Carpet was rolled out at Birdland for the star studded event.  Jamie's fans and friends had their cell phone cameras at the ready as one by one Jamie introduced her award-winning cast which included, Chuck Cooper (The Life) Penny Fuller (Sunday in the Park with George, Cabaret), Mandy Gonzalez (Hamilton, In the Heights), Rupert Holmes (The Mystery of Edwin Drood) with special guest, Patti Cohenour (War Paint, The Mystery of Edwin Drood), Doreen Montalvo (On Your Feet, In the Heights) and Paulo Szot (South Pacific) with Billy Stritch.