The Hardest Working Man In Show Business! Jay Leno Brings His Iconic Brand Of Humor To The McCallum Theatre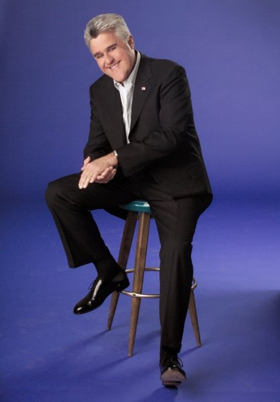 The McCallum Theatre welcomes the return of Jay Leno for two performances on Saturday, February 2, at 3:00pm and 8:00pm. See Jay do what he does best for these two special shows with one of the world's leading entertainers. Acclaimed TV late night show host, stand-up comedian, best-selling children's book author, in-demand corporate speaker, TV and movie voice-over artist, pioneering car builder and mechanic, and philanthropist - it's no wonder that Jay Leno is widely characterized as "the hardest working man in show business."
It was in 1992 when Leno followed in the footsteps of NBC late-night hosts Steve Allen, Jack Paar and Johnny Carson as "Tonight Show" host. Pitted against David Letterman in the 11:35pm hour, Leno became the ratings leader of late night, establishing leadership in all demographic categories, a winning streak exceeding 50 consecutive quarters.
Prior to becoming host, Leno was the exclusive guest host on "The Tonight Show Starring Johnny Carson" since 1987. He first appeared as a guest on the show on March 2, 1977, and made numerous additional appearances on the show, as well as NBC's former program "Late Night with David Letterman."
Jay's late night television ratings domination included more than two decades of "The Tonight Show with Jay Leno," winning every consecutive quarter. After resuming hosting the 11:35pm program following its one-time interruption, it again became the consistent and uninterrupted ratings leader for late night under the supervision throughout of executive producer Debbie Vickers. Jay won an Emmy for "Outstanding Comedy, Variety or Music Series." "The Tonight Show with Jay Leno" has also earned "Favorite Late Night Show" in the annual TV Guide Awards determined by voting viewers, and was installed in the Television Academy's Broadcast Hall of Fame.
As if night-time dominance were not enough, Jay has found success producing and starring in CNBC's "Jay Leno's Garage." The NBC creation gained an international Web following, earned an Emmy and two additional nominations for Outstanding Special Class-Short-Format Nonfiction Programs.
Jay's honors include the People's Choice Award; the Harris Poll's most popular television star; induction into the Academy of Television Arts and Sciences' Broadcasting Hall of Fame; The John F. Kennedy Center for the Performing Arts' Mark Twain Prize for American Humor; Harvard's Hasty Pudding Award; and an honorary doctorate from his alma mater, Emerson College. Like Johnny Carson, Groucho Marx and an elite group of entertainment figures, he has been invited to have his papers installed in the Library of Congress. He received a star on Hollywood's Walk of Fame (asking that it be placed in front of the Ripley's Believe It Or Not Museum where he was arrested for vagrancy when he first arrived in Hollywood). He also has land speed records, and became the first person to drive the pace car of all major NASCAR events.
Having passed the "Tonight Show" torch to Jimmy Fallon, Jay has increased his busy schedule of comedy performances, continues his web venture relating to his passion for automobiles, and is in consideration of the many applications of his time and talents. He made his first trip to Israel to present the Genesis Award, Israel's equivalent of the Nobel Award, to Michael Bloomberg.
Jay loves to test his humor on live audiences, performing over 100 appearances in nightclubs, theaters and stadiums each year. He has been touted as one of the nicest people in show business and the hardest-working, a winning tandem for the man who says "Anyone can have a life - careers are hard to come by!"
In addition to traversing the U.S., he has performed abroad, including Bosnia for military troops associated with the war in Afghanistan, and Aviano, Italy, for troops associated with peacekeeping efforts in Bosnia.
Jay is committed to using his talents to help those less fortunate, including shows for those whose lives were devastated by 9/11, the Thailand tsunami, Gulf hurricanes, and the economic downturn in Detroit. He leads California's annual Love Ride to benefit humanitarian organizations serving people with autism, muscular dystrophy, and Special Olympics, among many others. He served as honorary campaign chairman for several years for the Entertainment Industry Foundation, Hollywood's charitable arm.
Jay assisted the Gender Apartheid campaign led by wife Mavis, together with the Feminist Majority, to free Afghan women of Taliban tyranny, for which Mavis and The Feminist Majority were nominated for the Nobel Peace Prize. He joined Mavis and The Feminists Majority Foundation in their effort to influence the Sultan of Brunei to rescind his decision to impose Sharia law, including death by stoning for homosexuality and public flogging for any woman seeking an abortion.
Leno's children's book If Roast Beef Could Fly (2004) immediately was a New York Times Bestseller. His follow-up How to be the Funniest Kid In Your Class was similarly successful. His other book Leading with My Chin hit the bookstores in 1998. He has published four versions ofHeadlines, the compilation of books and desk calendars featuring his favorite funny newspaper headlines. Police Blotter, a book with humorous newspaper clips involving police stories, gives proceeds to charity.
When not performing, writing, and doing charitable work, Jay does voice-over work in movies, including Cars and Igor, and the TV show "The Fairly Oddparents" (Nickelodeon), where the character "The Crimson Chin," a superhero with a chin with superpowers, was inspired by Leno's own noted jawline. He is an in-demand corporate speaker for companies including General Motors, and he is a monthly columnist in "Popular Mechanics." And in his "spare" time (as if he has any), he enjoys working on his classic cars and motorcycles. In fact, he has built a number of cars, including an acclaimed eco-car in his eco-friendly green garage.
These two performances of Jay Leno are presented through the generosity of Barbara Arnstein.
Tickets for this performance are priced at $108, $98, $88 and $68. Tickets are available at the Theatre's website at www.mccallumtheatre.com or by calling the McCallum Theatre Box Office at (760) 340-2787.
| | | |
| --- | --- | --- |
| | Donations | Arts Orgs |
Related Articles View More Palm Springs

Stories

Shows