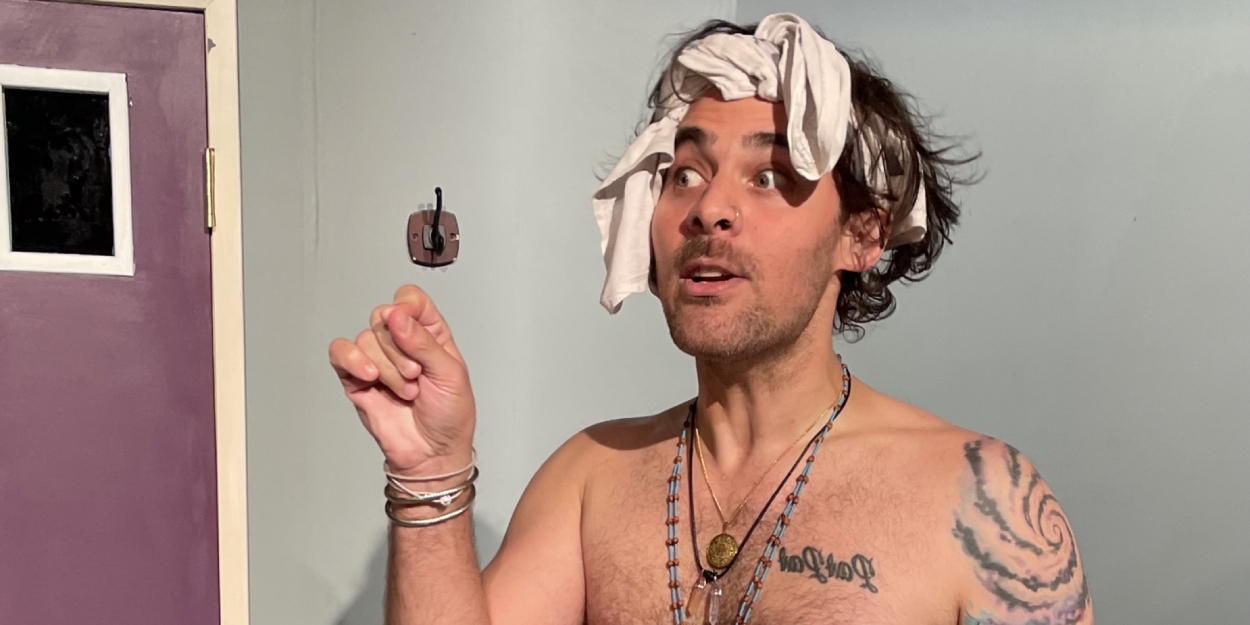 Review: Desert Ensemble's Southern California Premiere of KILL THE EDITOR is a Great Production that is Humorous, Serious, and Thought-Provoking
Desert Ensemble's fine production runs through February 5th.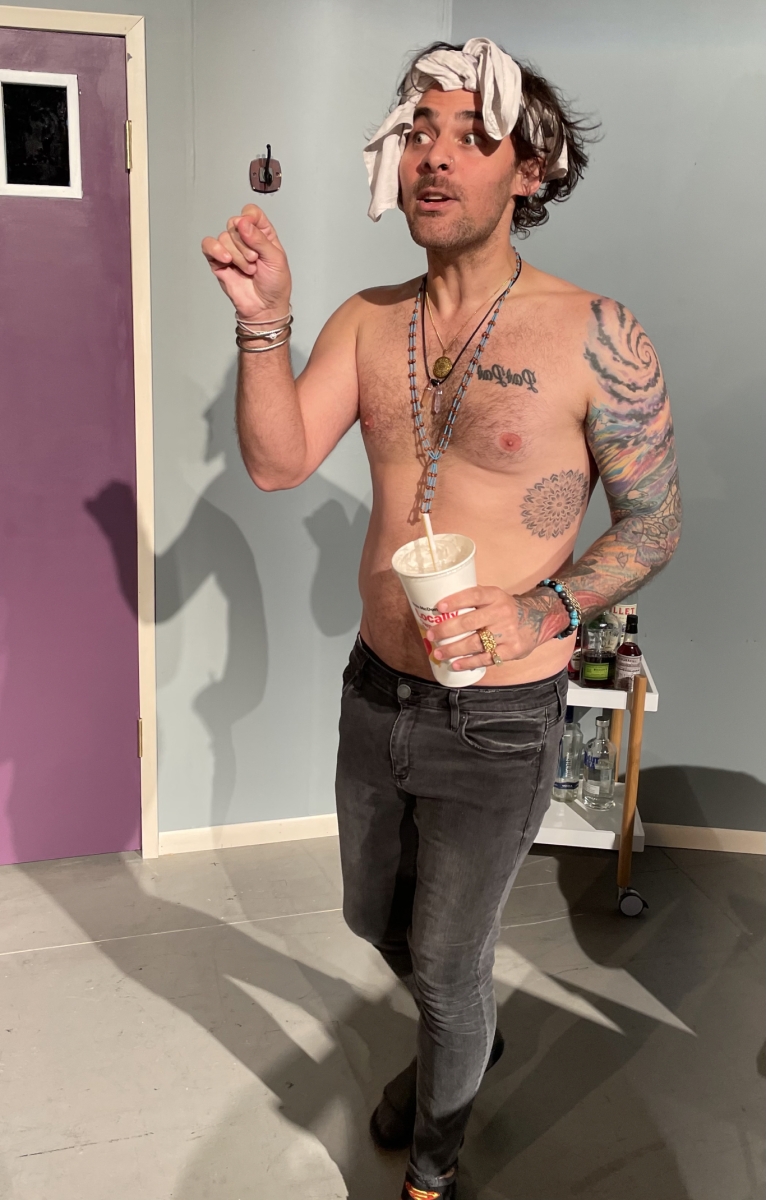 Desert Ensemble Theatre (DET) is presenting the Southern California premiere of Aren Haun's KILL THE EDITOR. As is usual with DET, the directing, performances, and technical aspects of the production are top-notch.
The one act, three-character play takes place on the French Riviera, during the week preceding the Cannes film festival. The playwright's Web site and the theatre describe the story as follows:
Ben, a young editor, has just landed his dream job to edit a documentary film at the prestigious Cannes Film Festival. The catch is: he only has one week to cut a five-hour version down to size and the filmmaker, Cameron, doesn't want to touch a frame. And when Cameron's previous editor, Libby, returns, Ben must decide whether to defend Cameron's vision, or possibly discover his own.
This is only the barest skeleton of a far more complex story. All the characters are aware of the importance of the next seven days, and they all understand that success or failure at editing the documentary could make or break their careers. However, as they argue about how the final film should look and go back and forth about whose vision should prevail and why, they frequently change their minds, arguing bitterly to defend opinions that they strongly opposed the day before. Yet the playwright does not, in my view, provide the audience with an understanding of why the characters' opinions change. One objection that I have about the script is that I do not fully understand what the playwright was trying to tell the audience.
Nonetheless, the play kept my attention, garnering laughs and at least figurative gulps. The script has stayed with me; I have spent the last two days thinking about it, attempting to take the story apart and put it back together. A play that won't leave the theatregoer alone has achieved at least one form of success, although I have several complaints about Mr. Haun's writing choices. More about the script and its flaws and successes later.
The production, unsurprisingly, is first-rate, as I have come to expect from DET. Sean Timothy Brown, who plays Cameron, is one of the company's go-to actors for both comic and serious roles. He shows his skills at both, here, and his stage presence is considerable. He plays Cameron as a world-class jerk, even though my short interactions with him indicate that he is a nice guy. However, it's hard to think of Mr. Brown as nice after seeing how well he becomes (rather than portrays) a creep - the mark of a fine actor.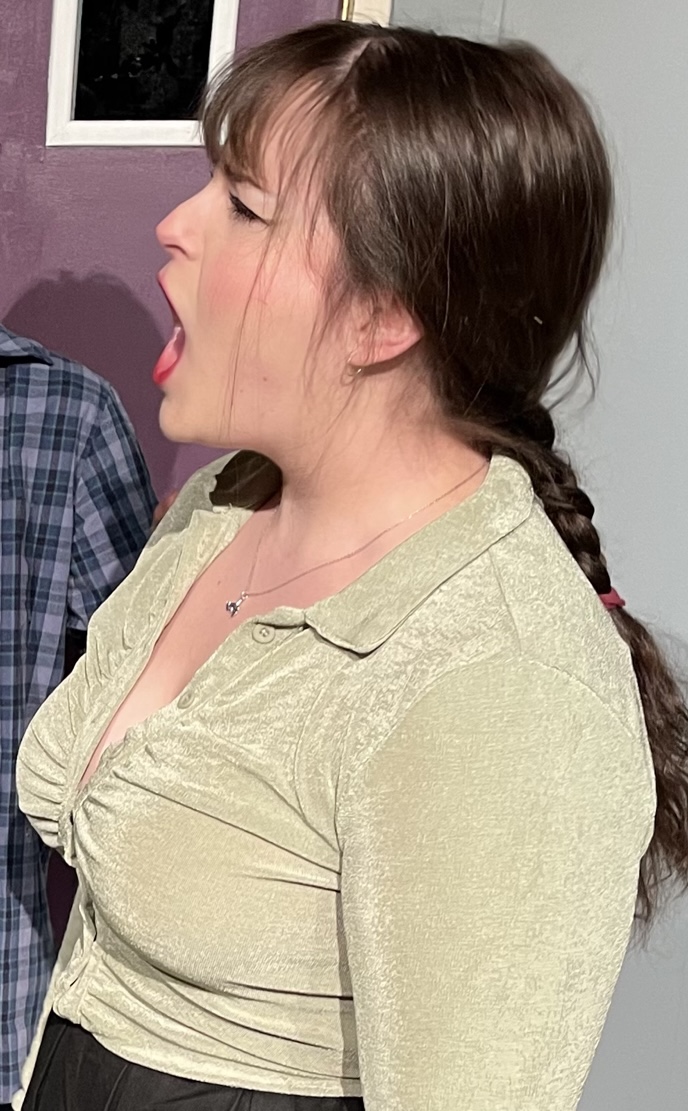 This play is Kudra Wagner's directorial debut with DET. Wagner, who uses they and them pronouns, puts their masters' degree in directing to great use here; they have brilliant instincts about pacing and about how to keep ratcheting tension higher. Keivan Safavi, who is also making his DET debut, perfectly contrasts Ben's relative calm with the other two characters' manic behavior. Yet, Mr. Safavi makes clear that Ben is trying to keep his own demons leashed, at least long enough to establish his career by editing the documentary. The third actor, Eliza Convis, has terrific comedic instincts. She establishes Libby's high energy by having the character speak blazingly fast. This is clearly a highly successful directorial and acting choice rather than nerves both because Ms. Convis perfectly enunciates every word and because, despite the speed of Libby's speech, Ms. Convis employs expert voice inflections, along with terrific facial expressions. I thoroughly enjoyed Ms. Convis's performance, yet, once again, despised her character.
I do not know whether to credit the director, the playwright, or someone else with a clever piece of scene change business that I really like: Backstage personnel place empty fast food bags on the furniture and floors between scenes to show the passage of time. This bit of comic business, along with having Cameron gobble French fries, is a definite improvement over the hoary cliché of having an analog clock speed through the hours.
What lowers the presentation from a "must see" to a B or B+ is that, in my opinion, the script has some flaws. For example, I became thoroughly confused when I realized that the characters defend their viewpoint swaps without explaining what changed their minds. Indeed, there seems to be no rhyme or reason as to who is going to champion which position at any given time, although, at one point, Cameron firmly announces, "The truth is what I say it is."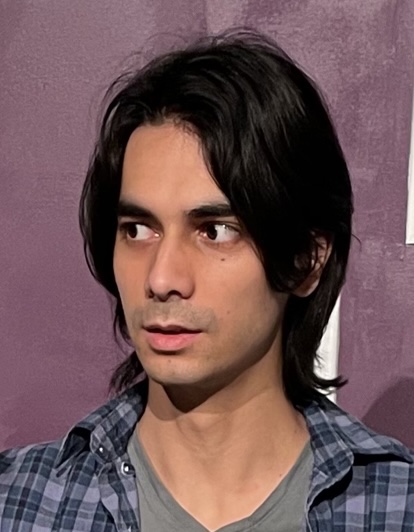 The documentary follows Cameron's disturbed and abusive father, who tries to bring himself to reach out to his son, but never succeeds. [Spoiler alert] The film explains that the father committed suicide, but Ben finds out that the man actually died of cancer. Cameron is adamant about keeping the suicide story rather than telling the truth about his father's demise; he tells Ben that the film needs more of an emotional punch for a distributor to pick it up and an audience to appreciate it than cancer would provide. [End of spoiler] Although no character ever utters the politically charged term "alternative facts," that seems to be Ben's underlying concern with his assignment. Specifically, he does not believe that the editors can ethically release a film that presents as fact events that did not actually occur. The ethical debate seems to underlie most of the conflict in the script.
A secondary conflict involving Ben and his off-stage fiancee, Emily, distracts from the main conflict. Part of the problem is that Mr. Haun commits the cardinal sin of story-telling: He has Ben tell Cameron about the secondary problem, rather than showing examples. [Additional spoiler alert] The secondary problem is that Ben, who is engaged to a woman that he clearly loves, is not sure that he wants to get married, and he definitely does not want to get married in the circus of a wedding that his in-laws-to-be are planning. Although he says he'd like to have things continue as they are without getting married - at least not getting married next summer - he knows that, to back out of the large wedding, he will have to end the relationship. The playwright seems to take this as a given and never explains why Ben has drawn this conclusion. Does he not want to spend his life with sweet, talented, although surprisingly jealous Emily, is he concerned about the large wedding, is he concerned that their lives will change too much after marriage, or is there something else? [End spoiler] When the playwright finally brings Ben's internal conflict to a head, there seems to be little to have instigated the climax - what makes Ben decide that THIS moment is the one that he must seize, or even that his solution will solve his concerns instead of ruining his life? I am still pondering these questions, but I'm not sure I will come up with satisfactory answers any more than I will regarding what caused the characters to change their views as to how to edit the film. Also, I believe that Mr. Haun should have ended his one-act play earlier than he did; some of the goings on seem superfluous after Ben resolves his secondary problem. Alternatively, Mr. Haun could have saved the resolution to the secondary problem until closer to the end of the play.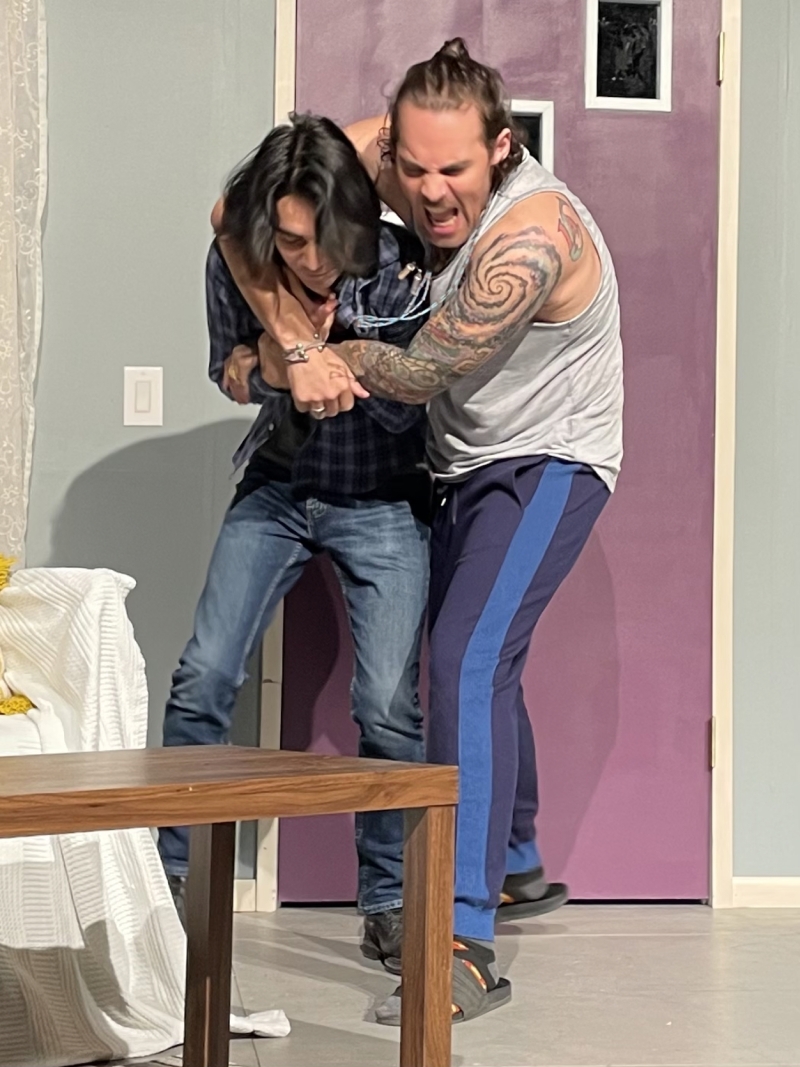 KILL THE EDITOR is billed as a comedy, but it is really a comic drama. The first third to half is mostly humorous, but then the script turns 180 degrees. After that point, minutes go by during which the audience silently pays rapt attention to dramatic occurrences taking place on the stage. When the funny business starts again, so does the laughter - testament to the actors' comic timing and the director's great instincts on pacing.
Going back to the play itself, despite my criticisms above, the script has many positives. For one thing, aside from f-bombs that swarm more thickly than locusts, the dialogue is rich and clever. Sarcasm drips from every character's mouth. Each character is richly drawn, and it is certainly funny.
Also, the play has depth. Specifically, Mr. Haun implicitly raises the difference between facts and truth, although he does not say explicitly that he is doing so. In setting out the debate regarding how to portray Cameron's father's death, Mr. Haun asks us whether sometimes, facts may stand in the way of making a key point. [Yet another spoiler alert] For example, if Cameron had his father succumb to cancer without trying to come to an understanding with his son, the story would be literally correct. In contrast, the falsehood that the man killed himself allows Cameron to show what he suspects to be the truth lurking in his father's heart: That his father understood that he had destroyed his son and could no longer live with his guilt. [End spoiler alert] Unfortunately, however, the playwright only dances around another possibility that Cameron could have used to solve his moral dilemma: Providing a fictional depiction of his father's life and death, labeling the film as "based on a true story." He could even have used the actual footage of his conversations with his father in an ultra-realistic form of docudrama. Yet, Mr. Haun did not address these possibilities - certainly not in any detail. Instead, he settled on having each character briefly address the moral dilemma before switching sides.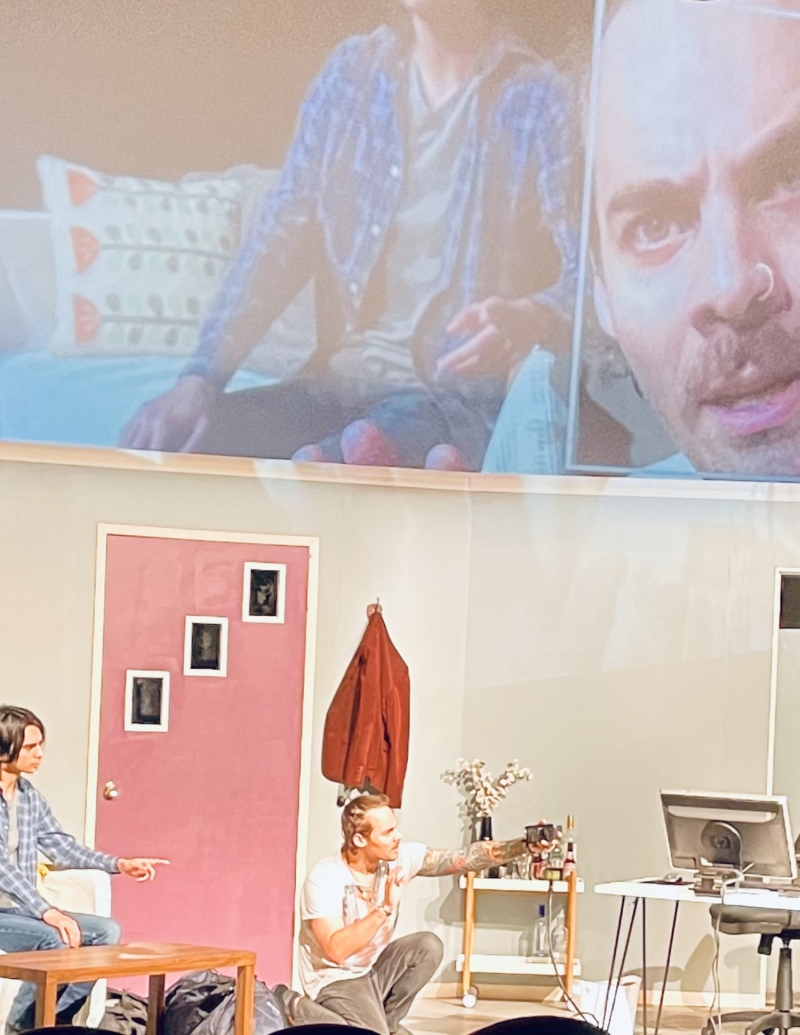 I usually discuss the technical aspects of each production and name all the technical personnel, but this review is already too long. Ms. Convis and Mr. Safavi, as well as director Kudra Wagner, assistant director J. Clare Merritt, and several backstage personnel are relative newcomers to DET, who came to the Coachella Valley in a group from the University of California Santa Cruz. They have added enormous talent and additional depth to DET. This production showcases their considerable talents, along with the talents of others with whom local audiences are already familiar. Suffice it to say that all aspects of the production are first-rate - a major reason to attend the show.
Furthermore, despite my complaints about the script, I suspect that many people will disagree with my views. Theatregoers owe it to themselves to attend DET's production of KILL THE EDITOR, both to see the company's fine work and to decide whether they think I'm right about the script's positives and negatives on the one hand, or whether they should kill the critic (I mean that figuratively, of course) on the other.
KILL THE EDITOR will run for one more weekend, from Friday, February 3rd through Sunday, February 5th, on Friday and Saturday at 7:30 p.m., and Saturday and Sunday at 2 p.m. Performances take place at the Palm Springs Cultural Center (the Camelot Theaters), 2300 East Baristo Road, Palm Springs, CA. 92262 (across Baristo Road from Palm Springs High School). Tickets are $38.59 with service fee. Contact the theatre by email at DETCTheatre@gmail.com, call 760-565-2476 for tickets or more information, or consult the web site, www.desertensembletheatre.org. The snail mail address is PO Box 2885, Palm Springs, CA 92262.
The rest of DET's 2022-23 offerings, all of which are recent plays by West Coast residents, are:
KAFKA'S JOKE, by Rich Rubin (world premiere, March 10-12, 17-19, 2023) -- Who owns Franz Kafka's work? A true story based on a 2016 Israeli Supreme Court case. Max Brod, Kafka's friend, despite Kafka's dying instructions to burn his unpublished manuscripts, escapes from Nazi Germany to Palestine, bringing Kafka's works with him. At the time of Brod's death in 1968, he leaves the manuscripts to his secretary. Who owns Kafka's work under the ambiguous will?
FUTURE THINKING, by Eliza Clark (April 14-16, 21-23, 2023) -- Middle-aged super fan Peter finds himself being held in Comic Con security after violating a restraining order filed by the show's young star, who is stuck in a hotel suite with her stage mom and bodyguard. Everyone has a fantasy, and soon they'll collide with each other, and with reality.
Photo Credit: J.E. Moskowitz