BWW Review: THE SAVANNAH SIPPING SOCIETY at Desert Theatreworks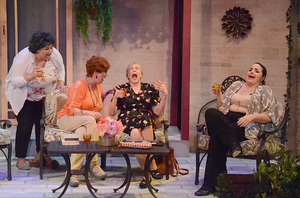 Desert Theatreworks has kicked off their 2019/2020 season of community inspired theatre with a frothy toast of champagne: a laugh-a-minute comedy called The Savannah Sipping Society. A group of women of a certain age, each of whom is facing a new situation in her life, meet almost coincidentally. Three of them have enrolled in a Hot Yoga class, thinking that the term "Hot" meant it would be hot fun. We meet them as they escape the torturously overheated room, and they agree to meet later that week for drinks and nibbles. A fourth lady joins them for their drinks, and the stage is set for two thoroughly enjoyable hours.
If four women over 40 sharing jokes sounds familiar, Savannah's writers, Jesse Jones, Nicholas Hope and James Wooten are all alumnae of television's Golden Girls, and the live production is every bit as enjoyable as the beloved TV series. The script is smartly structured with every scene being introduced by one of the four ladies "breaking the fourth wall" and addressing the audience directly, giving us insight into their individual backgrounds. Director Karen Schmitt has smartly set those in pin spots at the extreme left and right sides of the stage. Those individual moments not only let us know each individual a bit better, but also cover the time required for the other three ladies to make their numerous costume changes.
The first character we meet is Randa (the wonderful Leanna Rodgers) who has just walked away from her job as an in-demand architect because she was not selected as a partner. After escaping the yoga class she has enrolled in to calm her nerves, she meets Dot (Shirley LeMaster), an older retiree who is working through the pain of losing her husband and trying to find a more vigorous lifestyle. They are joined by Mariafaye (Adrianna Reyes), a boisterous soul who is not encumbered with any of the standard norms of society, and who shares her enthusiasm by punching her friends in the arm. She has just ditched her cheating husband. When they arrive at Randa's verandah for the drinks they arranged at the yoga studio, Dot brings a lady named Jinx (Rebecca Hertsgaard) who is just as iconoclastic and rebellious as her name would suggest. A makeup salesperson by day, she is just starting a side career as a life coach, and offers to take the other three ladies on as her first clients. I can't pick a favorite from this wonderful quartet - they are all established actresses at the top of their game, and their combination is synergistic!
Under Schmitt's direction, the action never wanes, and the laughs never stop. Many of the gags have the television structure of set-up, punchline, set-up, punchline, but the difference here is that the laughs are genuine and generous, unlike the recorded laugh tracks on the smaller screen. And much like a well-constructed wall, each gag and each situation is a craftsman-made brick, carefully installed by these four talented actresses, resulting in a beautiful structure by the final curtain. Laughing all the way, we have watched four strangers become lifelong friends, and our own lives feel a bit warmer for the experience.
Artistic Director Lance Phillips-Martinez's set is the back verandah and patio of Randa's house, displaying her financial comfort as a leading architect. At the extreme left and right edges are trellises which hinge open to give entrances and exits to each lady as she gives her between-scenes monologue directly to the audience. Through a clever trick of some moving panels, he is able to take us to a couple of other locations as well. As always, Phil Murph's lighting gives us comfortable illumination, sets the time of day, and occasionally demands our focus on a single section of the stage, as with the monologue positions.
Director Schmitt doubled with makeup design; Michelle Mendoza assembled the props, wardrobe and hair; Billy Franco designed the sound; Kaylyn Bernal stage managed; and Miguel Gomez, Amanda Kaye, Jeremiah Woods, and Trevin Ortega handled backstage duties under the direction of Tessa Walker.
Savannah Sipping Society plays one more weekend, September 13 - 15. It will be followed by the tense courtroom classic, 12 Angry Men, playing 10/4 - 13. Tickets and further information are available at www.dtworks.org.
Photo by Paul Hayashi