BWW Review: MAYTAG VIRGIN at Dezart Performs is a Magical Night of Theater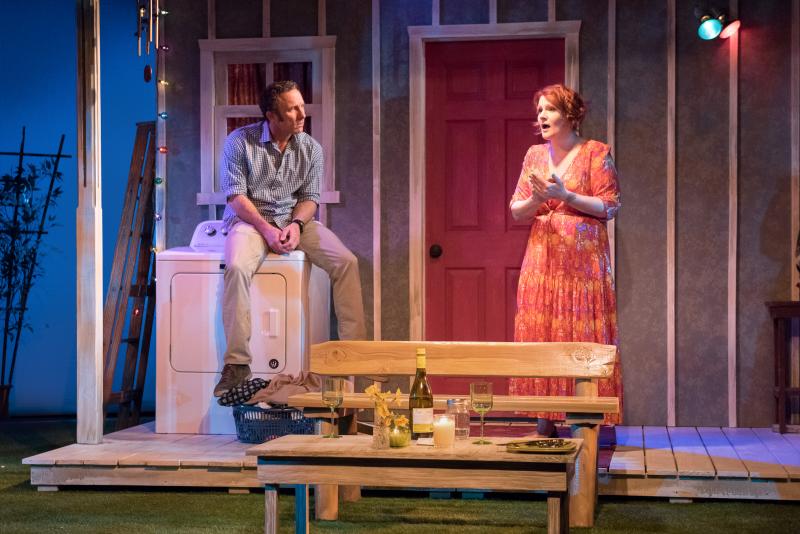 There's no better way to celebrate spring than with a breezy, romantic comedy that, thank goodness, isn't the tiniest bit vapid. Maytag Virgin, by Audrey Cefaly, is the story of two new neighbors in Lenoraville, Alabama who just happen to be a little bit broken around the edges and some of the more important parts in the middle. Lizzy Nash (Kay Capasso) and Jack Key (Joel Bryant) have a lot in common; both are teachers at the same school, both lost a spouse (to death, not at the mall) and they're both a little bit afraid; she's afraid to live, and he's afraid of ghosts. Yes, that's weird, but there's a metaphor in there. In fact, there are a lot of them in the play but I'm a sucker for a clever metaphor.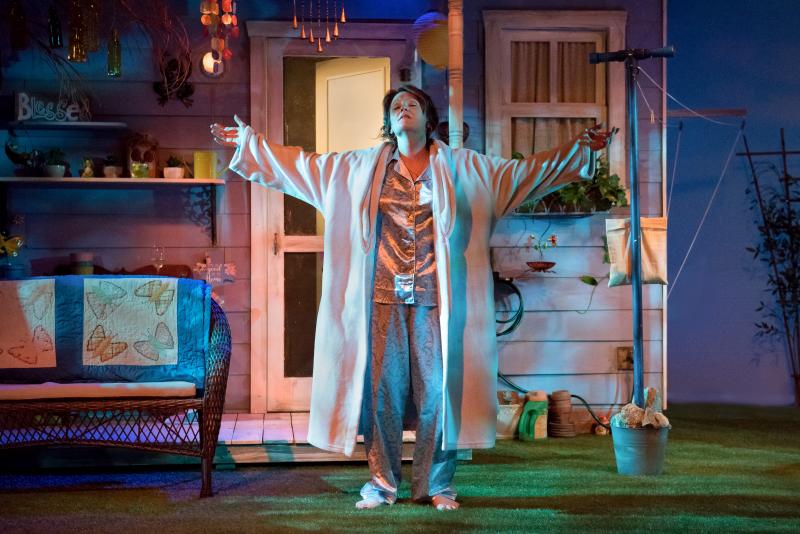 In our story, the physical obstacle Lizzie can't overcome is that damned Maytag dryer that new neighbor Jack keeps on his back porch. Jack is attractive, available and a good man. But Lizzy's stuck in a complicated past, and she has never used a dryer. Ever. She hangs her clothes on the line as good southern girls do. Who needs a freaking dryer, and why isn't it in his laundry room like it's supposed to be? And that is Lizzy's baggage; she doesn't think she deserves a better life. Lizzy constantly hounds "Mistah Key" (as she calls him) about that unsightly dryer, but he knows that dryer keeps them connected. Lizzy's no fool, she knows it too, but can't admit it. Adding more drama, he's a Catholic, has a large statue of the Virgin Mary on his front porch and Lizzy is all "worship no one before me" and that's a sticky wicket in the God world. AND there are old love letters found in Jack's crawl space that quite honestly aren't needed. But they're there, and so we'll go with it. Because now every possible barrier on the way to happily ever after for them has been built. But, as we learn in life -and often much later than we should- the most important hurdle to happiness is forgiving ourselves.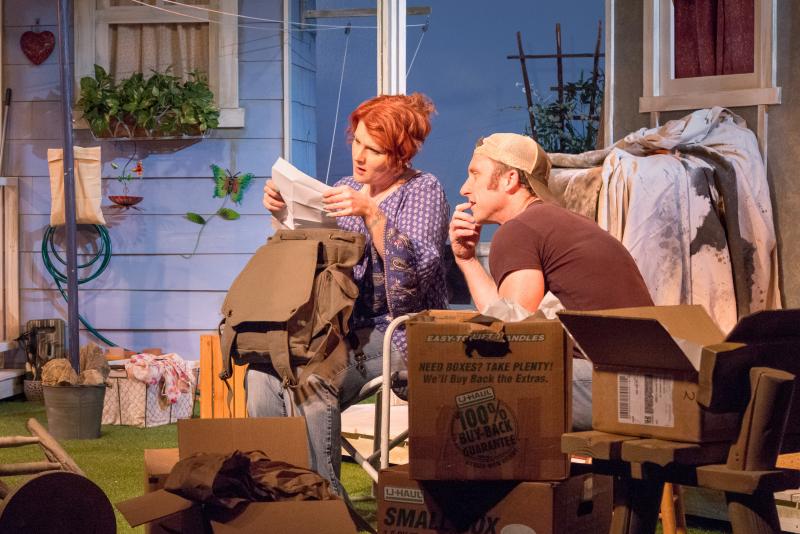 This could be treacly stuff, and there are a few moments that reach down deep but are palatable because Cefaly's writing is sharp, quick-witted, and well-crafted. In director Deborah Harmon's hands, the characters come alive; they rise above their own shortcomings and move along at a great clip. Every corner of the well-visualized and exceptionally well-built set by Thomas L. Valach is utilized. (My house is wobblier than Valach's set.) Harmon, a Second City alumnus, and terrific comedic actress, has a great eye for comedy; her physical bits are bright and shiny, and Capasso and Bryant deliver full-frontal comedy with passion and finesse.
To be completely frank, I want Capasso's Lizzy to be my BFF. I want to sit on a porch and drink spiked, sweet tea (hate it, don't care) with her all afternoon shooting the breeze. She's smart, insecure, funny and talks an awful lot, but she's a very interesting gal, and she is so very, very real. From the moment Capasso hits the stage it's hard to stop watching her. The fact that she is rarely off stage nor that she is one character in a two-character play has nothing to do with it. Capasso slips into Lizzy with the ease of a thetan into a Scientologist's body. Her performance is flawless.
Like Lizzy, I felt Jack, at first, was a little bit of a hard sell. He postured, did the old cartoon aoogah-eyes while checking out her body. But everyone has their own style of courting, peacocks, baboons...you know, let's drop that train of thought. The process of watching Jack fall for Lizzy and she for him was a brilliant tour de force by both actors. Bryant checked so far into my heart he made me want a "him". And really, isn't that the final point of a romantic comedy? To fall in love with them?
Not only well acted and directed, Maytag Virgin had my favorite lighting cue of the season. Utterly forlorn yet hopefully romantic, it evoked a real depth of feeling with gentle rain falling from the night sky while lovers pondered their future. Exquisite. Big thumbs up to Phil Murphy and his lighting design. It was enchanting.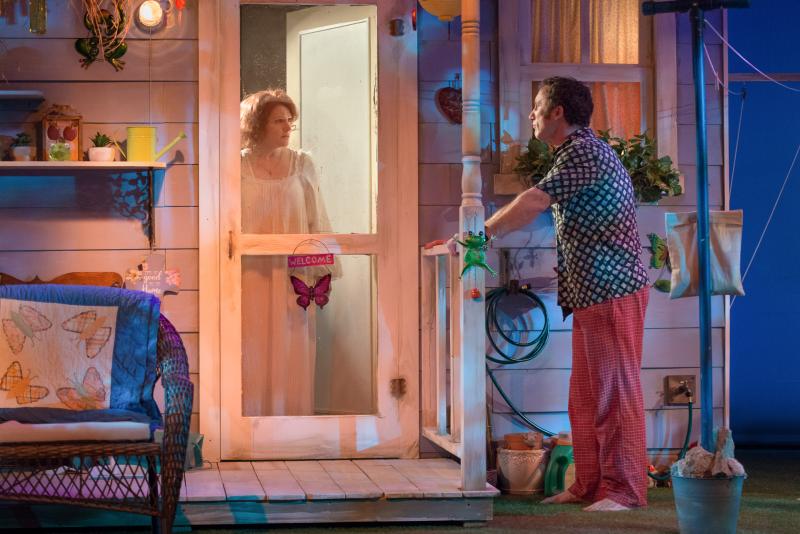 Barb Portinga's costume design was effective and amusing. The more Lizzy became interested in Jack the better-put-together Lizzy became. One nitpick: Lizzy's nightgown. I haven't seen sleepwear like that since Doris Day movies. But hey, maybe that was Portinga's point; things haven't changed all that much over the years in many parts of the world.
Rounding out the technicals, Clark Duggar did a good job with sound design, and a big nod to the oft-neglected stage manager, in this case, Michael O'Malley. Another big shout out to behind the scenes props peeps who meticulously altered the set to each scene's perfection.
Maytag Virgin is as delightful as a spring day. It's a wonderful, feel-good play. If you enjoy comedy, romance, superb acting and production values, and if you appreciate well-crafted, intelligent characters with a great deal of heart and want to feel young and in love again, go. With Maytag Virgin, regret evolves into self-realization, and eventually into forgiveness smothered in a gravy boat full of love and laughter. As my seat mate exclaimed after act one "If they don't find each other, I'll be so upset!" What more could you want from an evening out?
Highly recommended.
Dezart Performs' production of Maytag Virgin is performed at 7:30 p.m., Friday and Saturday; and 2 p.m., Saturday and Sunday, through Sunday, April 14, at the Pearl McManus Theater at the Palm Springs Woman's Club, 314 S. Cahuilla Road, in Palm Springs. Tickets run $30 to $35, and the show Iis two hours, with a 15-minute intermission. For more information, call 760-322-0179, or visit www.dezartperforms.org