BWW Review: JIM BORAX'S CALIFORNIA CABARET is a Gem.
JIM BORAX Takes Audiences from Broadway to Opera and Beyond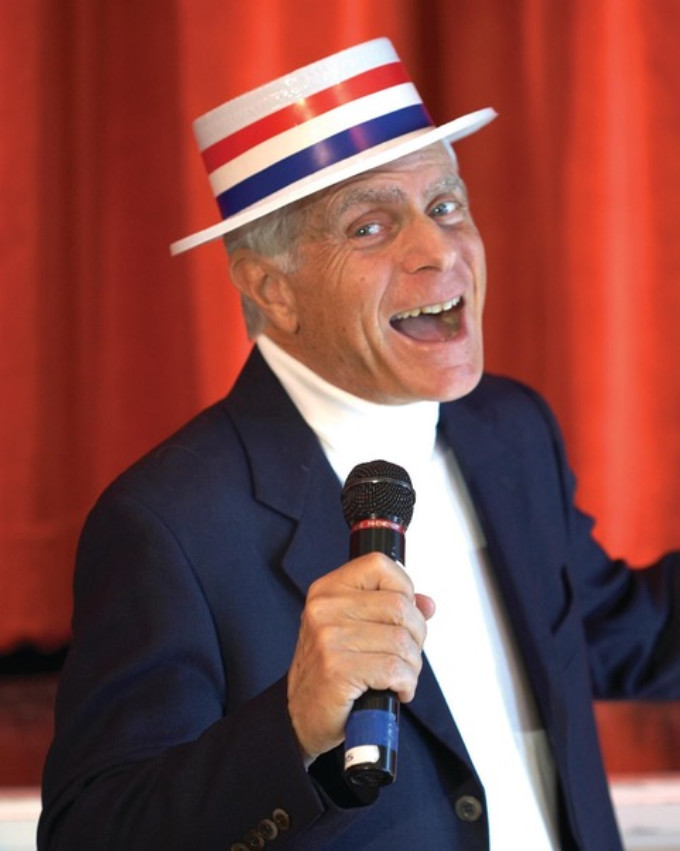 When I was invited to attend JIM BORAX'S CALIFORNIA CABARET at the Rancho Mirage Library & Observatory, I knew only that the program focused on standards from the Great American Songbook. I was sure glad that I went - the group's eclectic program featured Broadway quality singing and dancing, and even an operatic aria. CALIFORNIA CABARET is a hidden gem that I hope more people get to see.
The performance featured Mr. Borax, the group's producer and founder, who serves as emcee and participates in the singalongs and other full-group numbers, and four other multi-talented performers. Mr. Borax told me that, after he retired from a successful, 42-year career in commercial real estate, his wife, Sheri, suggested he look for something new to occupy his time. He proceeded to create a company called Sing-Along Productions, through which he and the company led audiences in the songs of American greats, such as Gershwin and Cole Porter. Mr. Borax changed the name to CALIFORNIA CABARET when the audience demanded to hear more from the cast members, and the song-leading took a back seat to their performances. At the library performance, the troupe led two sing-along pieces, as well as a group number consisting of the five service anthems, in which the veterans of each military branch stood while their branch's song played.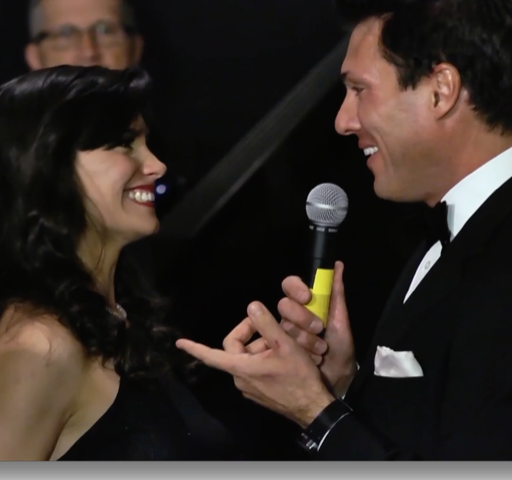 Most of the show's singing and dancing, all of which was expertly presented, came from the two men and two women who made up the rest of the cast. Troy Clarke, who, believe it or not, majored in molecular biology in college, performed mostly Frank Sinatra standards, although he also sang Bobby Darin's hit, "Mack the Knife." His silky delivery and smooth moves perfectly evoked the 1950's. Damon Kirsche, a lyric tenor who attended Juilliard, specializes in older Broadway standards. He sang "Almost Like Being in Love" and Gershwin's "Come Along My Liza," among other favorites. Both these gentlemen have excellent voices. Both are charismatic performers who know how to engage the members of an audience.
The two women in the cast, Palmer Davis and Melissa Batallés, are also expert singers with extraordinary stage presence. Ms. Davis is a mezzo with an earthy voice and the ability to belt. Ms. Davis sang Cole Porter's "My Heart Belongs to Daddy" and "When You're Good to Mama," from CHICAGO. Dressed in a 1920's flapper dress, she and Damon Kirsche together sang "All that Jazz," also from CHICAGO. One of the surprises of the afternoon was that, despite the tight performance space, Ms. Davis, a former Radio City Music Hall Rockette, executed repeated fast spins and high leg kicks in multiple dance numbers - her dance moves were one of the things that made the show so special.
Ms. Batallés' performance style contrasts with that of Ms. Palmer; Ms. Batallés, a two-time winner of the McCallum Theatre's Open Call, is a traditional soprano who emphasizes melodic songs. Her renditions of "Till There was You," from THE MUSIC MAN, and "Make Believe I Love You," from SHOWBOAT, both with Mr. Kirsche, were lyrical and moving, as were her solos. I especially enjoyed "I Could have Danced All Night," from MY FAIR LADY. Ms. Batallés, too, provided a surprise, with her extraordinary interpretation of "Nessun Dorma," from Puccini's TURANDOT. It takes a great deal of courage for a soprano to sing this aria, because it is not only usually performed by a tenor, but it was one of the late Luciano Pavarotti's signature pieces. Her standing ovation was well-deserved; Ms. Batallés could easily perform roles such as Christine and Cosette on Broadway.
The two other members of the company deserve mention. Although most of the numbers used electronic tracks, Denis Moreen ably accompanied the performers on several. Perry Jeres, who heads the audiovisual department at Sun City Palm Desert, served as audio technician.
Usually, when I recommend seeing a show, I can give readers specific information about where and when to attend. However, Mr. Borax told me that many of the group's gigs are for private parties and benefits. For example, in September, they performed at the CALVETS home for military veterans, which Mr. Borax, who declined payment for that event, called a "most gratifying experience" - the group members were demonstrating their appreciation for the veterans' sacrifices. They have also done shows for the USO.
For those who want to see the exciting and intriguing CALIFORNIA CABARET, there will be two public performances in early 2019. The group will appear on February 28, 2019 at Sun City Palm Desert, in a benefit for Hadassah. On March 31st, they will sing at a program at the Annenberg Auditorium, on the Eisenhower Health campus.
For more information about JIM BORAX's CALIFORNIA CABARET, see the Web site at www.CaliforniaCabaret.com. Booking is available through the Web site or by calling 310/562-3133 (NOTE: The telephone number has been corrected from an earlier version of this review).
The Rancho Mirage Library & Observatory Foundation each year presents multiple public events, consisting of concerts, films, and lectures, among other offerings. These are usually free of charge. For more information, see the Web site at www.RanchoMirageLibrary.org.