BWW Review: GRAND HOTEL at Palm Canyon Theatre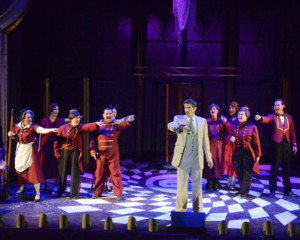 In producing 12 shows per season, sometimes Palm Canyon Theatre's productions become a blur, but their current offering, Grand Hotel, is one that will stay in viewers' memories for a long time. It is one of their most beautiful productions, combining top talent, design, direction, and choreography with a terrific show and score. It finishes its short run this weekend, and I suggest you run, not walk, to pick up tickets.
Set in a luxury hotel in 1929 Berlin, the play combines several interwoven plotlines involving the hotel's guests. The first guest we meet is Colonel-Doctor Otternschlag, stunningly played by Palm Springs newcomer Michael Wellborn. His strong jaw and command of the stage make it small surprise when the program informs us his history includes Days of Our Lives. In Act 2, he reveals that he also has a very strong singing voice. I hope we see more of him.
After we meet the doctor, who serves as a de facto narrator in a tight spotlight, the house curtain opens to reveal one of resident designer J. W. Layne's most outstanding sets, the lobby of the luxurious Grand Hotel. Art Nouveau filigree panels extend some 16' in the air to form the back wall, a number of airy columns, lit from within, also stretch to the top of the set, three lovely cascading chandeliers serve as a tiara atop the beautiful room, and all-importantly, a gold revolving door is up-center. For the black and white tiled floor, rather than a large chessboard, Layne has the tiles circling into themselves, forming a maelstrom that mirrors the increasingly complex situations that many of the characters will find themselves in. Director Richard Marlow also smartly keeps the revolving door in motion during full-stage musical numbers, reminding us of the transience of the characters we are meeting. At no other weekend in history will this particular collection of people be interacting under one roof, creating the chemistry that we are going to experience.
The cast of 22 is uniformly excellent, and if I don't mention them individually, it's because of space limitations. Leading the ensemble was company co-artistic director, Se Layne, as fading ballerina Elizaveta Grushinskaya. We have seen Layne center stage many times, but this character was like a whole new actress had been brought in. On her first entrance, she is cold and imperious, dressed in black with her hair tightly bound. Later in the show as she falls in love, she seems to lose 20 years as she becomes a lovestruck maiden. Costume designer Derik Shopinski helped by changing her severe black to pink pajamas with a floral robe, and wig master Mado Nunez dropped her severe opening coiffure to free-flowing tresses, but the biggest change was Layne's characterization.
Her love interest is Baron Felix Von Gaigern, a broke nobleman who is driven to crime because he is unwilling to give up his accustomed life of luxury. Ben Reece brings great charm to the role as he first befriends dying Jewish bookkeeper Otto Kringelein (Terry Huber), and then Layne's ballerina who is coming to grips with the fact that her career is fading. Reece's singing voice is always a delight, and Huber's turn as the dying bookkeeper is one of his finest characterizations at PCT.
The always-charming Allegra Angelo plays Flaemmchen, a flapper who works as a typist while secretly pining to go to Hollywood and become a star. Her story line intersects with Don Kelley's Hermann Preysing, a businessman who discovers that the merger which could save his company has fallen through.
One of the most enjoyable characterizations was delivered by valley favorite Adina Lawson as Raffaela, the personal assistant and general dogsbody to the ballerina. Their relationship is perfectly displayed in their entrance scene when the ballerina tosses her fur behind her, not needing to look back to know that Raffaela will be there to catch it. During the show, Raffaela reveals that her commitment to her boss is much more personal, wishing that they could share their lives together. With the strength that Lawson brings to the character, I suspect that she will prevail.
Another enjoyable character is Jacob Samples' Erik, the front desk clerk. His wife is in labor, though he can't leave his desk to be with her, so he gets phone calls to keep him posted. Although a smallish role, Samples delivers such a rounded and delightful characterization that he stands out, and as always, his singing is superb!
I have seen Sean Timothy Brown around the valley in dramatic roles, including the young professor in PCT's Who's Afraid of Virginia Woolf, but this was the first musical which I have seen him tackle. He plays Jimmy, an entertainer at the hotel. Although a minor role, his song-and-dance skills, combined with a 100-watt smile, truly made him stand out. Tall and lanky, he also sets the bar in the ensemble dance numbers, making the moves a natural extension of his personality, and convincing the audience that dancing in front of 200 strangers is the most enjoyable thing he has ever done in his life.
Speaking of dancing, Se Layne did double duty as choreographer, and her ensemble work is in top form. The moves seemed to be within the grasp of the company, without having been dumbed-down for the less skilled dancers, and were one more element that nailed the period for us.
Resident Musical Director Steven Smith kept the challenging score moving smoothly from his position at the piano. Regular musicians Larry Holloway (bass) and David Bronson (drums) were joined by Cindy Brogan (violin) and Tom Keenlyside (multiple woodwinds). It was amazing that the adding of two more musicians brought such a rich orchestral sound.
Familiar character men Garnet Smith and Alan Berry were joined by numerous others in supporting roles. Special praise goes to the staff of the hotel: the bellboys (played by female actors), maids, and operators were often pieces of scenery, but then they brought great gusto to the musical numbers. The hotel staff also moved the sets and furniture, often while a scene is going on somewhere else on the stage, so there were no delays.
Saving the best 'til last, top marks go to director Richard Marlow. The show's script (Luther Davis) and music (Robert Wright and George Forrest) recreate the frenzy of a major hotel with characters moving on and off stage randomly, sometimes standing around in one area while a scene is proceeding in another area, or even multiple scenes transpiring simultaneously. Many of the stage compositions were gorgeous. This is an amazingly difficult show because of the intersecting plot lines and simultaneous scenes, and Marlow kept their movement quick, clear, and thoroughly entertaining.
Grand Hotel only plays through this Sunday, April 14. Tickets and further information are available at www.PalmCanyonTheatre.org, or 760-323-5123.
Coming up are The Diary of Anne Frank from April 25 - 28; Big River May 10 - 19; Steve Martin's Meteor Shower May 30 - June 2; and Spring Awakening July 5 - 14.