Review: ALL THIS INTIMACY IS A Brilliant, Must-See at Desert Ensemble Theatre
The Play Runs through April 3rd at the Palm Springs Cultural Center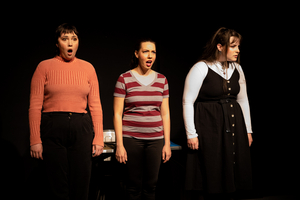 The latest extraordinary piece of theatre -- another must-see -- that I have had the privilege to attend is Desert Ensemble Theatre's production of Rajiv Joseph's ALL THIS INTIMACY, playing for one more weekend (April 1st to 3rd).
The play has plenty of laughs, but it is not by any means a comedy. The story concerns Ty, a poet and college instructor, who has been dating Jen (Kudra Wagner) on and off. Jen's sister, Franny (J. Clare Merritt), whose aggressive personality would probably intimidate a lion, is engaged to Seth (Raul Ramiro Valenzuela), who is Ty's best friend. At the beginning of the play, Ty confesses to Seth that he has accidentally impregnated three women in the space of nine days - Jen; his 42-year-old married neighbor Maureen (Phylicia Mason), who thought she suffered from infertility; and Becca (Eliza Convis), his 18-year-old freshman student. As he tries to decide how to deal with the situation, he wavers between truth and lies, openness and secrecy, and apology and indignation. Not only does Ty's own life threaten to come apart, but so do Franny's and Seth's and the three women's.
The story line consists mostly of events designed to keep the audience guessing as to who will find out about Ty's problem, how they will find out, and what Ty and the expectant mothers will do. The story unrolls in a non-linear way, with Ty's narration and flashbacks filling in relevant information as events move forward. This method of storytelling allows the playwright to hold back important details until he is ready to reveal them. A major twist at one point sends the plot off in a completely different direction, but, just when the new revelations seem ready to resolve, another twist occurs.
The play, in my view, is primarily a character study of Ty's morals and responses to the crisis. As each new bit of information came out, I found myself reevaluating whether Ty was a basically decent fellow who got caught up in some unfortunate events, or whether he was a creep who didn't deserve to have things work out.
The direction (by Keith Cornell, making his DETC debut) and acting by the cast of six is energetic and believable, even though the actor playing lead character Ty had to bow out for the first weekend because of a non-Covid illness. (That actor, Sean Timothy Brown, will return for the second weekend of the run; the producer, Sean Abramowitz, who is also DET's executive director, did a top-notch job filling in, script in hand, during the first weekend's shows, despite his having only one rehearsal).
This is a fabulous cast, without a weak link. The script requires a great deal of emotion from everyone, and these actors give their all. The four female characters (the three pregnant women and Seth's fiancee) have widely different personalities - Jen is unsure of herself and admires Ty's success, Maureen is seriously depressed over her supposed infertility and her husband's having decided to back out of adopting a second child, Becca is a simpering post-adolescent with a sarcastic sense of humor, and Franny is an angry, aggressive horror. The actors manage to keep these women from becoming stereotypes; they are fully-developed characters even though we eventually realize that, with the possible exception of Jen, Ty sees the pregnant women as flat and interchangeable.
All the actors are adept at revealing their emotions through their faces, including Mr. Abramowitz, the substitute. The brilliance of all the actors' facial communication helps tell the story and overcomes a bit of talkiness and slow pacing in the first few minutes of the play.
At the beginning of the play, when Ty tells his story to his best friend, Seth, it is easy to see Ty as a decent person who accidentally got into a mess, with the women in some cases even more blameworthy than he is. Besides, Ty seems reasonable about the whole thing, not trying to talk anyone into aborting or giving up their baby for adoption.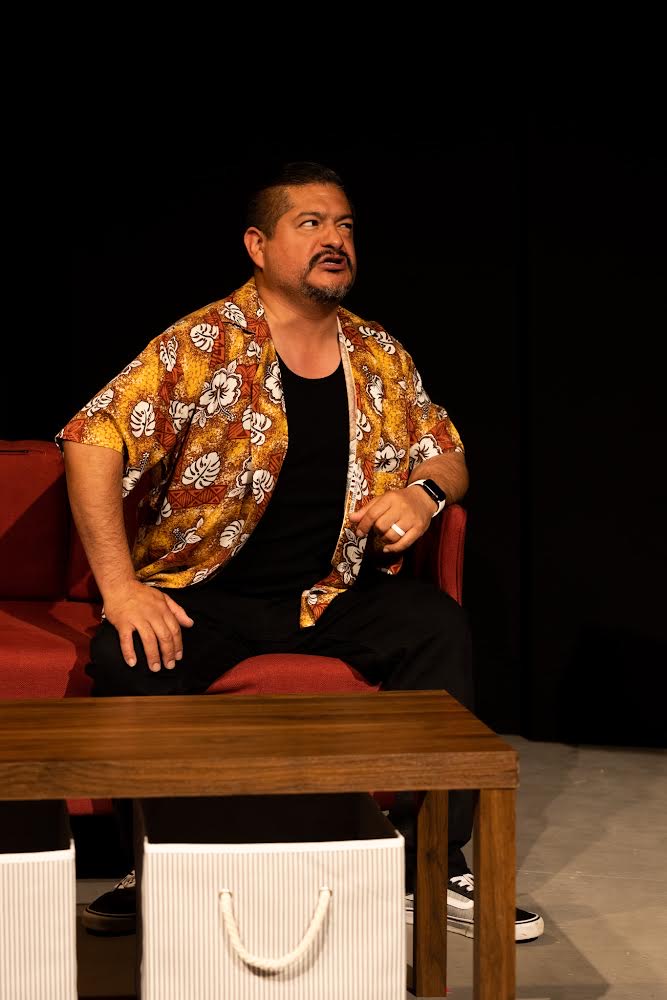 But later, the more Ty keeps emphasizing how his life is being ruined, the less of a "nice guy" he seems to be. A revelation during an argument between Ty and Seth late in the play, led me to wonder whether the audience can even trust the scenes where we thought we saw the married and apparently infertile Maureen and college student Becca come on to Ty; did we witness what actually happened, or did we see what Ty remembered happening? If the latter, were the women indeed equally blameworthy to Ty?
In the program notes, DETC's artistic director, Jerome Elliott, mentions DETC's new collaboration with Barn Rat Theatre Company, "a group of energetic and forward-thinking" UC Santa Cruz students and alumni who have moved to the Coachella Valley to pursue theatre. The three cast members with degrees from Santa Cruz - Eliza Convis and J. Clare Merritt received their bachelors' degrees in 2021, and Kudra Wagner (who uses gender neutral pronouns) received their MA in directing - are highly talented actors.
It is difficult to put depth into a stereotype, but that is exactly what J. Clare Merritt did with her portrayal of the loudmouth, malevolent Franny. The playwright leaves ambiguous why Franny acts as she does, but Ms. Merritt's portrayal implies that Franny has no softness at all. Does Franny really love Seth? Probably, but it seems to be a toxic kind of love.
Ms. Convis, too, has to deal with a largely stereotypical character: A young, brash student whose philosophy of life seems alien to the much older Ty. Ms. Convis plays Becca as a nice person, albeit snarky at times, who has not yet realized her potential. Once again, the actor appears to have given her character much more depth than the playwright did.
Kudra Wagner has a tough role as Jen, the on-again, off-again friend with benefits and sometime girlfriend, who is smarter than most people, much nicer than her aggressive sister, and completely indecisive about her future. Jen and Ty have a scene where they write notes to each other from a few feet away because Ty has laryngitis. The playwright never reveals what is in many of the notes, but Kudra Wagner supplies possible meanings with their facial expressions. It is a sublime scene.
The actor playing the fourth female character, Maureen, the next-door neighbor who is desperate to have a baby, needs no introduction to Coachella Valley audiences. Phylicia Mason, whom I last saw as a depressed penguin, also at DETC, can play anything from comedy to tragedy, and play it brilliantly. Here, as always, she excels in her role, going from sadness to exuberance and back.
Last, but hardly least among the non-substitute cast members, Raul Valenzuela, who plays Ty's best friend, Seth, is a man of rubber faces - the audience always knows exactly what his character is thinking because we can read it in his face. Mr. Valenzuela excels in playing nebbishy characters who are afraid of their own shadows. Here, Seth is afraid of his fiancee, Franny, but is unafraid of telling Ty off. The role is largely comedic, but Mr. Valenzuela is also powerful in a highly dramatic scene towards the end.
I adored the technical aspects of the show. DETC's new venue (theatre number three at the Palm Springs Cultural Center) has been renovated with new lighting, thanks to a grant from the Coachella Valley Spotlight, which is a partnership between Gulf California Broadcast Company and the Berger Foundation. Thomas L. Valach, a veteran set designer, as usual came up with a simple, but highly effective set to distinguish locations where the action takes place.
Lighting designer Kevin O'Shaughnessy, a new Coachella Valley resident - another person from UC Santa Cruz - did a fabulous job, especially in designing spotlighted areas of the stage as the timeline bounces back and forth. Gus Sanchez also did a fine job designing the sound. Costume designer Andrew MacLaine helped set out each character's personality with his creations. The rest of the equally successful crew consists of stage manager Sierra Barrick, lighting technician Ashton Bolanos, prop designer Shawn Abramowitz (who also is one of the producers, along with Jerome Elliott, DET's artistic director), and construction crew Christopher Adams, David Atkisson, Tom O'Brien, and Jason Smith.
Finally, at the risk of sounding like an English teacher giving an assignment, audiences may want to ponder the play's title. Specifically does it refer to Ty's having sex with so many women in such a short time, or does it refer to something more subtle, such as the truths that are revealed, layer by layer, as if audience members were peeling an onion?
I strongly urge all lovers of well-acted, deep but funny theatre, to see this fabulous production, which is the last play of DETC's 2021-2022 season.
ALL THIS INTIMACY will run for one more weekend, from Friday, April 1st through Sunday, April 3rd, on Friday and Saturday at 7 p.m., and Sunday at 2 p.m. Performances take place at the Palm Springs Cultural Center (the Camelot Theaters), 2300 East Baristo Road, Palm Springs, CA. 92262 (across Baristo Road from Palm Springs High School. Contact the theatre by email at DETCTheatre@gmail.com, call 760-565-2476 for tickets or more information, or consult the web site, www.desertensembletheatre.org. The snail mail address is PO Box 2885, Palm Springs, CA 92262.
Photo Credit: BECKY JOHNSON