BWW Interview: Tiffanie Patscheck, Artistic Director of Encore Theatre District, Talks About the Upcoming Season.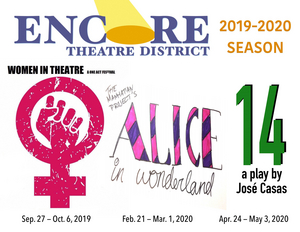 Encore Theatre District, which is entering its third season, finished its 2018-19 season with a bang - a production of FALLING, by Deanna Jent, a drama about a family dealing with its older child's case of severe autism. Broadway World called the offering "a brilliantly executed, must-see production for theatregoers who are willing to shed tears as they are forced to think and feel." The Desert Theatre League has nominated three of the performers in FALLING, Jeremiah Rhoads, Brenna Williams, and Alden West, for acting awards.
For its 2019-2020 season, Encore will partner with the Palm Springs Cultural Center and will hold rehearsals and performances at the Center, which is co-located with the Camelot Theatres. It's three productions are:
25 Questions For A Jewish Mother by Judy Gold and Kate Moira Ryan, a comedy directed by Tiffanie Patscheck, which runs from September 27th through-October 6th, 2019.
ALICE IN WONDERLAND, a reimagining of Lewis Carroll's classic by Andre Gregory and The Manhattan Project, directed by Jeremiah Rhoads. It features six actors telling the classic story through a psychological lens. This show will run February 21-March 1, 2020.
14, by Jose Casas, directed by Tiffanie Patscheck, about the immigration crisis on the border near Yuma, Arizona in 2001. The show explores the issues involved in immigration and how it is viewed by both white people and Mexican-American people. This show runs April 24-May 3, 2020.
All performances take place on Friday and Saturday nights at 7 p.m. and Sunday afternoons at 2 p.m., at the Camelot Theatres, 2300 E. Baristo Road, Palm Springs, CA.
Tiffanie Patscheck, Encore's artistic director, talked with Broadway World by email regarding its upcoming productions and its move to the Center. The interview has been lightly edited for style.
Broadway World: How does the change of venue (from a black box theater with seating on two sides to a standard auditorium) change the kinds of productions you put on, and the director's interpretation of a script?
Tiffanie Patscheck: We've always approached our shows with a minimalist point of view. The new theatre, though set up in a proscenium style, will still very much incorporate the audiences as we've always intended to do. The shows we selected were actually chosen over the last couple of years and when we saw the space at PS Cultural Center, we knew all of our selections would work beautifully in that space.
BWW: How did you go about selecting this season's productions?
Ms. Patscheck: We knew that the show following FALLING, even though it's the following season, would need to be a comedy! We fell in love with the humor of 25 QUESTIONS FOR A JEWISH MOTHER. Though, not everyone we know is Jewish, the humor is relatable to anyone with a mom along with an interesting share on where the hearts and minds of mothers come from while raising their children. (Disclosure: I play the Jewish Mother).
ALICE IN WONDERLAND as told by the Manhattan Project is such an interesting piece! It's not your Disney version at all and really tells a deeper story of Lewis Carroll than most are aware of. Not a comedy or a drama, this show is exciting and eye opening and definitely introduces the audience to devised theatre, which is so exciting, because we see so little of it out here in the Valley. That show has no set and minimal costumes. Everything in the show is created by the actor while sharing this amazing story. That will be so fun!
14 was a play we wanted to try and do for a couple of years. Due to it being centered around immigration, we didn't want to do it in the same season that we did LYDIA (the first season), and last season had a focus on autism; but with everything going on regarding our border currently, it's a great time to remind everyone about this true story that many found swept under the rug from years ago. 14 immigrants died while trying to cross the border and this play presents several different characters portrayed by only 4 actors and their opinion(s) on the event that took place including their views on immigration and the laws regarding it. The cast will consist of 2 males and 2 females, with one man and one woman being white and the other two being Hispanic.
BWW:What particularly excites you about this season's productions?
Ms. Patscheck: I adore the differences in each show and the fact that they all are enlightening on so many different areas! These shows give our local actors a little something to chew on as well as some great opportunities to trying something that may seem more challenging, or at the very least, different. Taking them outside their comfort zone and letting all of us in the community see their range. Our three programs include ... devised theatre, and a show where 4 actors will represent 26 different people. Not to mention, the message they will all share in doing so!
BWW: Is there anything else you want to tell our readers?
Ms. Patscheck: Encore Theatre District is so excited to be moving into their third season and as intended has worked very hard in providing shows that do inspire diversity and are affordable. We look forward every year to meeting new actors, including new faces, and even welcoming new directors. See you at The Camelot!