Palm Beach Poetry Festival Invites Local Poets and Poetry Lovers To Two Special Events In September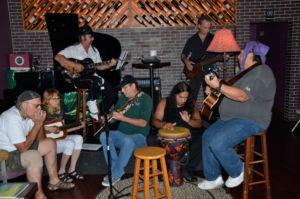 Susan R. Williamson, Director of the Palm Beach Poetry Festival, and Dr. Blaise Allen, Director of Community Outreach, today invited local poets and poetry fans to two special events in September:
Sita Sings the Blues
September 26 - 7 pm (Thursday)
Movie Screening
The Jaffe Center for Book Arts
Black Box Theater
Florida Atlantic University's Wimberly Library - 3rd floor east
777 Glades Road, Boca Raton, 33431
$10
In collaboration with the Jaffee Center for Book Arts and their current exhibition, Building Stories: Alternative Storytelling, the Palm Beach Poetry Festival is screening the film, Sita Sings the Blues, an animated romantic comedy, and musical interpretation of the Hindu epic poem The Ramayana. This story focuses on the relationship between Sita and Rama, who are gods incarnated as human beings, and even they can't make their marriage work. The film is set to the rarely heard 1920's jazz vocals of Annette Hanshaw, Sita Sings the Blues earns its tagline as "the Greatest Break-Up Story Ever Told." (86-minutes)
Note: Admissions will be donated to support the work of producer/director Nina Paley.
100,000 Musicians, Artists, and Poets for Change
September 28 - 3:30 pm (Saturday)
St. Pat's Pub
1600 East Hillsboro Blvd. in Deerfield Beach
FREE
The public is invited to participate in what could be the largest poetry reading in history. The Palm Beach Poetry Festival is hosting this 10th annual open-mic event in partnership with 100 Thousand Poets for Change. This global happening will be taking place at the same time in over 1,000 venues in 120 countries. Poets will read and perform work to promote social, political, environmental sustainability, and change, simultaneously across the planet. Attendees are welcome to read their own work or favorite poems by other poets. Between poetry readings, special guest musicians will play songs for peace. Attendees are welcome to play or sing along. Artists can set up a tabletop or easel to show and sell a painting or photograph (limit of one per person). As in previous years, the event will be facilitated and photographed by Dr. Allen, and archived by Stanford University. Must be 21 years old to attend.
The 16th annual Palm Beach Poetry Festival will be held January 20-25. 2020 at Old School Square in Delray Beach. The Festival will feature top poets at numerous ticketed public events, including readings, talks, interviews, panel discussions and more. Poetry workshops will be offered for which applications are required.
The Workshop Faculty of the 2020 Palm Beach Poetry Festival will include Laure-Anne Bosselaar, Nickole Brown/Jessica Jacobs, Reginald Gibbons, Major Jackson, Ilya Kaminsky, Dana Levin, Adrian Matejka, and Maggie Smith. One-on-One Conference Faculty includes Lorna Blake, Sally Bliumis-Dunn, and Angela Narciso Torres. Native American poet-musician and recently named U.S. Poet Laureate Joy Harjo will be Special Guest Poet in 2020, and Poet-at-Large Patricia Smith will give readings at four local high schools and at the Crest Theatre on Friday, January 24.
The Palm Beach Poetry Festival 2019 was presented in partnership with Old School Square and was generously sponsored by Art Works of the National Endowment for the Arts, Morgan Stanley, The Legacy Group of Morgan Stanley's Atlanta, GA office, the Cultural Council of Palm Beach County, The Tourist Development Council of Palm Beach County; the Board of Commissioners of Palm Beach County, The Palm Beach Post, a grant from Visit Florida, WLRN-FM, and Murder on the Beach, Delray Beach's independent bookseller.
In 2010, the Palm Beach Poetry Festival received an Arts Challenge Grant from The John S. and James L. Knight Foundation; and in 2011, it was presented with The Muse Award for Outstanding Cultural Organization (with a budget under $500,000) by the Cultural Council of Palm Beach County.
For more information about the Palm Beach Poetry Festival, please visit www.palmbeachpoetryfestival.org.
Related Articles View More Palm Beach

Stories

Shows
More Hot Stories For You