Review: THE PROM at Theatre South Playhouse
A fresh and fantastic Central Florida regional premiere of this audience favorite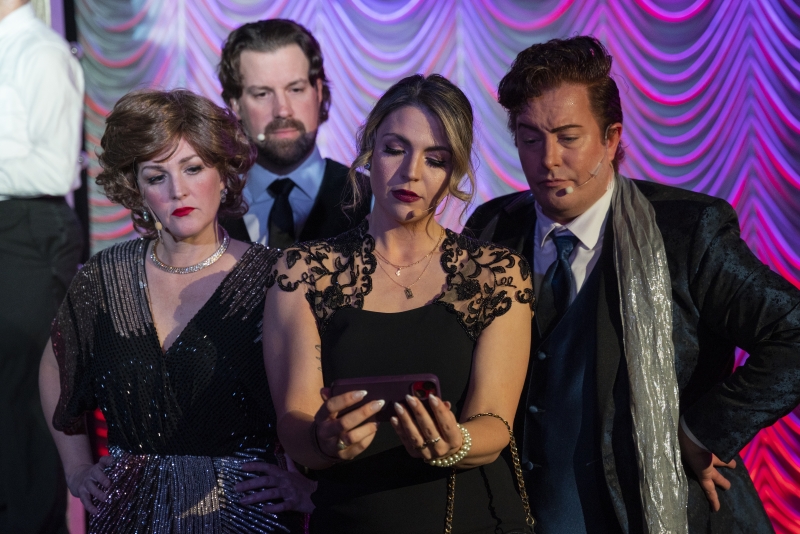 Getting to see a newer musical produced for the first time in the area by a local theatre is a particular thrill. That is especially the case for a musical like THE PROM, which has built a following due to it's popular Broadway run and the recent musical film on Netflix. And in the hands of the skilled creative team and fantastic cast at Theatre South Playhouse, this Central Florida regional professional premiere is in excellent hands. It is fresh and fantastic and in the intimate TSP space, the audience is given the rare chance to connect on a personal level with the frenetic and fun story unfolding on stage.
THE PROM, with music by Matthew Sklar, Book & Lyrics by Chad Beguelin and Book by Bob Martin, tells the story of four down-on-their luck, narcissistic Broadway performers who, after receiving bad reviews (again) for their latest musical (Eleanor! The Eleanor Roosevelt Story) decide they need to improve their public image. So, after a quick scan through what's trending on social media, they decide, on a whim, to take up the cause of a teenager in Indiana whose high school canceled the prom because she is a lesbian and wanted to bring her girlfriend as her date. And so, the actors, Dee Dee Allen (Amy Sue Hardy), the Tony award winning diva, Barry Glickman (Jonny Jones) her flamboyant costar, their friend Angie (Sarah Joyner), the perpetual chorus girl, and Trent Oliver (Matthew Warfield) a Julliard trained actor in between jobs tag along on a bus and truck, non-Equity tour of GODSPELL to Indiana with their agent, Sheldon Saperstein (Paul Lance) in tow. When they arrive, the girl, Emma (Jana Denning) is trying, along with her principal, Mr. Hawkins (Dominic Henriques) to convince the PTA, including the bigoted president Mrs. Greene (Dayla Carroll) and the other parents to allow the prom to take place. But once the "liberal democrats from Broadway" arrive, things get more complicated (and colorful) for Emma and her situation. Soon, the actors are doing their best to drum up support for Emma (and publicity for themselves) including a (hilarious) benefit performance at a monster truck rally, resulting in a decision by the state's attorney to require the school to hold a prom. But things are not as they seem, devastating Emma and causing the four friends to rethink their motives and approach to "helping" this young girl. But all is not lost, and once Emma finds the courage to stand up in her own way, the town begins healing and learns what it means to "build a prom for everyone."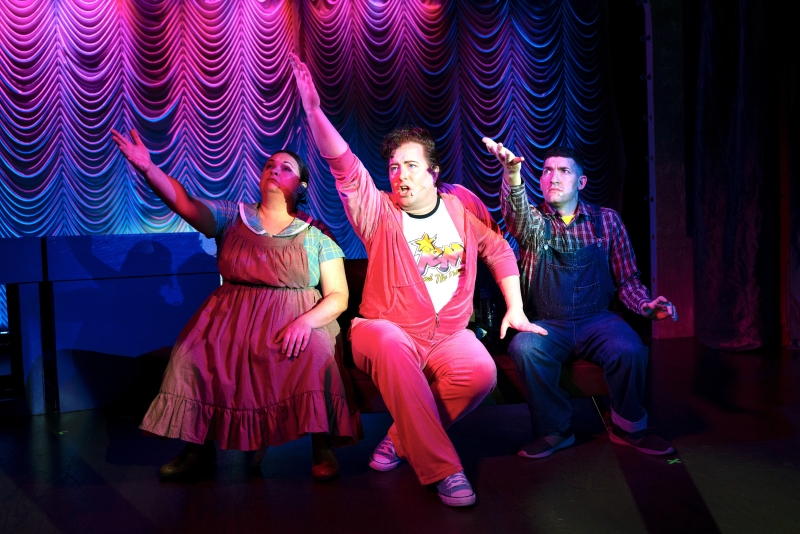 Director Tara Kromer has assembled a wonderful cast to bring THE PROM to life on stage at Theatre South Playhouse. Her direction is fast paced and effective, utilizing the smaller space to tell the story well. Speaking of the cast, there is so much raw talent in TSP's THE PROM - which ensures the characters, their flaws (and strengths) and the story they inhabit are brought to life well, to borrow a term from the show, with "Zazz". Amy Sue Hardy gives a powerhouse performance as the Broadway Diva, Dee Dee Allen. Her expressions, her delivery and her movements bring Dee Dee to life on the TSP stage perfectly. Ms. Hardy also has one of the best belts I have heard in a long time, performing Dee Dee's standout songs, including my favorite, "The Lady's Improving" with such power and control, it was hard not to leap to my feet after her numbers. As Barry Glickman, Jonny Jones chews the scenery in a wonderful way. His Barry is big, boisterous and bombastic with a softer side as well. As their friends, Angie and Trent, Sarah Joyner and Matthew Warfield are equally strong, each getting a moment to shine in their own way. And as Alyssa, Emma's secret and conflicted girlfriend, Gia Milazzo shares some beautiful and touching moments. But it is Jana Demming, as Emma, who gives the most stunning performance of the evening, bringing a perfect mix of heartache and optimism to the role. And when they share their wonderful voice in song, they enthrall and excite in a way that was thrilling to behold.
The creative team for THE PROM helps make sure that this big, bright and beautiful musical shines on stage. Sterling Lovett's choreography is athletic, bold and exciting to watch. Hillary Brook's costumes are equally fantastic - especially Dee Dee's many sequined gowns, Barry's eclectic couture (loved the Jem and the Holograms shirt and glittery loafers, btw), the 60's inspired Godspell outfits, and the colorful prom-wear for the teen ensemble. Alesha Hollatz' scenic design is simple but effective. Sound and Lighting Design by Blue Estrella and William Gibbons-Brown create the right ambiance and color for the evening. And Justin Smolik does a fantastic job as Musical Director - creating powerful sounds from the cast, especially in the group numbers like the powerful "Unruly Heart" in Act II.
Overall, Theatre South Playhouse's THE PROM is a wonderful evening of theatre - part escape and entertainment, part important commentary on how far we still have to go as a society in terms of acceptance and justice. But most of all, it is a downright great production which ticks all the boxes for an original musical comedy, and is something you won't want to miss.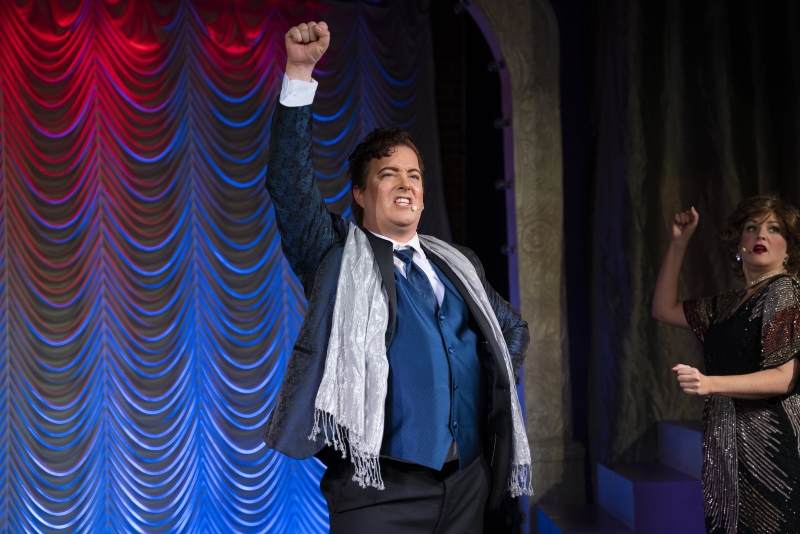 THE PROM, presented by Theatre South Playhouse, runs through February 26th. Tickets range from $32 to $42. Performances take place at Theatre South Playhouse which is located in The Marketplace at Dr. Phillips, 7601 Della Drive, Suite #15, Orlando, FL 32819. Tickets can be purchased by visiting https://cloud.broadwayworld.com/rec/ticketclick.cfm?fromlink=2224436®id=78&articlelink=https%3A%2F%2Fteachtix.com%2Ftsplayhouse?utm_source=BWW2022&utm_medium=referral&utm_campaign=article&utm_content=bottombuybutton1. For more information about Theatre South Playhouse visit https://www.theatresouthplayhouse.org/
All Photos by Angela Bond with Creativa Photography
Lead Photo: Gia Milazzo and Jana Demming and the cast of The Prom
Top Photo: Amy Sue Hardy, Matthew Warfield, Sarah Joyner, and Jonny Jones
Mid Photo 1: Gia Milazzo, Jana Demming and the cast of The Prom
Mid Photo 2: Candice Casey, Jonny Jones and Chris Siciliano
Mid Photo 3: Kaitlyn Bachelor and the cast of The Prom
Bottom Photo: Jonny Jones and Amy Sue Hardy