Stop Kiss at Ithaca College
Dates

2/26/2021 - 3/6/2021

Theatre


Ithaca,NY




"A poignant and funny play about the ways, both sudden and slow, that lives can change irrevocably," says Variety. After Callie meets Sara, the two unexpectedly fall in love. Their first kiss provokes a violent attack that transforms their lives in a way they could never anticipate.

News About Stop Kiss at Ithaca College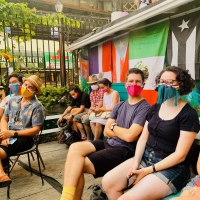 BWW Review: In QUINCE, Live Theatre Blooms at The People's Garden in Bushwick
August 23, 2020
Quince may not have been ground-breaking or earth-shattering, it was quirky, charming, celebratory, and delightful, filled with sincerity and warmth. The grassroots style and non-pretentious 'let's put on a show!' vibe was welcoming, refreshing, and well-suited to the surroundings.