Review: HEAVEN by Fishamble at 59E59 is a Riveting Story of a Married Couple
Heaven will be performed through January 29.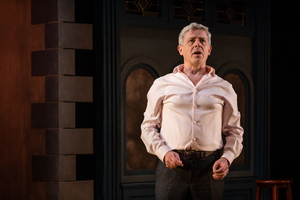 "Surely it is all leading to somewhere." By Mairead in Heaven
Fishamble: The New Play Company is currently presenting Heaven at 59E59 Theaters, and this two hander is wowing audiences. Finely written by Eugene O'Brien and splendidly directed by Jim Culleton, the show features the acting talents of Andrew Bennett and Janet Moran. Heaven will be performed through January 29. The play is a part of the Origin Theatre and their 15th Annual 1st Irish Festival.
The riveting, contemporary story is set in County Offaly, Ireland during the weekend of a wedding. It is attended by Mairead and Mal, 50-somethings struggling with their lack luster marriage after 20 years. Could this celebration in their home town turn the tide of their relationship or will it evoke desires that have long been denied? This is a poignant play, laced with humor that thoughtfully addresses family ties, lifestyles, and the eternal quest for happiness.
The performances by Andrew Bennett as Mal and Janet Moran as Mairead are awe inspiring. Through their respective soliloquoys, they speak of their marriage, recount events from the past, portray the present, and discuss their longings for the future. The two actors deftly bring many other characters to life with clever descriptions of events as they unfold such as when Mairead has an opportunity to reuinte with a former lover while Mal gets to party like never before.
The Creative Team for Heaven has brought the play to life with scenic design by Zia Bergin-Holly; costume design by Saileóg O'Halloran; lighting design by Sinéad McKenna; and music and sound design by Carl Kennedy. Eoin Kilkenny is Production Manager; Cally Shine, Line Producer; Daire Ó Muirí, Assistant Production Manager; Gavin Kostick, Dramaturg; and Ronan Carey, Production Coordinator. Heaven is produced by Eva Scanlan.
Heaven is an entertaining show that will also provoke some interesting conversations about marriage, relationships, and responsibilities. See it while you can!
It's great to see Olivier Award-winning company, Fishamble back on the Upper East Side stage after their successful productions of Maz and Bricks, On Blueberry Hill, and others. We congratulate 59E59 Theaters' Artistic Director, Val Day and Managing Director, Brian Beirne on continuing to bring excellent, ground-breaking theatre to the city.
Heaven will be performed through January 29 at 59E59 Theaters located at 59 East 59th Street (between Park and Madison Avenues) New York, NY 10022. The play's run time is 85 minutes with no intermission. The performance schedule for Heaven is Tuesday to Saturday at 7:15pm; and Saturday and Sunday at 2:15pm. Tickets to Heaven begin at $25.
Photo Credit: Ste Murray