Kingdom Theatre to Hold 3rd Anniversary Celebration Next Month
The celebration takes place on Saturday, February 18th, 2023.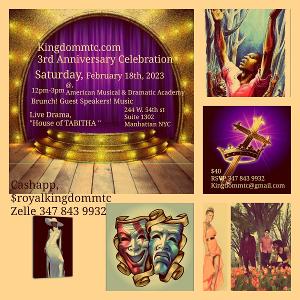 Kingdom Theatre will host their 3rd Anniversary celebration featuring new drama in development "House of TABITHA," musical guests, brunch, and more on Saturday, February 18th, 2023 12pm-3pm. $40 Admission includes Brunch @ The American Musical and Dramatic Academy, Studio 1302244 W. 54th Manhattan NYC.
Established just before the global pandemic hit the world, Kingdommtc managed to release staged readings, an online streaming play "Empress's Diary," a workshop performance of "Dreams and Spirits," and their annual All Purple honors event.
Join them on Saturday, February 18th, 2023 12pm-3pm. The celebration includes catered brunch, special Musical guests, and a workshop performance of a new play in development, "House of TABITHA," written and directed by Nickolas The III. "House of TABITHA" is about a fashion company named after a biblical person TABITHA, who was a fashion designer. The house of Tabitha is run by four women, who all face their own personal need for Deliverance. Features actresses, Flora Gillard, Kiki, Cheka Shining, & Heidy Z. Reservations are required.
To reserve, 347 843 9932 kingdommtc@gmail.com Zelle 347 843 9932 Cash App,$royalkingdommtc