BWW Review: The Best of Brooklyn Happens at Lemme's 50th & 4th
New York is more that simply a place in which many of us are born - it is an experience we are born into before we ever know what will happen. Albeit a place with high rents, more people than can be imagined and something strange happening at every moment of the day, the mere idea of living in New York conjures up thoughts of great possibility and excitement. Does this hold true for the people from here - people who have called this place home for so long, the idea of a home many only ever begin to know replaced by the reality of what is? What happens when a stranger comes into your home and forces you to question everything that made you feel at home until that point - does where you're from matter more than where you've been, and where you want to end up?
50th & 4th, a fantastic new play now in performances at UNDER St. Mark's, is a comical, intense and very truthful look at a couple living in Sunset Park, and what it really means to feel displaced - what it means to feel loved - no matter where you are from.
As part of the 2018 Frigid Festival, which offers audiences the chance to see 30 productions (no more than sixty minutes in length) between two venues on the Lower East Side, 50th & 4th now debuts with a bang appropriate for any play set in the great borough of Brooklyn. Written by comedian Mike Lemme and directed by Tara Cioletti, this has quickly become a favorite out of the smaller productions I have reviewed. With its ability to deliver a witty New York humor, it is a show that the cast and crew should truly be proud of. Clocking in at only sixty minutes long, it is the perfect show that I wish would stick around longer so that my parents could share a few laughs; my family being from Brooklyn, they would appreciate the humor to be found in a place that can really bring out the best and the worst in you.
50th & 4th follows Rick and Sue, a couple married for over three decades and living in Sunset Park, Brooklyn. They have just rented their spare bedroom to Taylor, a 29-year old actress they found on Craigslist, and find it comical that she questions whether or not they think she can be trusted. On what happens to be her birthday, she becomes involved in much more than she anticipated on her first night in a new apartment. Rick and Sue, with all their sarcasm, welcoming (and free) bowls of pasta and disbelief as to why someone would spend her life savings producing a play about "mommy issues," quickly become the young actress' dysfunctional family. Amidst talk of what being a New Yorker means, pursuing dreams and the transitory lifestyle of a struggling actress, Rick and Sue soon discover that their new tenant brings out a lot more in them than witty retorts. Involved in their own battle of whether New York represents their relationship or whether they can truly live apart from the place they call home, this show is a heartwarming debate on what really draws a person here and what, in the city and in their own lives, compels them to stay or go.
I very much loved everything about this show: it is the perfect length, with just the right material to capture an audience's attention and even make them want to see it again. It is comical but evokes questions I've always asked myself about the appeal of such a place like New York, what is feels like to be new in such an overwhelming land, and what it really means to "love" something you haven't had the chance to live without.
I am trying to figure out what, exactly, about this show hooked me from the very beginning so that I can convey how much I enjoyed it. Perhaps it was how Rick and Sue perfectly portray the "Brooklyn" people acknowledge (but also what others have experienced), or because this bickering couple is so full of love in front of a complete stranger from Craigslist. Maybe it is because I know people who have come to New York to pursue their dreams, and I've never felt what it was like to experience this city as something foreign, exciting and even daunting; it has always been home, and moving away from New York was the adventure for me. Just to see Taylor walk through the door, having moved around for years yet confident she has her "shit together," always carrying a suitcase and hoping she can afford her rent next month as she pursues her dream to become an actress while funding her own one-woman show - something about the young actress finding her way to the Brooklyn I know really hit home, you could say.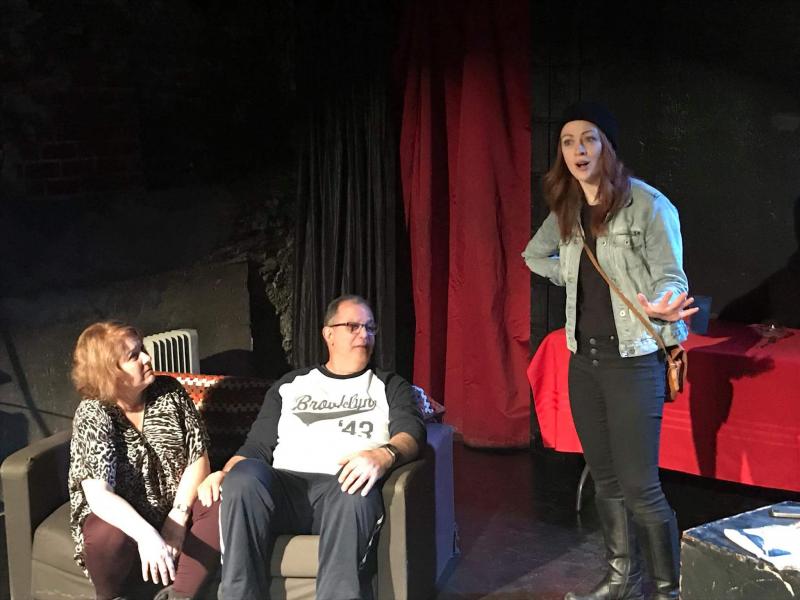 I love how Lemme captures and combines the certainty of people who decide to move here from another place, and the confusion of those whose time it is to perhaps move on. He emphasizes that fact that, no matter how awkward and scary this place can be, that awkwardness and fear is present in everyone, no matter where they are from and whether they can call the city their own. It manifests in different ways, but New York proves itself time and time again to be a place that is so subjective; this play proves just that in such a profound way. The dialogue brings out the truthfulness of any New Yorker debating whether or not to stay, which is indeed a struggle in itself; it is also a testament to those people who have no other desire but to stay here. It is wonderful when a show can be funny, contemplative and saw raw all at the same time, and Lemme has captured all of the above perfectly - all in sixty minutes.
Much credit must go to everyone involved with 50th & 4th, especially the wonderful cast made up of Gloria Lamoureux, Kirsten Dwyer and Emil Ferzola. With a simple set within a black box theater, they really show that all you need are a few great actors to bring out the magic of a great script. Tara Cioletti as Director and Lauren Arneson as Tech Director also deserve much praise for their contributions to this show, in addition to Joe Karg in charge of graphics.
50th & 4th, as part of the 2018 Frigid Festival, began performances at UNDER St. Marks Theater (located at 94 Saint Marks Place) on February 14th and will continue thru February 28th. Tickets are $20 and may be purchased by visiting www.mikelemme.com. The remaining performance will be held on February 28th at 10:30 pm to complete its strictly limited, five-performance run. The festival itself will run until March 4th, so please visit www.FRIGIDnewyork.info to learn more about this wonderful festival, showcasing some pretty great shows.
Enjoy!
Photo Credit: Tara Cioletti
Related Articles View More Off-Off-Broadway

Stories

Shows