BWW Review: Something is So Right About THE WRONG BOX at Theatre for the New City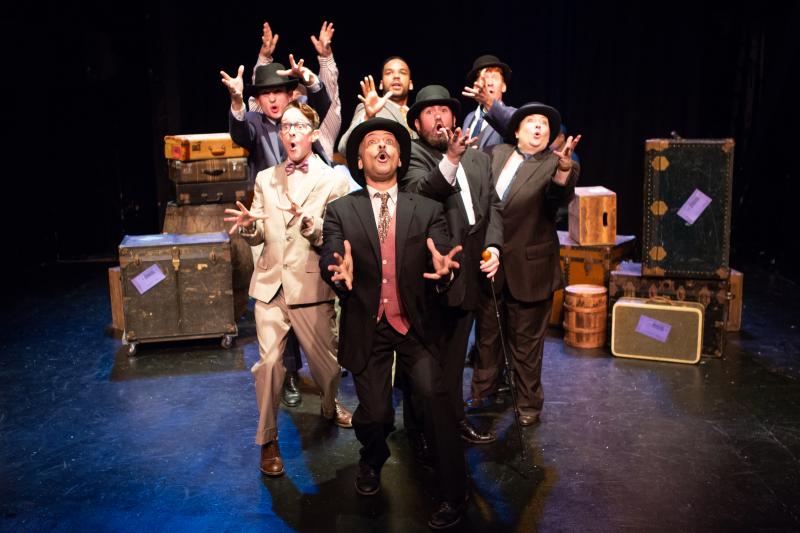 Another person loses his life, once part of the game but no longer a threat to the remaining few. Another person fails and loses his chance at the prize, falling short of his expectations to win what he believes to be his. The competition turns fierce when only two remain, and the desire to win intensified to the point of wearing fur coats as protective gear against possible death. A plot that is dark and comical but not necessarily funny, with characters who are wacky and unpredictable but all who become very familiar, The Wrong Box is an incredibly clever piece of theater that definitely gives the audience a run for its money (pun intended). With catchy music and lyrics that give the show a lighthearted air amidst a plot that resonates anything but, the nuances of this musical make it one of the most creative and unique works that needs to be seen.
With book, music and lyrics by Kit Goldstein Grant, directed/choreographed by Michael Chase Gosselin and based on the novel by Robert Louis Stevenson and Lloyd Osbourne, The Wrong Box now celebrates its World Premiere at Theater for the New City as part of its Dream Up Festival. Grant and Gosselin come together again since having worked on Grant's The Nose, and their joint efforts truly show the magic to be found in this collaboration. Grant's plot of wayward characters who seek to win the tontine participate in debauchery in all its forms: to wreaking havoc in the baggage area of a train on its way to the middle of nowhere and a random moment of drunkenness, The Wrong Box takes a complex plot and not only tests the audience's sense of humor, but also our ability to follow along. If understood completely, this is one hell of a crazy ride.
The Wrong Box tells the story of two brothers who are the only remaining competitors of the tontine, a wager made in their youth. With the competition fiercer than ever, the plot becomes complex when family gets involved. Michael, a solicitor, is the son of the eldest Finsbury, while Morris, John and Julia (a friend's daughter) entrust their care and future wellbeing to Joseph Finsbury. When informed that only two competitors remain, the threesome bundles Joseph up in a prescribed fur coat and sends him on a train to Bournemouth, where he will be safe from any harm or sudden illness befalling him.
When the train suddenly crashes, all believe Joseph to be dead; they even come to identify the body, even if mistakenly. Joseph, who is very much alive and glad to be freed from the confines of the tontine, embarks on a journey to find where he can put his lecturing skills to the test. Meanwhile, the man who was assumed to be Joseph (wearing the same prescribed fur coat) is stuffed into a barrel, hidden from all who will then believe that Joseph is actually dead; this would end the tontine if the truth was to be known. Yet, Michael happens to be on that train. What makes this plot even more fun is when the "wrong box" is sent to the wrong person...
Albeit at times difficult to follow, The Wrong Box is a brilliant, complex and very cunning piece of literature, now turned into a production of the same caliber. To capture all the nuances, perpetual bumbling and malpractice, this show truly needed a creative team that could bring together both plot and music in a seamless way. Gosselin, who is lends his very talented hand to both the direction and choreography, knows exactly what kind of mood to set with this show; I can imagine how difficult it was to take the constant energy of this show and mold it into something so wonderful.
With the perpetual action involved in characters' plans going awry and everything else thereon done on the fly, Gosselin knows how to lead and direct an audience's attention and focus it where he wishes. For example, Michael Finsbury's character (who reminded me at times of Kevin Kline) is effortlessly charismatic and commanding, and the decisions made with his character (as are most others) are spot on. I also very much enjoyed how, among the debauchery and confusion, there is always a clear sense of purpose to Gosselin's direction. Every characteristic of every character is expressed fully and completely, and every musical number (no matter the number of people) is significant, well done and demands the utmost attention paid. There is a clear sense of what is going on (and also what will predictably go wrong), and I can imagine how difficult it must be directing a show that can potentially be all over the place, but is here so well harnessed with such a guided hand as Gosselin's. Kit Goldstein Grant did a wonderful job making this action-filled plot into a staged production, and Gosselin does a wonderful job executing this fun, farcical and slightly crazy musical.
Credit must also go to the actors, since what would a great play and direction be without them! James Beaman, Jianzi Colon-Soto, Thomas Conroy, Dennis Holland, Brian Kilday, Robin Lounsbury, Christopher Michaels, Tim Realbuto, Nate Rocke, Simon Schaitkin, Brandon Shockey, Tristan J. Shuler, James Stafford and Joe Veale make up this incredibly talented cast. Joining them are musicians Justin Ward Waber, Jared Newlen, Morton Cahn and John Ling, with arrangements and orchestrations by Neil Radisch.
Kudos to those behind the scenes, including David Goldstein (Scenic and Lighting Design), Courtney Butt (Costume Design), Basil Apostolo (Sound Design), Michael Grant (Props), Carol A. Sullivan (Production Stage Manager) and all those who helped make this show possible.
The Wrong Box opened at Theater for the New City (located at 155 1st Avenue) on September 1st, and will continue thu September 16th. Remaining performances will be September 15th and 16th at 5:00 pm. Tickets are $18 and can be purchased at the box office, by calling (212) 254-1109 or by visiting www.theaterforthenewcity.net. In association with Visceral Entertainment, and as part of the Dream Up Festival, the show boasts a book, music and lyrics by Kit Goldstein Grant and the direction/choreography of Michael Chase Gosselin. The show runs about 2.5 hours long, with one intermission.
Enjoy the show!
Photo Credit: Jeremy Daniel