BWW Review: Irish Playwrights Overcome and Conquer with GET THE BOAT and INNIT
Theater is notorious for being the conduit through which change can happen; it reaches the masses in an effective and poignant way that many of other mediums cannot boast of. It is a way to bring about laughter when we watch a wayward, spunky teenager attend her first school therapy session; it is a way to bring the heart out its shell when we listen to two women debate their reasons for abortion. Although these characters are fictional, the people they represent are not; with theater, those unknown souls are given faces and identities - they are given a chance to tell their stories. Two incredibly intriguing and poignant plays come together to bring a vision to an American audience: an awareness of what the Irish people are going through, and how change, through the efforts of these brave playwrights, can be seen as just around the corner. Now in performances at the Soho Playhouse, Get the Boat and Innit are two pieces of theater that will give you a new perspective on life, and also have you talking long after you leave the theater behind.
The Soho Playhouse presents the North American debut of two Irish female playwrights and their influential plays: Eevan Brennan's and Siobhan Donnellan's Get the Boat and Colette Forde's Innit. Both were featured at the Limerick Fringe Festival in 2017, and both are now spreading awareness of a troubled world to a New York audience. Theirs are unique, subjective visions of the reality that is faced by the Irish people; simply writing about these issues could never have prepared an audience for how poignant are the stories they would hear told. Stories about women making the costly journey to the UK in order to have an abortion (referencing the current news of Ireland's eighth amendment), or that of a teenage girl whose initial dislike of her therapist's attention leads to an unexpected understanding of self. On the Boat and Innit collectively bring audiences to acknowledge not only that these issues exist, but also how and why they are different in this part of the world - why, when an audience believes it understands what plagues certain people, there is instead great learning and understanding that happens before that metaphorical curtain is closed.
Get the Boat, which is directed by Ruth Smith, beautifully address a rather sensitive issue - as much beauty as can be found when discussing the matter of abortion. Not only does the audience come to understand the struggles of Irish women who find themselves needing to terminate a pregnancy, but also the characters' stories sheds a new perspective on why changing Ireland's ban on abortion may not necessarily be as it sounds. Get the Boat begins with a young woman sitting alone in a boat cabin. She looks somewhat forlorn, unsure as to whether she should be where she is and uncomfortable in the act of sitting still. She is then joined by another woman, who instantly breaks the silence and soon brings the play's plot to fruition. It becomes known that both women are making this journey by boat to a clinic in the UK, where abortion is legal and where they will each terminate their pregnancies.
This decision is based on two very different reasons, and their dispute about who has more of a right to end a life is as educational as it is intriguing, but nonetheless heartbreaking all the while. One woman must end her unborn child's life for health reasons, while the other will lose her job and livelihood, should she not terminate a pregnancy that she cannot afford to bring to term.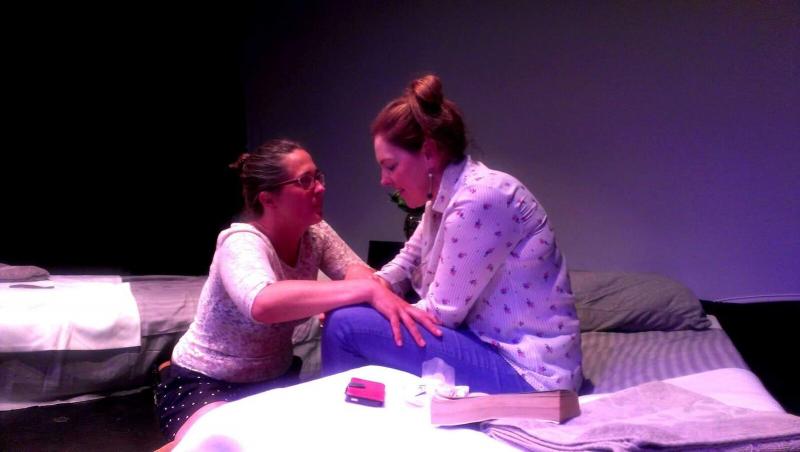 Not only does Get the Boat shed much light on Ireland's ban on abortion (and the movement towards change that is currently taking place), it also brings the distress of these women forced to make a long, expensive journey to fruition. What could be a straightforward, fact-filled discussion about abortion turns into a stunning, beautiful play that tells the heart-wrenching story of two women who are forced to make this difficult decision, each due to her own set of circumstances. This play reinforces the fact that there is very little in the world that can be categorized as simply "right' or "wrong;" the world thrives in that grey space that, as shown by these two women, is anything but a simple discussion over what should be done. There is angst, indecision and fear; there are tears, intense emotions and desires that go against the actions being taken. The audience becomes every bit a part of this production as these two women, trying both to understand how someone can first mentally arrive at the finality of the decision, and then move onto convincing someone else that what they have chosen is the sole choice they have.
It is unbelievable the power such a show as this has over an audience, and its ability to both teach our brains and touch our souls at the same time. I was, simply put, intrigued by the stories these women had to tell, and I could not imagine how stressful, how difficult it must have been to not only determine that this is the right choice to make, but then embark on a long journey to another land, during which all you have is time to think about what you are doing.
In the same vein of bringing about awareness and change is Colette Forde's Innit, who plays the young Kelly Roberts: a fiery, spunky teenager who is adamant in believing that she is the last person who can benefit from seeing the school therapist. Although, what is interesting about people is that, even if they believe they have very little to talk about, there is in actuality so much that wants to come out - if only we can stop thinking about it and just feel. Beginning with the people she attends school with and moving on to her personal life, Kelly discovers that simply talking about her life leads to the discovery of so much; instead of keeping an internal tab of all that is wrong within her life, she gradually comes to confront that which plagues her. Her confrontational attitude (something which, again, could be made into a less than interesting case study) is given true, tangible life when we witness a young girl who is beginning to understand why she is not happy. Innit is a true understanding of why therapy can help so many people, even if they are just offered the ear of a person who is willing to listen.
From her lack of friends, to a dysfunctional relationship with both her mother and estranged, alcoholic father, Kelly (as many people do) takes each factor, internalizes it and becomes angry at those who make up her world. She confronts her therapist as the enemy, making it seem as though she is being forced to talk about what is bothering her. Although, she is the one who needs the most help, and however her therapist knew to choose this girl to speak to is a true blessing. Although we are getting closer to de-stigmatizing the idea of seeking help for mental issues day by day, using therapy as an effective and completely acceptable way of dealing with mental health issues before they worsen, Colette Forde has bravely expressed her desire to make the Irish people feel the same way. Kelly discovers that, without changing her attitude towards life, she will be fated to wind up as her mother and father - stuck in a dead-end life without hope for something better. Without medication or further help, she takes her beautiful self and is able to comprehend and digest this - although, not without an understandable sadness and sense of defeat.
What is so interesting about this play is the transformation Kelly goes through from beginning to end. At the start of Innit, she is seemingly happy with her choice to pursue a singing career and move to where the stars live - perhaps to Hollywood or Los Angeles. In her defiance of what people say, she is given the spark she needs to get out and move towards something greater than what she currently sees before her. As she speaks and acknowledges why she is so angry, she is overcome with a sadness and a comprehension of why she is the way she is: she is almost fated to stay where she is, and without the resources to move forward, will remain stuck where she is. Simply speaking to someone makes her acknowledge the reality of things, instead of just doing things in defiance of what others say of her. Although she is somewhat defeated towards the end of the play, she acknowledges that the power of change is there; all she needs to do is understand how to harness her abilities and move towards the destiny she was meant for. Change is hard, but the reward for girls (or anyone at all) like Kelly is great. Such a touching, entertaining play that, again, gives a face and name to people all over the world suffering from mental illness; whether that be depression, anxiety, or the simple lack of understanding of one's life, everyone needs someone to talk to - someone to be there for her.
Also, kudos to Forde for doing a one-woman show and keeping the audience engaged the entire time. That's not an easy task!
Get the Boat began performances on July 6th, and will continue thru August 5th; Innit began performances on July 6th and will also continue thru August 5th. Both shows are being performed at the wonderful Soho Playhouse, located at 15 Vandam Street. Tickets are $35 and can be purchased by visiting www.sohoplayhouse.com, by calling (212) 691.1555 or in person at the box office. More information, including the performance schedule for both shows, can be found by visiting the website. Innit runs for about 75 minutes, and Get the Boat runs for about 50 minutes.
If you get the opportunity to see both shows, please enjoy!
Photo Credit: Eavan Brennan, Siobhan Donnellan and Colette Forde