BWW Review: Fear Not! GIOVANNI THE FEARLESS Is the Adventure We'll Never Forget
Although the show has officially ended, the curtain closed, the beautiful coloratura no longer reaching the heavens, the likes of Giovanni the Fearless are still very much alive in the hearts of audiences fortunate enough to see this whimsical musical comedy. I describe it as such because of the emotional scale of its plot, explaining the lack of actual children in the audience. From the almost surreal life of a traveling troupe of family actors, to how it all crumbles under the reality of their situation to be raised again by the at first unaccepted possibility of love, everyone is in need of a good Commedia dell'arte musical that is tinged with just the right amount of childish belief, and with just enough reality to consider this a show that makes people of all ages believe in the magic of something greater.
Written by Carolyn F. Balducci (who is also the librettist), with music composed by Mira J. Spektor and now directed by Lissa Moira, Giovanni the Fearless has just concluded its week and a half run at the East Village's Theater for the New City. This production marks the first full length, professional presentation of this show, previously having been performed only in abridged concert versions over the last few years. For some reason, I cannot imagine this performance without all the components that make it so elusively fun together: from glow-in-the-dark clown bodysuits and tool sets, to the family car reminiscent of Flintstone days - all of this coming together to create an almost rag doll, tossed around and fragmented version of family life amidst the clownery and acting could not be as perfectly molded together as it was with these performances.
The music is beautiful, the talent great, and the reality of true love wedges itself right into the fabricated mess of these actors' lives. Giovanni the Fearless gives the feeling of an impending thunderstorm that, when it hits, leaves the world cleansed and new (slightly muggy, but that might just be the accumulating fog in the background) - that is the joy of seeing this musical.
Giovanni the Fearless follows a family acting troupe that performs for audiences around the Italian landscape - what they explain is the greatest joy of being an actor before they are forced to flee with the risk of staying too long in a single place. After telling the audience through song how great it is to be an actor, the sudden reality of their situation hits: they are laughed at by people with no way to defend their pride, they are starving and would do anything for a plate of macaroni (which is one of my favorite songs in the show), the man meant to marry one of the daughters has upped and run away with his gambling habit and winnings, and they are to travel to the next town with the only form of permanence being the dream in their heart of having someplace to forever rest their weary heads - a place to call their own.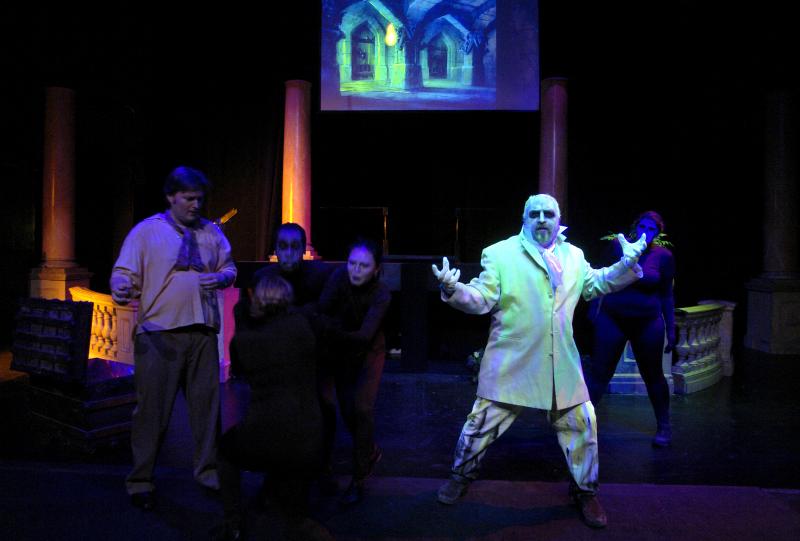 A rather heartbreaking set of circumstances engulfed in the welcoming arms of "comedy" and cheer they are meant to spread, the traveling quintet of Jacopo, Adelina, Columbina, Ivo and Piero find themselves on the road again after a performance gone awry, embarrassing to all except a young man named Giovanni, who is bewitched by the beautiful Columbina as she sang her heart out to a preoccupied audience. Giovanni, who is known for his lack of fear where others would tremble, is disliked by his conquest's father and agrees to stay in a haunted castle to find a treasure that would ultimately lead to his young love's heart. From pretend ghosts to those of a more believable kind, to confronting what stops us from attaining what we want, this is an equally fantastical as it is realistic tale of the "in-between" that, like a ghost, is attainable when both our hearts and minds believe in something enough.
It is misconceiving to believe this is only an attitude to be taken and embraced by children - we all log for the adventure this young man seeks so ardently.
I thoroughly enjoyed this performance that has an adult feel to it, even though it is indicative of something more fitting for a child. Giovanni the Fearless allows the title character to take over the story's plot in so gallant and fashionable a way, he is almost generic in how he sweeps Columbina off of her feet, allowing her to add yet one more aspiration to her life. He is brave but in such a modest way, he is almost fairy-tale in his composure, but as likeable a person as we'd all like to be acquainted with.
There is so much good in the simplicity of this plot - the characters bounce their way from one town to the next, almost cartoon-like until reality takes a more substantial form in the presence of Giovanni, who is charming but still inexperienced and almost childish in his need for adventure. I loved watching these characters grow into something more lifelike by the powers of love and realization of the heart's true desire, just about as much as I loved everything else about this show.
From a very talented ensemble that adds to the drama and comedy with musical interludes, acrobatics and the lending of their voices, to how ghosts are portrayed in so many different ways, to how visuals and sounds come together to create an entertaining but also tangibly difficult world, there is so much that I enjoyed in the ninety minutes that is Giovanni the Fearless.
Credit must go to the cast and crew who made this production leap to great bounds. Douglas McDonnell as Giovanni, Jef Canter as Jacopo, Amanda Yachechak as Adelina (and the choreographer!), Kimberly Bechtold as Columbina, Matthew Angel as Ivo, David F. Slone, Esq. as the Innkeeper, Kareem Elsamadicy as Piero, David "Zen" Mansley as the Ghost (and the master of special effects), Torian Brackett as Arlecchino and Xi Lyu, Amelia Sasson and Amanda Alyse Thomas to round off the ensemble. Cristina Dinella does a wonderful job as Musical Director and pianist, as does Marc Marcante as Set Designer, Lytza R. Colon as Set Designer and Costume Designer, William Giraldo on Sound and Light Design, Natasha Velez as Board Operator, Gabriel Nussbaum on projections and Justin Rodriguez as Stage Manageer.
Giovanni the Fearless opened at Theater for the New City (located at 155 First Avenue) on May 12th and continued performances through May 21st. Theater for the New City is home to many fascinating productions such as this, so please check out www.theaterforthenewcity.net to see what exciting productions are coming up.
Photo Credit: Peter Welch