BWW Interview: Arpita Mukherjee and Shubhra Prakash of Hypokrit Theatre Company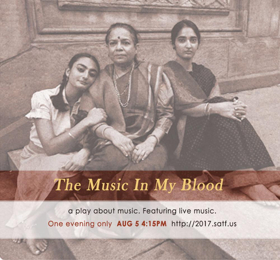 Easily navigating the fusion of music, dance, multimedia and traditional theater The Hypokrit Theatre Company's mission is to "embody the rich cultural complexity of the world we live in."
Whether reimagining Western classics with multicultural aesthetics or presenting classics from around the world to Western audiences, their work is admirable in its ability to communicate universal human experiences.
I met with Arpita Mukherjee and Shubhra Prakash, co-founders and artistic directors of Hypokrit, to talk about the company and its newest production The Music In My Blood. The story crosses cultures, generations and musical styles to follow Prema, an Indian classical singer, as she tries to escape her musical roots only to find them again through the work of Walter Kaufmann, a Jewish refugee to India during World War II.
BWW: Could you both tell me a bit about your backgrounds and what inspired you to create Hypokrit and The Music In My Blood?
Arpita: I started working in theater with the Washington Shakespeare Company in DC. I was mostly working on Western classics and these have been my passion for most of my theater career.
I created my own company with the intention of creating new work and reinvigorating the classics with a more diverse spin. I did that for a few years in DC before coming to New York, for graduate school, to study writing.
For a while, I'd pretty much given up on theater but, once I graduated, I started looking for small ways to get involved again. That's when I met Shubhra. At the time, Shubhra was writing and directing a new play and, through helping her with that, we became friends.
We discovered that we had similar creative goals. We both wanted to disrupt the status quo in
New York Theater
, in a similar way, and we founded Hypokrit as a result. The original idea behind the theater was to reinterpret classics. Our first project as Hypokrit was a version of
Romeo and Juliet
that we gave a Bollywood twist and set in India. After that, we worked on
Devdas
and
Chokher Bali
, which are two Indian classics that we interpreted with an innovative, modern aesthetic. What we found, though, is that there's always a lot of new work happening and there's new work we want to create under the umbrella of the company. So, now, in addition to reinterpreting classics, we're also curating the classics of tomorrow and nurturing the voices that excite us.
The Music In My Blood
grew out of this idea as did TAMASHA, the festival where it first premiered last year. We created TAMASHA to support South Asian artists in the genres of dance, music, theater, stand up and other original work. All kinds of collaborations, producing contracts, etcetera have grown out of that. The festival isn't curated and we offer financial, promotional and overall logistical support to the artists. We plan to bring TAMASHA back in September of this year.
Shubhra:
With TAMASHA we do a lot of marketing on the artist's behalf in the form of photoshoots, trailers, videos and more. People saw shows at our festival that they invited abroad to their own festivals, in places like Canada and London. Artists winning awards at our festival are now finding jobs in the mainstream. My own show was invited to the South Asian Theater Festival which has been running in New Jersey for twelve years and there are people who want to bring shows to TAMASHA from the Bay Area. We're definitely forming alliances across the country and hopefully, one day, across the globe. I think we've been pretty successful with these projects and what we're doing in the community is unique. Our plan is to keep going. The best advice I can offer anyone is to chase your goals, especially if you're underrepresented in the mainstream and want to create work.
BWW: Do you also want to give us a bit about your background, Shubhra?Shubhra:
I came to the US, when I was fourteen, to the Bay Area. My third day in the country I began 9th grade. If you can imagine, an environment full of teenagers that had alliances and I was beginning from square one. I was so overwhelmed. When I look back, I had a very difficult time assimilating.
But the first time I had to speak in front of an English class I recited a poem and, based on that performance, my teacher decided I belonged in the Drama Department. I wasn't just saying a poem, I was acting it out. I had studied acting in India and so I stuck with it throughout grade school. In college, I studied computer science and biology but I auditioned for all the theater productions, and I was in all the ones I could afford to be in. When I got out I did community and professional theater as much as possible, as an actor and singer. I eventually joined Naatak, an Indian theater company, where I acted and produced.
After all that, I felt like I wanted to explore my options in New York. After working on several projects I realized what I really wanted to be doing was writing my own stuff. That's about the time I met Arpita and we started the company. We realized there are so many people who want to perform, who just don't have the opportunity, so we're creating those opportunities. We're still figuring things out but it's a good evolution. There are no road maps for what we want to do so we're creating the map and figuring out our own way.
BWW: Do you want to talk about The Music In My Blood?Shubhra:
The Music In My Blood is a work that came about because of my love for music. I'm a singer and I'd been taking lessons in Broadway-style singing since I lived in the Bay Area. However, I wasn't curious to learn Indian classical singing until I came to New York. There's an incredible music collective here called Brooklyn Raga Massive, which is where I met my current teacher in Indian classical music, Sandip Bhattacharjee.
I became fascinated by Indian classical musicians and their stories, and this was the impetus for my play. I started interviewing my teacher and his wife, Susmita Chakraborty, who both now sing in the show. Then, I started interviewing everyone I know who's ever been into music deeply.
I reached to my friend Marcus Yi, who helped me create my first play. We started workshopping this show for TAMASHA. I got a bunch of actors to start improvising around the overall concept and from that the basic structure of the show came about.
There was a lot of collaboration. Marcus directed the first incarnation of the play at TAMASHA. Samara Weiss, who was one of the original writers, introduced the idea of Walter Kaufmann.
I had already been in talks with Sonalee Hardikar, a theater artist from India, when the idea first came to my mind. Now I have had the privilege of working with her and she has become the primary playwright and dramaturg.
Upon Sonalee's suggestion, I contacted Amrit Gangar who wrote a book on Kaufmann called
The Music That Still Rings At Dawn Every Dawn
and he sent me a copy from Mumbai. This helped us immensely with further shaping Walter's character. So the research is continuing and I think we will keep digging to see what we can do with the show. The show has a lot of arcs and that feels exciting. One of the things I'm trying to do is convey the unique differences between certain types of Eastern and Western music. I discovered some of these while studying with my Broadway vocal coach versus studying with my Indian classical teacher. One would say, "Look at the music and sing what's on the paper." The other would say, "Look at my face, listen. That's the only way you're going to learn."
It's interesting to work with classical musicians who don't work within the typical play structure. I thought this would limit me but it doesn't. It heightens the fact that we're dealing with a classical artform, and there are certain standards that should be upheld.
BWW: This makes your play structure unique.
Shubhra:
Since we don't go by sheet music, actors and musicians have to rely on each other. You can't always say "Ok, now start the song." You can't always be that specific or indicate exactly how long the song should go on. That's just how it is. It's a challenging convention to accommodate in a 90-minute play. One of the themes that comes up in the show, and around creating the show, is tradition versus modernity, purity versus popularity.
BWW: What were the main challenges in creating a work like this?Shubhra:
One of my greatest challenges has been in trying to figure out how to convey this culture to an audience. Ragas are the backbones of Indian classical music and are specific in terms of which raga can be sung when and in what form. As someone who didn't grow up with this music culture, I have to tread very carefully. There are often things I don't understand or things I don't know how to describe. I rely a lot on my teacher's expertise and Sonalee's research In Indian music cultures, I've heard a saying: the first ten years you'll be good enough to sing for yourself, the second ten years you can sing for your gurus and the third ten years you can sing for the audience. In our story, we highlight the stringent discipline of this culture. This actually plays into why the main character, Prema, runs away from it initially. But I believe the things you run away from are the things you run right into, sometimes. Here we have Prema, who's left her culture behind and who just wants to live a "normal" life in NYC. How interesting that she's studying history and the first thing she picks up is a book about Walter Kaufmann. And, as she's reading this book about Kaufmann, she's repeatedly questioning what it is that he found so appealing about the music she has left behind.
BWW: I watched one of the behind the scenes shorts in which the actress, who plays Prema, spoke a bit about the restrictions on women in patriarchal Indian culture and mainstream cultures in general. Would you say that Prema's life as a classical musician was made more difficult because she was a woman?
Shubhra:
Actually, it's funny because that was originally a narrative I wanted to explore heavily in the work. Then, Sonalee shed light on the findings, and I realized that women actually have a lot of power in traditional Indian music cultures. They call the shots and they are very strict in maintaining the musical cultures. These women would break the students' egos before sharing their knowledge. She pointed to the fact that the first recordings of the gramophone era were all women. At the end of these recordings, the women would always state who they were because they wanted to assert and affirm themselves. You can tell when you hear their voices, they were not to be subdued.
BWW: What's your ultimate goal for this work?Shubhra:
I definitely want there to be a proper run in NYC. The show has grown so much since we did it at TAMASHA. My dream would be to take this show to India. It would be interesting for traditional artists there to see it. After the festival in New Jersey, I definitely see a longer life for the show. As we dove into Amrit Gangar's book, Sonalee presented the idea that there could be a whole new play just based on Walter Kaufmann's life alone. I'm completely enamored by what he's done as a westerner and a refugee of World War II. It is incredible that a westerner wrote about both North Indian and South Indian ragas in his time, though most people know him for composing the All India Radio theme. He was also one of the first people to annotate music from India in Western music notation. He was already an accomplished musician and he went to a place with a completely different musical culture. I think that was destiny.
BWW: It sounds like you're trying to have a wider reach with your work, something that can appeal to both the traditionalist and also audience members who have no direct connection to certain cultures.Shubhra:
I think that's our challenge in everything we do as a theater company. We know we can attract certain audiences but we also want to have the widest reach possible. After all, Arpita and I want to show that our stories are relatable and belong in the mainstream. This is possible both in adapting other works and in bringing original work to the forefront.
Learn more about the Hypokrit Theater Company at www.hypokritnyc.org. Catch The Music In My Blood at the South Asian Theater Festival on August 5th at 4:15 PM for one evening only. Find more information about the festival here: http://2017.satf.us
Photo by Jay Mandal
Related Articles View More Off-Off-Broadway

Stories

Shows
From This Author Olga El