Olga El - Page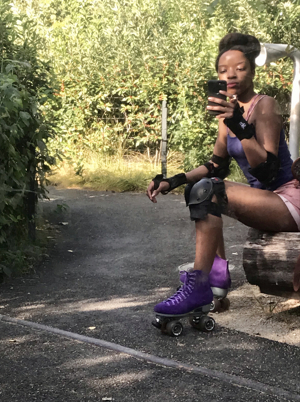 Olga El is a performance activist, writer, and director. Movement—particularly martial arts; aerial arts; and dances from North Africa, West Africa, and the Diaspora—is seamlessly interwoven into her work. In March 2011, she founded The Kandake—a dance-theatre that combines activism and community engagement with folkloric, theatrical, and experimental artistry. She has performed for HBO, BAM, PlayStation Theater, Webster Hall, House of Yes, Dixon Place, TED Med, Park Avenue Armory, The Lincoln Center, and many other venues. She wrote 1001 Nights: Love Stories on Death Row (A Rock Opera), which saw several "downtown" commissions before the full script was solicited by Off-Broadway entities The Public Theater in 2015 and MCC in 2019 (along with her new play Jaguar Woman.) These dance-heavy works form two-thirds of a trilogy of socio-political, multidisciplinary plays. She is happy to combine her love of dance and writing for Broadway World and she's particularly interested in covering works by those underepresented in mainstream theater and dance arenas.
BWW Review: Pearl Primus: Pioneer of Modern Dance, African Dance, Dance as Protest

March 12, 2020

Pearl Primus (also known as Omowale) was a pioneer of modern dance, dance as protest, and African dance in the United States. She was also cited as an inspiration by acclaimed artists such as Camille Brown, Ntozake Shange, and Jawole Willa Jo Zollar; a teacher of Judith Jamison and the Alvin Ailey American Dance Theater; a student of Martha Graham; friend of Paul Robeson; and a woman with a degree in medicine. Her medical career was thwarted by racism so she funneled her gifts to the world through the filter of dance instead.
---
BWW Preview: Werk It at the New York International Salsa Conference this Labor Day Weekend!

August 29, 2019

It may feel like early Fall outside but this weekend the New York International Salsa Conference brings the heat. The largest Latin music and dance festival celebrates its 19th anniversary at the New York Marriott Marquis in Times Square from Thursday, August 29 to Sunday, September 1, 2019.
---
Afro Brazil Arts Presents 'Dancing' Martial Arts and Music June 8 & 9

June 3, 2019

Afro Brazil Arts and the New York Mindful Capoeira Center present two spectacular shows featuring the gravity-defying Afro-Brazilian martial art Capoeira, the warrior stick-dance Maculelê, and soul-moving live music featuring master artists from Brazil, Africa, France, and the USA. The events will take place Satuday, June 8 at 2pm and Sunday, June 9 at 12pm at the Flamboyán Theater, closing a week of workshops and artist showcases at the Clemente Soto Vélez Cultural Center.
---
BWW Interview: Flamenco Superstar Sara Baras

March 7, 2019

One of the most illustrious artists from Spain, flamenco titaness Sara Baras is known around the world for her fiery grace and elegant precision. She returns to New York City Center, on March 7 - 10, with Shadows - a testament to female power and transcendence featuring La Farruca - a style of flamenco normally only performed by men. This timely and powerful work crowns Women's History Month, City Center's 75th Anniversary Season, and the 20th anniversary of her own company Ballet Flamenco Sara Baras.
---
When You Gotta Dance: 10-Day Ailey Challenge

December 11, 2018

In honor of the Alvin Ailey American Dance Theater's 60th Anniversary Celebration, happening now through December 30th at New York City Center, the corresponding dance school, The Ailey Extension, is offering a variety of deals for those wanting to move into 2019 with grace.
---
BWW Review: BellydanceBURN, All Styles Vogue, and DanceFit at Ailey

November 15, 2018

The holidays, and Alvin Ailey American Dance Theater's 60th Anniversary Celebration, are right around the corner. What better way to celebrate the season than to shimmy, sashay, and jump for joy? In addition to the 10-day dance challenge I'll be completing at the Ailey Extension later this month, I was recently invited to a special teaser session featuring truncated versions of three popular Ailey classes: BellydanceBURN, All Styles Vogue, and DanceFit.
---
BWW Interview: Otero-Pailos Captures Merce Cunningham in Dust at New York City Center

October 15, 2018

New York City Center's 75th Anniversary Season features an abundance of outstanding programming, from the 15th Fall for Dance Festival to Alvin Ailey American Dance Theater's Anniversary celebration to a gala presentation of Broadway hit A Chorus Line to Balanchine: The City Center Years featuring the best ballet companies in the world. Jorge Otero-Pailos is one of three artists who have been selected to capture the epoch in City Center's first-ever series of visual art commissions.
---
BWW Interview: Turn Up the Heat with the New York International Salsa Congress!

August 29, 2018

Packed with dance workshops, vendors and world-class performances, the Goya Foods' New York International Salsa Congress (NYISC) is a massive celebration of everything salsa that takes place from Thursday, August 30, 2018 to Sunday, September 2, 2018 at the New York Marriott Marquis in Times Square.
---
BWW Feature: Shimmying Our Way Into NYC Dance Week with Ailey

June 7, 2018

The Ailey Extension, a dance school for the public helmed by the Alvin Ailey American Dance Theater, is a partner of NYC Dance Week. It will offer over 30 free classes, in a myriad of styles, for first-time students. There will also be two free classes offered to returning students: Katherine Jimenez's New York Style Mambo class on Saturday, June 16 and Karen Arceneaux's DanceFit class on Friday, June 22.
---
BWW Interview: Max Dashu Preserves Women's Dance History

June 6, 2018

I have long been aware of Dashu's scholarship. Her extensive research fills in the gaps often left in comparative religion, world history and several other major courses of study. Her multicultural understanding of dance history, especially where women are concerned, and its role in the lifeblood of a given culture is a welcome breath of fresh air in the dance field. I was lucky to be able to interview the historian about her experiences.
---
BWW Review: From The Horse's Mouth Educates and Inspires

April 10, 2018

Created by Tina Croll and Jamie Cunningham, From The Horse's Mouth is a dance-theatre series that revolves around the lived experiences of dancers from around the globe. Its 20th Anniversary, at the 14th Street Y Theater, was a celebration of the dances of Egypt with a program honoring former prima ballerina of the Cairo Ballet Company, Dr. Magda Saleh.
---
BWW Interview: Composer and Pianist Felix Jarrar

April 3, 2018

Felix Jarrar is a 22-year-old composer and pianist whose list of accomplishments includes performances at diverse venues such as Symphony Space, (le) poisson rouge, BAM's Fisher Hillman Studio and Carnegie Hall's Weill Recital Hall. His works have been performed internationally by members of the Metropolitan Opera Orchestra, the Atlantic Music Festival Orchestra and the duo Unassisted Fold. He is currently working on his fourth opera, Tabula Rasa presented by Cantanti Project.
---
Does 'Belly Dance' Have A Place In Intersectional Feminism? Dancers of Color Speak Out!

March 21, 2018

Belly dance's roots in Eastern cultures, North African cultures in particular, is undeniable. Black and Brown dancers fill the scenes of ancient Egyptian wall paintings and of dance history gems such as Dr. Magda Saleh's 1975 documentary "Egypt Dances." So why is it so hard to find Black and Brown dancers making a name and a living for themselves in the modern belly dance scene?
---
BWW Interview: Mestre Ombrinho Inspires Youth Through Brazilian Martial Art

March 21, 2018

Michael Goldstein, better known as Mestre Ombrinho, is the director of the Capoeira Angola Quintal and the New York Mindful Capoeira Center as well as the founder of the nonprofit Afro Brazil Arts. He has over thirty years of experience teaching Capoeira to people of various ages and ability levels. His program Teen Leadership Through Mindful Capoeira inspires under-served youth to become positive leaders in their communities.
---
BWW Review: Dance Icons Misty Copeland and Carmen de Lavallade Grace Harlem Stage

November 16, 2017

The first portion of the night was dedicated to the ballet class for students representing both the Dance Theatre of Harlem and the Harlem School for the Arts. As a teacher, Copeland embodied gentle, down-to-earth authority, unopposed to getting on the floor to adjust a stance or hold up a limb. With a focus on proper technique, her descriptive breakdown of the body mechanics at work in each exercise, made the tasks easy to understand and her encouraging demeanor exuded both patience and humor.
---
BWW Review: True Love Survives After Death in DIA DE LOS MUERTOS

November 14, 2017

With its emphasis on honoring the transition of death, as well as those who have passed on and the undying power of love, Dia de los Muertos exemplifies the roots of the commercial holiday we now know as Halloween. If The Nutcracker is the go-to performance of the Winter months, Dia de los Muertos should be made canon for the Fall.
---
BWW Review: The Sweet & Sinister Wonders of the Illuminati Ball

November 8, 2017

Walking into the lobby, we were immediately engrossed in a lavish and slightly anachronistic atmosphere. Vintage brass and the chatterings of splendidly-adorned socialites filled the soundscape. My guest and I allowed ourselves to be absorbed into a crowd of masked-revelers being escorted into an unknown area, by unknown forces. Most of the night was a game of simply discovering what to do next.
---
BWW Interview: 'A Harlem Hafla' Creator Brandy Heyward

August 7, 2017

On August 12, 2017 A Harlem Hafla will take place at the Harlem School of the Arts featuring workshops by renowned North African folk dancers Donna Mejia and Somra El Nubia followed by a showcase featuring performers of color from across the U.S. I caught up with the organizer of A Harlem Hafla, Brandy Heyward, to learn more about this unique event and the inspiration behind it.
---
BWW Interview: Arpita Mukherjee and Shubhra Prakash of Hypokrit Theatre Company

July 27, 2017

Easily navigating the fusion of music, dance, multimedia and traditional theater The Hypokrit Theatre Company's mission is to 'embody the rich cultural complexity of the world we live in.' Whether reimagining Western classics with multicultural aesthetics or presenting classics from around the world to Western audiences, their work is admirable in its ability to communicate universal human experiences.
---
BWW Review: LIVING OUR MYTHOLOGIES: DIVINITY IN DANCE Presents Sacred Dances from a Myriad of Cultures

July 14, 2017

If any performance embodied the spirit and amplified it in the theater it was Otea Maka, Taura O Te Here and Otea Moena performed by Lei Pasifika and choreographed by Makalina and Carol Leogite, Mahealani Uchiyama and Moena Maiotui respectively. Filled with joyful shrieks and chirps, vigorous hip circles and accents and a rainbow of costumes, this triptych of dances was an unapologetic celebration of female energy and emotion.
---
1