Amie Enriquez's LIGHTWEIGHT Will Play 2023 FRIGID Fringe Festival This Month
Performances run February 17-26.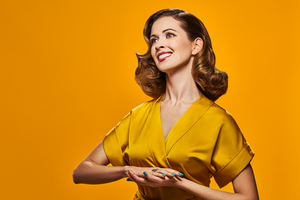 Amie Enriquez will present the solo play Lightweight, written by Amie and directed by Lauren Weedman. The production will be presented as part of the 2023 FRIGID Fringe Festival at The Kraine Theater (85 E. 4th St, New York, NY 10003) with performances on Fri, Feb 17 @ 6:50pm, Sat, Feb 18 @ 1:40pm, Tue, Feb 21 @ 8:50pm, Thu, Feb 23 @ 8:50pm & Sun, Feb 26 @ 5pm. Tickets ($15) are available for advance purchase at www.frigid.nyc. The performance will run approximately 60 minutes.
Lightweight is the darkly comedic true story of Amie Enriquez's year spent in a 28-day addiction treatment center to recover from anorexia. After a lifetime of "wanting to disappear", Amie almost does after experiencing 9/11 while living in NYC. Living in deep denial of her disease, Amie maintains a painfully cheerful disposition while navigating the inconvenient side effects of laxative abuse and dodging dinners with her pushy Italian family. When she unwillingly enters rehab, she becomes fixated on being the perfect addict... until a new patient enters treatment and turns her pseudo euphoric world upside down.
Amie Enriquez (Playwright and performer)
Amie Enriquez was born and raised in New Rochelle, NY and came to Los Angeles by way of Hawaii. A graduate of The American Academy of Dramatic Arts in NYC, Amie has studied and performed with the Second City Hollywood, The Groundlings, and has trained in puppetry with the Jim Henson Company. She works regularly on the daytime soap opera The Young and The Restless and co-hosts the podcast Banshees and Booze.
Lauren Weedman is an award-winning actress, playwright and author, and the host of the popular Moth Storytelling series in LA. Her numerous television credits include HBO's Hacks, Euphoria, and Looking as well as ABC's Abbott Elementary. She also stars in the upcoming comedic powerhouse film Spin Me Round. She is the author of published books A Woman Trapped in a Woman's Body: Tales from a Life of Cringe as well as Miss Fortune: Fresh Perspectives on Having it All From Someone Who Is Not Okay.
FRIGID Fringe Festival is an open and unjuried theatre festival that gives artists an opportunity to let their ingenuity thrive in a venue that values freedom of expression and artistic determination. In true support of the Indie Theater Community, 100% of box office proceeds go directly to the artists whose work is being presented. FRIGID is here to chill out the New York independent theatre scene's ideas of what a theatre festival can be! www.frigid.nyc