ARDOR By Matthew Gasda Runs Through March At Secret Locations Across Manhattan And Brooklyn
https://www.eventbrite.com/e/ardor-tickets-169779203167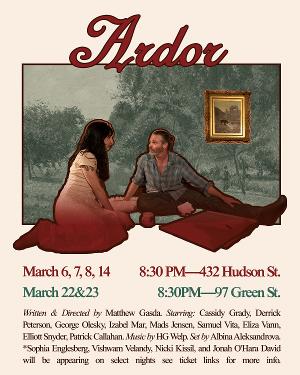 Matthew Gasda, the acclaimed underground playwright known for his boundary-pushing works like Dimes Square the play (2021) and Berlin Story (2021), has announced his latest production of "Ardor," an ambitious and poetic ensemble drama.
Appearing at the increasingly legendary underground theater space "Beckett's" in the West Village, as well as performance lofts in Brooklyn, Ardor explores the complexities of life, love, lust, death, and identity. The title, derived from the noun meaning enthusiasm or passion, perfectly encapsulates the intense emotions that the play evokes. Set in an intimate living room environment, the audience is fully immersed in the story, feeling like they are among friends. As the plot unfolds, the characters' deep yearning for love, meaning, self-discovery, and connection intensifies, leading to a gripping exploration of the choices we make and the challenges and tragedies that life inevitably throws our way. The play is a beautiful and thought-provoking piece, with poetic language and deep philosophical truths that invite the audience to reflect on the meaning of life and how to live with passion. Ardor is a must-see off-off Broadway production that showcases the exceptional talents of Gasda and the entire cast and crew.
For Gasda, who wrote and directed the play, "Ardor" is a labor of love that had been in the works for close to a decade. "This play is very personal to me," he said. "It's about the things that drive us as artists and as human beings, and the ways in which we try to connect with each other."
Gasda's reputation as a groundbreaking playwright has only grown in recent years, with his previous works earning critical acclaim and a devoted following. His latest production of "Ardor" is sure to be a must-see for theater enthusiasts and anyone interested in intimate, chamber theater of the highest order.
"Ardor" runs March 6, 7, 8, 14 at Beckett's, 432 Hudson St Manhattan, NY
March 22, 23 at The Drama Club, 97 Green St Brooklyn, NY
Tickets available here with discount code "March"
https://www.eventbrite.com/e/ardor-tickets-169779203167
Starring
Mads Jensen
Derrick Peterson
Patrick Callahan
Sophia Englesberg
Samuel Vita
Vishwam Velandy/ George Olesky (3/8)
Elliott Snyder/ Jonah O'Hara David (3/8)
Nicki Kissil /Eliza Vann (3/8)
and Izabel Mar
music by HG Welp
set by Albina Aleksandrova
paintings by Shane Daly