The Sheen Center for Thought & Culture Announces Fall 2019 Season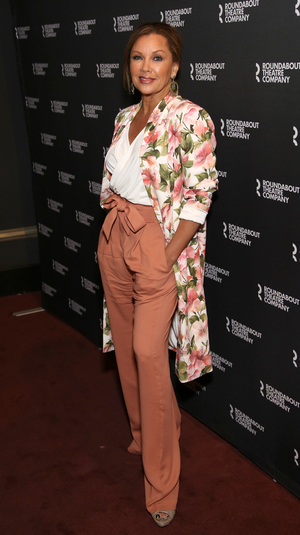 The Sheen Center for Thought & Culture has announced its 2019 Fall season, a mix of theater, film, music, author's nights, gallery exhibition, and talk events featuring artists and thought leaders including Grammy and Tony-nominated actress, singer and author Vanessa Williams; Grammy Award winner George Winston; Broadway's Ken Jennings; Kathryn Jean Lopez of the National Review; authors Randy Boyogada, Tim Carney, Mary Eberstadt and Fr. Wilson Miscamble, C.S.C.; acclaimed jazz vocal groupNew York Voices; former DC Comics president Paul Levitz; Celtic musicians Lúnasa with singer Ashley Davis; former Ambassadors to the Holy See Jim Nicholson, Miguel Diaz and Ken Hackett in conversation with America Magazine editor in chief Fr. Matt Malone, S.J.; and events tackling thought-provoking topical themes including U.S.-Vatican relations, virtue in America, faith, and the influence of Pope St. John Paul II's "Letter to Artists" 20 years after publication.
Tickets/reservations for all events at The Sheen Center for Thought & Culture (18 Bleecker Street, at the corner of Elizabeth Street) are available online at SheenCenter.org, by phone at 212-925-2812, in-person at The Sheen Center box office, or OvationTix.com.
"Our upcoming fall season consists of a diverse roster of thought-provoking programming that centers on the theme of hope," says William Spencer Reilly, Executive Director of The Sheen Center. "There are two events I would like to single out for their particular resonance with our mission. First, we are pleased to welcome award-winning Broadway actor Ken Jennings, who will be performing his one man show of The Gospel of John in our Black Box Theater during Advent. Second, Kathryn Jean Lopez of the National Review Institute will host a new series, Virtue in America, with some great thought leaders whom I know will inspire many with their keen insight into the power of hope. This is something all of us - believer or non-believer, liberal or conservative - can all use more of in this day and age. Virtue in America is a companion series to our ongoing series Civility in America which we co-produce with America Media and which will return in the spring. Here at The Sheen Center, we welcome all New Yorkers who wish to join us in celebrating the arts' ability to elevate the human spirit, reminding us of Fulton Sheen's motto that 'Life is worth living.'"
---
Highlights of the 2019 Fall Season
---
FILM
ROMERO 30TH ANNIVERSARY
September 19 at 7PM, Loreto Theater
Celebrate the 30th anniversary of this acclaimed film, starring Raúl Juliá as El Salvadorian martyr and saint Archbishop Oscar Romero. Post-screening conversation with members of the creative about the film follows. $15
I LIVED ON PARKER AVENUE
November 4 at 7PM, Loreto Theater
A short documentary about adoption, a mother's agony in choosing what's best for her child, the joy of a couple starting a family, and a young man's search for where his life began. Post-screening conversation with executive producer Benjamin Clapper and adoption advocates moderated by National Review's Kathryn Jean Lopez.$20
JUSTICE FILM FESTIVAL
November 12 - 16, Loreto Theater
The seventh annual showcase of inspirational and socially conscious feature films, documentaries and shorts, celebrating stories of social justice, unexpected courage and redemption, diverse in issues and geography. Five days of films -- many followed by a talkback with filmmakers. The festival pass allows access to all films for one low price. The full slate of films and the schedule will be announced in September.
The first film to be announced is the documentary Hesburgh, about Rev. Theodore Hesburgh, C.S.C., longtime president of the University of Notre Dame, a formidable Catholic leader amidst some of the most tumultuous times in our nation's history. The film explores his role in advancing the causes of peace and equal rights for all people alongside 20th century giants. $15 - $75
---
THEATER
AMERICAN SLAVERY PROJECT'S UNHEARD VOICES
October 15 & 16 at 11AM & 7PM in the Black Box Theater
Marking the 400th anniversary of the arrival of enslaved Africans to the Jamestown colony, the American Slavery Project's "Unheard Voices" is a monologue play with singing and drumming based on individual burials at the African Burial Ground in Lower Manhattan. Seventeen writers were commissioned by ASP to imagine and create monologues based on the lives of a handful of the 30,000 African-descended people who were interred in the burial ground where up to 30,000 African-descended people remain. There are no extant records of the free and enslaved men, women and children buried there. The writers have imagined their lives and given them voice. The Gene Alexander Peters Collection of Rare and Historical African American Artifacts will be on display in the theater lobby, including documents of sale, runaway ads, shackles, and other physical artifacts from the era. Post-show talkbacks will be led by American Slavery Project's Producing Artistic Director, Judy Tate. $30
"PLACES, EVERYONE"
Date to be announced at 7PM in the Black Box Theater
Join us at The Sheen Center for a live edition of "Places, Everyone," the podcast at the intersection of art and business. Through interviews with talented artists across stage and screen, including actors, playwrights & screenwriters, directors, and producers, this podcast explores the work of making art. Lonnie Firestone is a writer and interviewer. Her podcast "Places, Everyone" explores the balance of creativity and business through interviews with stage and screen artists. Her writing has appeared in Glamour, Vanity Fair, Tablet, American Theatre, Playbill, and Departures, among other publications. The guest and date of the event are to be announced. $25
Ken Jennings IN THE GOSPEL OF JOHN
November 30 - December 29 in the Black Box Theater
Drama Desk-winning Broadway actor Ken Jennings (Sweeney Todd, Grand Hotel, Sideshow) started memorizing the Gospel According to John as a spiritual exercise during a difficult time in his life. He always had an affinity for John's Gospel, which for him represented the intimacy of a firsthand account of the life of Jesus by a man who was actually there. So he memorized it. To make it theatrical, he made a few cuts to the Gospel for time, which he cleared with a Jesuit priest, an Episcopalian priest, a Baptist minister, and a nun of The Order of the Sacred Heart -- all encouraged him to move forward with his presentation. St. John must have told his eyewitness account over and over again before it was written down. Ken will share this Gospel with Sheen Center audiences as it might have first been heard.$60, Previews $50
---
TALK
THE POPES & THE PRESIDENTS: COMMEMORATING 35 YEARS OF DIPLOMATIC RELATIONS
BETWEEN THE HOLY SEE AND THE UNITED STATES
September 10 at 7PM in the Loreto Theater
Former Ambassadors to the Holy See Jim Nicholson, Miguel Diaz and Ken Hackett join Fr. Matt Malone, S.J., editor in chief of America Magazine to discuss the importance of U.S.-Vatican relations and its unique accomplishments it produces. $25
VIRTUE IN AMERICA: HOPE
Presented by The Sheen Center and National Review Institute
October 7 at 7PM in the Black Box Theater
Virtue? What is it and why does it still matter? In this new series, Kathryn Jean Lopez of the National Review explores the virtue of hope along with Peter Wehner, Senior Advisor to the George W. Bush administration, contributor to The New York Times Opinion section and author of The Death of Politics; Michael R. Wear, member of President Obama's faith-based initiatives outreach team and author of Reclaiming Hope; and Kristen Hanson, widow of former U.S. Marine and patients' rights advocate J.J. Hanson. $25
BATMAN AT 80: DARK KNIGHT OF THE SOUL
November 21 at 11AM at the Loreto Theater
Holy anniversary!! Come celebrate 80 years of the of the Caped Crusader in film, television and graphic novels as we explore his mythology over the past eight decades and unpack the philosophical/moral themes beneath his iconic cowl.. Featured speakers include former DC Comics president Paul Levitz and author Bradley Birzer (Batman: America's Darkest Knight). $20
SHEEN CENTER INITIATIVE FOR LIFELONG LEARNING:
20TH ANNIVERSARY CELEBRATION OF POPE ST. John Paul II'S "LETTER TO ARTISTS"
Dates to be announced in the Studio Theater
Celebrate the 20th anniversary of Pope St. John Paul II's seminal "Letter to Artists" with three lively evenings that examine the intersection of faith and art. Programming will include a screening of the new documentary Masterpieces, which profiles emerging Catholic artists -- including several Sheen Center alums -- followed by a conversation with the filmmaker and featured artists; and an evening with Rome-based art historian, Dr. Elizabeth Lev, author of How Catholic Art Saved the Faith. $10 each or all three for $25
ANNUAL FULTON SHEEN MEMORIAL LECTURE
December 9 in the Loreto Theatre
The annual celebration of the life and legacy of our namesake Archbishop Fulton J. Sheen. Speaker and time to be announced.
---
AUTHOR'S NIGHTS
A LIFE IN THE PUBLIC SQUARE: AN EVENING WITH RANDY BOYOGADA
September 27 at 7PM in Studio Theater
Join us as we commemorate the 10th anniversary of the death of one of the most influential figures in 20th Century American Catholicism, Fr. Richard John Neuhaus. Focusing on his years serving as a priest here in the Archdiocese of New York, author and biographer Randy Boyogada (Richard John Neuhaus: A Life in the Public Square) will be joined in conversation by First Things editor R.R. Reno. $15
ALIENATED AMERICA: AN EVENING WITH TIM CARNEY
October 10 at 7PM in the Studio Theater
During the 2016 presidential campaign, Donald J. Trump proclaimed, "The American Dream is dead," a message that resonated across the country. Washington Examiner editor Timothy Carney traveled around Middle America and had a startling revelation: life seems to be getting worse because citizens are facing their problems alone. Join Carney as he talks about his new book Alienated America and explains why failing social connections -- as evidenced by declining numbers in marriage, voting, church attendance, and volunteer work -- are responsible for the great divide in America. He will present a framework for leading us out of the wilderness. It will change the way you look at the challenges facing modern America. Carney will be interviewed by the National Review's Kathryn Jean Lopez. $15
PRIMAL SCREAMS: AN EVENING WITH MARY EBERSTADT
November 8 at 7PM in the Studio Theater
Who am I? The question today haunts every society in the Western world. Legions of people - especially the young - have become unmoored from a firm sense of self. How did we get here? Why have we divided against one another so bitterly? In her book Primal Screams, acclaimed cultural critic Mary Eberstadt presents the most provocative and original theory to come along in recent years. The rise of identity politics, she argues, is a direct result of the fallout of the sexual revolution. Whether you agree or not, this promises to be a thought-provoking evening. Eberstadt will be interviewed by the National Review's Kathryn Jean Lopez. $15
AMERICAN PRIEST: AN EVENING WITH FR. WILSON MISCAMBLE, C.S.C.
November date and time to be announced in the Studio Theater
Considered for many decades to be the most influential priest in America, famed Notre Dame president Rev. Theodore M. Hesburgh played what many consider pivotal roles in higher education, the Catholic Church, and national and international affairs. American Priest: The Ambitious Life and Conflicted Legacy of Notre Dame's Father Ted Hesburgh examines his life and his many and varied engagements - from the university he led for 35 years to his associations with the Vatican and the White House - and evaluates the breadth and importance of his legacy. Author and Notre Dame priest-professor Fr. Wilson D. Miscamble, C.S.C. tracks how Hesburgh transformed Catholic higher education in the postwar era and explores how he became a much-celebrated voice in America at large. Yet, beyond the hagiography that often surrounds Hesburgh's legacy, lies a more complex and challenging story. $15
---
MUSIC
MERZ TRIO SALON
September 24 at 7PM in the Loreto Theater
The Merz Trio is a bold, new, fiercely creative ensemble that will be playing an intimate and up-close concert for 35 people who will be onstage with them. Don't miss this unique opportunity to witness the extraordinary musicians of Merz Trio right in front of you. $55
AN EVENING WITH GEORGE WINSTON
December 3 & 4 at 7:30PM in the Loreto Theater
George Winston returns after two sold out shows. He will play favorite pieces spanning his five-decade career, including his new album, "Restless Wind." $40 - $75
In addition to the concerts above, there is more music programming in the CHRISTMAS listing.
---
CHRISTMAS AND SPECIAL EVENTS AT THE SHEEN CENTER
Vanessa Williams & FRIENDS
Thankful for Christmas: A Benefit for The Sheen Center for Thought & Culture
November 18 at 7:30PM in the LoretoTheater
Actress, singer, dancer, author, entrepreneur and Sheen Center board member Vanessa Williams headlines a benefit evening of music for The Sheen Center with her famous friends. Details will be announced soon but this is a celebration you don't want to miss.For information on VIP tickets and sponsorships, please contact MaryLou Pagano via email at mlpagano@sheencenter.org or by phone at 212-219-3132 x1378.
December 6 at 8PM in the Loreto Theater
Acclaimed jazz vocal group New York Voices returns with a Christmas-themed musical evening of beloved traditional and sacred classics with secular favorites, all incorporating sophisticated jazz and swing elements. $50- $60
LÚNASA: CHRISTMAS FROM IRELAND
December 7 at 8PM in the Loreto Theater
An evening of music, spoken word and entertainment from the band's Irish homeland in the days leading up to Christmas. With special guest, singer Ashley Davis. $40 - $75
SHEEN CENTER FAMILY CHRISTMAS
December 16 in the LoretoTheater
Ring in the Christmas season here at The Sheen Center with an evening of joyful music and special guests.
---
GALLERY
All exhibitions are in The Gallery (in the Elizabeth Street lobby), from 9:00 AM to 10:45 PM daily. FREE
ART OF THE ORDINARY: BEAUTY IN THE HOME
Curated by Joey Danaher & Teresa Blackman
August 6 - September 8
"I listen to the clock tick. Downstairs the thermostat has just stopped humming. God is in this room," wrote Thomas Merton. The Ordinary presents work from over twenty artists who graced the pages of the first three issues of the new publication, which was launched during the curators' artist-in-residencies at The Sheen Center. Like the art in their newspaper, the art here celebrates beauty in and around the Catholic Church by visionary artists from around the world. Through diverse art forms from prints and paintings to lamps and pillows, the goal is to lead families to a daily and ordinary encounter with beauty. The curators believe that an encounter with beauty leads to an encounter with Christ. Enjoy the show because God is in this room.
SACRED ART INSTITUTE OF ST. EDMUND'S RETREAT: A REFLECTION OF THE CREATIVE GENIUS OF GOD
September 10 - October 13
The Sacred Art Institute was founded to promote preserve and rediscover the role of sacred art in the story of salvation. Throughout its history, the Church has told the story of the Gospel through images of Creation by sacred artists. This exhibit will provide a glimpse into mission and ministry of the Sacred Art Institute of St. Edmund's Retreat. The exhibit will include examples of Byzantine iconography, illuminated manuscripts, calligraphy, stained glass, and woodcarving.
MARK BRENNAN: SPACE IN A BOX
October 16 - November 17
Mark Brennan is a member of the Openings Collective and describes his exhibition this way: "As I'm dedicating the show to my uncle who was a Servite father and wrote about Mary, my premise is that images of her changed in the 14th century: until that time, she had traditionally been portrayed wearing gold with green and red, the colors associated with earthly royalty in Europe at the time. Beginning in the late 1300s, she begins wearing blue, a more celestial color, and that in our post-Darwinian world, images of the blue sea (the source of life on earth) and the blue stars (the source of earth itself) can provide an entry point for those wishing to meditate on Mary as a mother figure."
RADICAL COURAGE AND THE FEMININE SPIRIT: THE ART OF JANET McKENZIE
November 19 - January 5, 2020
This is an intimate exhibition visually reflecting the strength and courage of diverse women who continually strive for racial and gender equality. The paintings in this exhibit pay homage to the iconic individual - a woman waiting in stillness for her child to be returned to her as many asylum seekers are experiencing and a woman offered up as sacrificial being, which is far too common worldwide. This art also includes and honors women in community with one another who bear witness - and remember. The most beloved and iconic of all mothers, Mother Mary, here with the Holy Child Jesus, is presented within a maternal triptych and, in another work, she stands with the kidnapped Nigerian (Chibok) school girls as an abiding and loving presence. This exhibition celebrating the feminine spirit was inspired into existence as a tribute to wise and visionary women who stand strong and reject prejudice and hate. May these paintings remind us of our inherent similarities rather than our differences and serve as a voice of healing justice.
---
JANUARY 2020
Looking ahead, The Sheen Center will present these shows in January 2020:
Gallery Exhibition: ARTE FOGARTE: ART BY THE BOLIVIAN CHILDREN OF ARTE FOGARTE
January 7 - February 2, 2020 in The Gallery
Arte Fogata is an art workshop project created by Brooklyn-based artist Robert Aitchison. It is currently operating in several locations in Bolivia. Aitchison teaches art workshops to children living in vulnerable communities susceptible to adverse social challenges such as homelessness, and economic poverty. Arte Fogata: Bolivia is an exhibition featuring artworks created by children participating in workshops in both Huajchilla and La Paz, Bolivia.
Theater: SISTER CALLING MY NAME
Presented by Blackfriars Repertory Theatre & The Storm Theatre
January 21 - February 16 in the Black Box Theater
An award-winning play that deals with issues of love and loss, faith and doubt, the strength of family ties, the dignity of the mentally disabled, and the possibility of personal redemption. Even in an outward disability there lies an inward artistic gift, a gift that unites, reconciles, and reveals the power of love. An unforgettable drama about the miracle of God's love.
---
Tickets/reservations for all events at The Sheen Center for Thought & Culture are available online at SheenCenter.org, by phone at 212-925-2812, or in-person at The Sheen Center box office Monday to Friday 11:00 AM to 5:00 PM.
Photo Credit: Walter McBride / WM Photos
More Hot Stories For You