Click Here for More Articles on Podcasts
The Maxamoo Podcast Discusses Five New Productions in New York City
Say Something Bunny!, Ghost Light, Sweetee, Cost of Living & Streepshow!
Liz, Jose, and Lindsay discuss five new productions beyond Broadway in New York City:
Say Something Bunny! by Alison S.M. Kobayashi at UNDO Project Space (00:36)
Ghost Light by Zach Morris from Third Rail Projects at LCT3 (08:53)
Sweetee by Gail Kriegel at Ford Foundation Studio Theatre at the Pershing Square Signature Center (27:21)
Cost of Living by Martyna Majok at Manhattan Theatre Club (36:37)
Streepshow! by Jay Stull at The Connelly Theater (44:28)
What we're looking forward to: (55:04)
God Of Obsidian by Mac Rogers at The Brick
Fulfillment Center by Abe Koogler at MTC
Assassins, music and lyrics by Stephen Sondheim and book by John Weidman at City Center
Marvin's Room by Scott McPherson at American Airlines Theatre
Betty Odessa by Kev Berry at The Tank
Works on Water presented by New Georges with 3LD Art & Technology Center and Urban Water Artists in collaboration with Guerilla Science at 3LD Art & Technology Center
(Not) Water by Sheila Callaghan at 3LD Art & Technology Center
We have merch! Buy it here, all proceeds go to improving the sound quality of our podcast.
Subscribe to Maxamoo's Theater and Performance Podcast for free on iTunes, Google Play, or Stitcher.
Comments? Feedback? Find us on Facebook and Twitter.
LISTEN TO THE EPISODE HERE:
---
About Maxamoo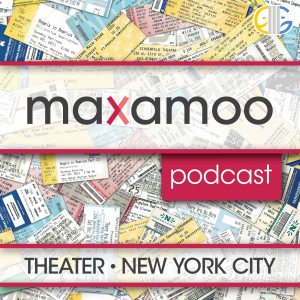 On Maxamoo's New York City Theater Podcast we cut through that chaos and just tell you: what's good, what's bad, and what we recommend.
We base our recommendations on the quality and characteristics of the production, not theater size. So the terms Broadway, Off Broadway, and Off Off Broadway (which are all technical terms describing the location and number of seats in a theater) are not important to us.
We strive to include diverse, interesting, and innovative productions, shows you're probably missing if you rely on mainstream publications like the New York Times, The New Yorker, and Time Out New York, which cover only a tiny fraction of the arts, culture, and theater world.
The best way to stay up-to-date about New York City theater is to subscribe to our podcast on iTunes or Stitcher. Maxamoo covers New York City theater through our podcast programing, including roundtable discussions on Maxamoo's New York City Theater Podcast and artist interviews on the Playwrights & Performers Podcast.
Related Articles
From This Author Maxamoo