Target Margin Theater Announces Casting, Creative Team For PAY NO ATTENTION TO THE GIRL's Debut Off-Broadway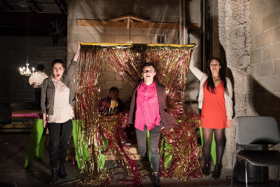 Following a five year search for a permanent home, Target Margin Theater (Founding Artistic Director David Herskovits, Associate Artistic Director Moe Yousuf, General Manager Lu Liu) is proud to present the world premiere of Pay No Attention To The Girl (March 29-April 21), which marks the Company's debut off-Broadway performances in their new 3,250 sq. ft. home in Brooklyn. Directed by Founding Artistic Director David Herskovits, Pay No Attention To The Girl is an interlocking set of tales about the deceptions of the sexes that lead us deep into the labyrinth of The Thousand and One Nights, a collection of Silk Road, MENA (Middle Eastern / North African), and South Asian stories.
Building on a body of work that includes rich, multi-faceted, explorations of works by Eugene O'Neill, William Shakespeare, Gertrude Stein, and Yiddish Theater, Pay No Attention To The Girl marks the beginning of a multi-year exploration of The Thousand and One Nights led by Target Margin and resident artists.
"In 2015, when Moe brought forward The Thousand and One Nights as potential source material, I was immediately drawn in," said Herskovits. "These tales are huge in scope, mystical, political, and problematic. We all saw them as a window into a deep humanity and a challenge to our understanding of Islamic Culture. The stories in Pay No Attention To The Girl confront gender and power head on: who controls the narrative around sexual relations, the (male) officers of the King or a slave girl? Whose story gets told, who should we pay attention to!?
"With this debut production in our new home in Brooklyn, we have assembled an extremely diverse team of performers and designers, even for Target Margin where diversity is always essential. I cannot tell anyone's story but my own-but I can open up my head and my heart to other voices; that's the exciting part. Now we have this beautiful raw box to turn into a living theater, and what a way to start."
The cast for Pay No Attention To The Girl features Caitlin Nasema Cassidy, Deepali Gupta, Anthony Vaughn Merchant, Samy el-Noury, and Lori Vega. The creative team includes Jesse Freedman (sound demon), Carolyn Mraz (sets), Kate McGee (lights) and Dina El-Aziz (costumes).
Performances ofPay No Attention To The Girl will take place March 29-April 21 (see above schedule) at Target Margin Theater's THE DOXSEE, located at 232 52nd Street in the Sunset Park section of Brooklyn. Critics are welcome as of Thursday, March 29 for an official opening on Monday, April 2 at 7:30pm. Tickets, priced at $25, can be purchased by visiting targetmargin.org or by calling 212-352-3101.
About the Cast
Caitlin Nasema Cassidy (Ensemble) is an actor-singer-theatre maker of Lebanese and Irish descent. Equity National Tours: There Is A Field, Show Boat, Joseph & The Amazing Technicolor Dreamcoat. International: Yerma (London Cockpit, Monique Wilson), Cymbeline (Shakespeare's Globe, Tom Cornford), The Ballad of Lorca (International Theatre Institute & UNESCO World Theatre Conference, Derek Goldman). Regional: Anything Goes (Williamstown, Roger Rees), Kafka's Metamorphosis (Synetic Theater Company), Paradise (Central Square Theater, Shana Gozansky). TV: "A Crime To Remember." Training: East 15 School of Acting in London and Shakespeare's Globe Theatre. www.CaitlinNCassidy.com
Deepali Gupta (Ensemble) is a composer-lyricist, playwright, and performer based in Brooklyn, NY. Recent projects as a solo artist include No Way To Say Goodbye and Over(Reverberating). Recent projects as a composer include original music for Cute Activist (Milo Cramer, dir. Morgan Green), Far Away (Caryl Churchill, dir. Annie Tippe), Ski End (Piehole, dir. Tara Ahmedinejad), and Minor Character (New Saloon, dir. Morgan Green). B.A. Brown University (Weston Award in Writing for Performance), M.F.A. Tisch (Musical Theatre Writing). Member of the BMI Advanced Musical Theatre Workshop and The Civilians' Research & Development Group. deepaligupta.net
Anthony Vaughn Merchant (Ensemble) is an Actor, Director and Fight Choreographer. Anthony has become recognized for his work in regard to classical plays. He has been nominated for an Adelco award for his role in The Tempest. He is a proud member of Epic Theatre Ensemble, Classical Theatre of Harlem, Less Than Rent and Shakespeare in the Square. Anthony can also be seen on screen, having worked with USA, HBO, Netflix and most recently SyFi. Anthony also received his MFA from UMKC where he studied Acting and Directing.
Samy el-Noury (Ensemble) is an actor, pianist, puppeteer, and vocalist. He also works as a teaching artist at Smithsonian Discovery Theater and Young Playwright's Theater. A transgender activist, Samy is on the board of the Baltimore Transgender Alliance, where he functions as a public speaker; and specializes in peer support and outreach. In 2017, Samy published his first article in The Advocate, on the challenges of being a transgender actor of color. He has since taken to Medium to publish new pieces. He aims to highlight the transgender experience. Samy is a recent transplant from Baltimore, MD and lives in Flatbush.
Lori Vega (Ensemble) is thrilled to be working with Target Margin for the first time. NYC credits include: If On A Winter's Night at The Tank, The Protest at Cherry Lane, Quartemaine's Terms at TACT, Mail Order Bride at The Beckett Theatre, La Tempestad at The (old) Ohio and Men and Women Talking Love and Sex at The Davenport Theatre. Regional: Halftime with Don at NJ Rep. Co., As You Like It with Lake Tahoe Shakespeare and Idaho Shakespeare, A Midsummer Night's Dream with Lake Tahoe Shakespeare, Romeo and Juliet with Saratoga Shakespeare, Peter Pan with Dorset Theatre Festival, The Consul, The Tramp and America's Sweetheart with Oldcastle Theatre Co. www.lorivega.net.
David Herskovits (Director) is the Founding Artistic Director of Target Margin Theater, based in Brooklyn, NY. For Target Margin, he has directed a broad range of work, classics and neglected older work, new opera and music-theater, and adaptations of history and literature for the stage. His Target Margin works have won four OBIEs and been presented nationally and internationally. He most recently directed a major production of Eugene O'Neill's Mourning Becomes Electra, after three years of development. Other notable Target Margin credits include: Gertrude Stein's Reread Another (Bushwick Starr); a two-year program of Yiddish theater from 2012 to 2014 featuring Uriel Acosta: I Want That Man! (Chocolate Factory); The Tempest (HERE) and many other Shakespeare productions; The Really Big Once (Ontological); Faust Parts I and II (Classic Stage Company); Mamba's Daughter's (HERE and Spoleto USA) and The Argument and The Dinner Party (The Kitchen).
Outside of Target Margin, Herskovits has directed a major new production of Porgy and Bess for the 2016 Spoleto Festival, Edmund Thornton Jenkins' long-lost operetta Afram Ou La Belle Swita, and a new production of Michael Gordon's Van Gogh with Bang on A Can. Other notable productions include opera by composers Pascal Dusapin, Thomas Cabaniss, Nick Brooke, Phillip Johnston, and David Soldier, and plays by Chikamatsu, O'Neill, Kleist and Marlowe. He has directed at Lincoln Center Festival, The Spoleto Festival USA, The Bonn Biennale, The Prototype Festival, Theatre for A New Audience, Institut Internationale de la Marionnette in Charleville-Mezieres, France, Cleveland Public Theater, The Kitchen, Mass MoCA, and others.
Dina El-Aziz (Costume Designer) makes her Target Margin debut with Pay No Attention to the Girl. Theatre credits include: The Doubtful Guest for LubDub Theatre Co. Bee for LES Theater, Trouble In Tahiti (Opera), for the West Side Theatre, Blood Wedding, The Last Days of Judas Iscariot, for The Atlantic Theater Company Stage 2; Freedom Riders for the New York Musical Festival at The Acorn Theater; Unity 1918, Wayward for The Lee Strasberg Theatre and Film Institute. She was Assistant Costume Designer for the Off-Broadway production of The Band's Visit for The Atlantic Theater Company. Dina received her M.F.A. from NYU Tisch School of the Arts. www.dinae.me
Jesse Freedman (Sound Demon) is a theater director, collaborator and the artistic director of Meta-Phys Ed. As a director, his work has been presented at The New Ohio, La Mama, The Connelly, Dixon Place, The Brick Theater, and the Fringe. Sound Demon (w/ Target Margin): Mourning Becomes Electra, Reread Another, Uriel Acosta: I Want that Man. DIRECTOR: Wake...Sing..., The Chronicles of Samson: Dangers of a wounded Ego, Jew Vs. Malta, Karaoke Bacchae, Chalom: A Dream Opera, Paiseau, Outside/In, Vilna's Got a Golem, Fires in the Mirror. He holds an MFA from Sarah Lawrence College.
Kate McGee(Lighting Designer) is a trans*everything lighting designer. Recent work includes: Emily's D+ Evolution World Tour Esperanza Spalding, A Hunger Artist (Sinking Ship Productions), 50/50 old school animation (Under the Radar, The Public Theater), Sound House (New Georges), My Lingerie Play (Rattlestick Playwright's Theater), The Mechanics of Love (To By For productions), Kidnap Road (La Mama) These Seven Sicknesses and Neva (Brown/Trinity Rep), Carnival of the Animals and The Bremen Town Band (The Miller Theater), The Hour of the Star adapted and directed by Dara Malina (Columbia Stages). MFA NYU Tisch, BA Oberlin College.
Carolyn Mraz (Scenic Designer) is a Brooklyn-based theater designer. As an associated artist of Target Margin, she has happily worked with David and many other Target Marginers in rewarding and fulfilling capacities over the last 10 years or so. Some favorite designs include The (*) Inn (Target Margin at Abrons Arts Center), Porgy and Bess (Spoleto), Pioneers! #GOFORTH (JACK), I'll Never Love Again (Bushwick Starr, Hewes nomination), I'll Get You Back Again (Round House), Beardo (Pipeline), and Spaceman (Loading Dock). Carolyn is an Oberlin College alum with an MFA in design from NYU/Tisch.
For over 25 years, Target Margin has been praised for its aggressive interpretations of classic texts, lesser-known works, and new plays inspired by existing sources. They exist to build a world where all people embrace the original, the challenging and the different. They challenge audiences with their plays, energetically expand the possibilities of live performance, and engage their community at all levels through partnerships and programs. The range of programming has been enormous, including classics, opera, new writing, and adaptation of literature and historical sources. The Company has served over 1,000 artists (emerging and established) through its annual LAB and is committed to nurturing the creative aspirations of the next generation of theater makers through their TMT Institute Fellowships, and Artist-in-Residence Programs.
Target Margin's artistic and cultural vision has resulted in 41 Mainstage productions including 11 world premieres, 8 company-created works, 3 U.S. premieres and 5 new translations, which have garnered 4 OBIE Awards and employed over 500 Equity actors and hundreds of other theater artists. The Company's production of Mamba's Daughters received an OBIE Award, and their epic 2004-06 production of Goethe's Faust received extensive critical acclaim. Recent productions include Uncle Vanya and The Tempest at HERE, Uriel Acosta: I Want That Man! at The Chocolate Factory, Composition...Master-Pieces...Identity, a new solo performance piece from OBIE Award-winner David Greenspan at The Connelly Theater, Drunken With What at Abrons Arts Center, Reread Another at The Brick, called "something kind of wonderful" by Ben Brantley in The New York Times, their New York Times acclaimed Iceman Lab-a radical interpretation of The Iceman Cometh at HERE, and, most recently, Mourning Becomes Electra at Abrons Arts Center, of which Laura Collins-Hughes in her New York Times Critic's Pick review said, "I didn't check my watch once in the five hours of David Herskovits's bold, astringent revival for Target Margin Theater."
Photo Credit: Audrey Want
Related Articles View More Off-Broadway

Stories

Shows
More Hot Stories For You