Click Here for More Articles on TRAINSPOTTING
TRAINSPOTTING Announces A New Block Of Tickets On Sale Through October 20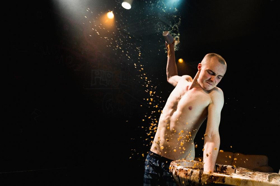 Producers Brass Jar Productions (Drunk Shakespeare) and James Seabright have announced that a new block of tickets is currently on sale for the critically acclaimed, no-holds-barred immersive production of Irvine Welsh's Trainspotting Live now through October 20, 2018. Adapted by Harry Gibson and directed by King's Head Theatre Artistic Director Adam Spreadbury-Maher, in collaboration with Greg Esplin, Trainspotting Live inhabits a custom-built immersive performance space at Roy Arias Stages (777 8th Avenue).
Set against a dynamic soundscape of 80's dance music, Trainspotting Live takes an insightful and brutally honest look at friends, Mark Renton, Tommy, Sick Boy, Begbie and Alison as they live and struggle through the Edinburgh heroin epidemic. This raw and gritty 75-minute stage experience, offers a real-life look at the effects of addiction, and all its highs and lows, while bringing to life the classic novel and globally successful film with humor, poetry, and provocatively graphic staging. Drawing strong parallels to the opioid crisis ravaging small towns and cities across America, Welsh's enduring story and characters exposes the heart of the issue and demonstrates the nondiscriminatory nature of the disease.
The cast of Trainspotting Live includes Tariq Malik as "Sick Boy," Andrew Barrett as "Renton," Tom Chandler as "Begbie," Lauren Downie as "June," Greg Esplin as "Tommy," Pia Hagen as "Alison" and Olivier Sublet as "Mother Superior."
Trainspotting Live contains nudity, very strong language, violence, sexual material, and heavy drug / needle use. The production is only recommended for audience members age 16 and over.
Trainspotting Live began performances on Thursday, July 5, 2018 and officially opened on Sunday, July 15, 2018 to rave reviews. The New York Times praised the production's "gleefully high gross-out factor," naming it "a must-see," while The Wrap referred to Harry Gibson's adaptation as "outrageously funny, boldly defying expectations of what a night of theatergoing is supposed to be." Time Out New York exclaimed that Trainspotting Live is "just the fix you need," and the Village Voice commended the "dazzling performances." Talkin' Broadway exclaimed that "Trainspotting Live is one of the most powerful theatrical pieces in the city."
The original production, which the Daily Telegraph called "a must-see" and New Musical Express dubbed "a big fat hit," recently completed a world tour, a successful run at The Vaults in London, and is currently selling out its fifth Edinburgh Fringe season. Welsh said of the all-new production, "I was shocked, and I wrote the f&*%ing thing!"
Performances of Trainspotting Live take place on Wednesdays at 2 PM and 7:30 PM, Thursdays at 7 PM, Fridays at 7:30 PM and Saturdays at 7:30 and 9:30 PM. Tickets are $55 - $89 and can be purchased online at www.TrainspottingNYC.com.
Related Articles
More Hot Stories For You