Click Here for More Articles on NEW YORK CITY
THE SPYGLASS SEVEN to Feature the Ghost of Edgar Allan Poe on Halloween Night Off-Broadway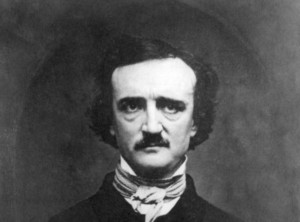 Edgar Allan Poe is coming to Off-Broadway this Halloween night in a new play about the nineteenth-century writer's life, loves and literary legacy.
The Spyglass Seven by Michael Seebold finds the spirit of Edgar Allan Poe returned to the earth for a single night to search for his soul mate, and to visit with the ghosts of those he knew in life, including his cousin and wife Virginia Clemm, his literary rival Rufus Griswold, and his first and last love, Sarah Elmira Royster. From the misty environs of a graveyard at midnight, Poe's ghost reminisces about the life behind him and contemplates what, if anything, may yet lie in store on the other side of death's opaque veil.
The play incorporates poetry and writings from Poe and several of his contemporaries, including fellow nineteenth-century poets Frances Osgood and Elizabeth Ellet, and Poe's once fiance, Sarah Helen Whitman.
The Spyglass Seven was the recipient of the 2012 Arts NC State Creative Artist Award for Playwriting at North Carolina State University, where it also received its world premiere at University Theatre in the Autumn of 2013. It is Seebold's first original work for the stage.
The play's NYC premiere this Halloween comes as the latest in an ongoing series of nineteenth-century themed productions from The Evening Crane Theatre, following their 2016-2017 season of the verse plays of Lord Byron, which included Off-Broadway productions of The Deformed Transformed, The Two Foscari, Marino Faliero Doge of Venice and Werner, or The Inheritance, as well as a two-hundredth anniversary production of Byron's signature Gothic drama Manfred this past summer.
The cast of The Spyglass Seven is led by Dillon Herbig in the role of Edgar Allan Poe and Diana Quetti in the role of Beauty. The cast also features Corey Tuccillo (Rufus Griswold), Flavia Sgoifo (Jane Stanard / Nancy Richmond), Elizabeth Cardaropoli (Sarah Helen Whitman), Sophie Mitchell (Frances Osgood), Veronica Nolte (Elizabeth Ellet), Weronika Helena Wozniak (Virginia Clemm), and Michal Birnbaum (Sarah Elmira Royster). Read more about the cast at www.eveningcrane.com.
The Spyglass Seven runs at Theatre 80 St. Marks on October 31st, after the parade. Tickets begin at $30 and are on sale now via Theatre 80's website and box office: theatre80.wordpress.com. Tickets for any seat in section B are 50% off before August 1st, with the promo code "NEVERMORE."
For updates on the production in coming months, follow The Evening Crane Theatre on Facebook at www.facebook.com/eveningcrane.