Stars Honor Nancy LaMott at 4th Annual BROADWAY'S GOT GUTS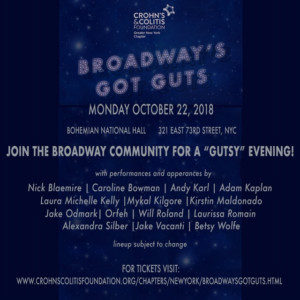 BROADWAY'S GOT GUTS The fourth annual spectacular evening of wonderful entertainment by Broadway's brightest will sing the wonderful standards and hits sung by the late, great Nancy LaMott on the 23rd anniversary of her death, to benefit the Crohn's and Colitis Foundation.
Broadway Stars Scheduled to Perform Include: Nick Blaemire (Cry-Baby), Caroline Bowman (Wicked, Kinky Boots), Adam Kaplan (A Bronx Tale, Newsies, Kinky Boots, Show Boat), Andy Karl (Pretty Woman), Mykal Kilgore (Motown the Musical, Hair) Kirstin Maldonado (Kinky Boots, Pentatonix), Jake Odmark (Kinky Boots, Spider-Man: Turn Off the Dark, Pretty Woman), Orfeh (Pretty Woman), Will Roland (Be More Chill), Laurissa Romain (South Pacific), Alexandra Silber (Fiddler on the Roof), Jake Vacanti (The Royal Family of Broadway), Betsy Wolfe (Waitress, Falsettos) and more surprise guests! (Roster subject to change).
Host: Peter Yawitz, the Nightlife- and Backstage Bistro Award-winning performer, writer and songwriter. Produced by David Friedman (Drama Desk-winning composer of the off-Broadway hit "Desperate Measures"), Sarissa Michaud, and Peter Yawitz
Music direction by Dan Rosengard. Honorees: Michael T. "Mickey" Harris, MD (Englewood Hospital & Medical Center) and John Libro (CAA Sports).
Nancy LaMott (1951-1995) was one of the greatest singers of American Popular Standards. Her remarkable career was cut short when she died twenty years ago. At age seventeen, she was diagnosed with Crohn's disease. At the height of her popularity Nancy performed at the most prestigious clubs in New York, and sang twice at the White House for President Bill Clinton and Hillary Clinton. Her recordings are loved by thousands of fans around the world. David Friedman produced all her CDs and wrote many of her songs.
CROHN'S & COLITIS FOUNDATION a non-profit, volunteer-driven organization dedicated to finding the cures for Crohn's disease and ulcerative colitis. The Greater New York chapter serves Manhattan, Brooklyn, Queens, Staten Island, and the Bronx funding research, raising awareness, and providing education and support to IBD patients and their families. Please visit http://www.crohnscolitisfoundation.org/
For event information and to purchase tickets go to http://www.crohnscolitisfoundation.org/chapters/newyork/broadwaysgotguts.html.