Review Roundup: A CLOCKWORK ORANGE at New World Stages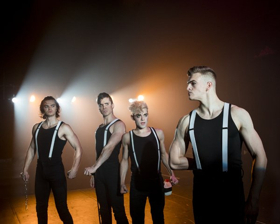 A CLOCKWORK ORANGE, director Alexandra Spencer-Jones's electrifying, critically-acclaimed stage adaption of Anthony Burgess' 1962 literary masterpiece, has released photos and video of the play's New York Premiere production, opened Monday night, September 25, 2017 at New World Stages. The 16-week Off-Broadway engagement began previews at New World Stages (340 West 50th Street) on Saturday, September 2, 2017 and will run through Saturday, January 6, 2018. BroadwayWorld has a first look at the cast in action below!
Direct from a sold-out London run, A Clockwork Orange is a groundbreaking classic of ultraviolence and sexuality, luring audiences into the glass-edged, testosterone-filled underworld of a dystopian future with the explosive story of little Alex and his rebellious gang of teenage Droogs.
The play's London star Jonno Davies (Shakespeare in Love, Midsummer Night's Dream, Dracula) makes his New York Stage debut in the role of iconic antihero Alex deLarge, alongside Matt Doyle (Sweeney Todd, Spring Awakening) as Georgie, Sean Patrick Higgins (Streetcar Named Desire at Yale Rep) as Dim, Misha Osherovich (Omen Road to Starville) as Pete, Brian Lee Huynh (War Horse, The Light Years) as Frank/Dr. Brodsky, Timothy Sekk (Dreyfus in Rehearsal, Avow) as Chaplain/Deltoid, Aleksander Varadian (Women Beware Women at Camden's People Theatre) as Marty/Warder, Ashley Robinson (Floyd Collins, Sunset Boulevard in West End) as Minister/Old Woman, Jimmy Brooks ("Blue Bloods," "Power") as F-Me Pumps/Governor and Jordan Bondurant (A Gentleman's Guide to Love and Murder, Mamma Mia!) as swing.
Let's see what the critic's had to say!
Photo Credit: Caitlin McNaney
---
HeLen Shaw, Time Out: Well, my droogs, this is a load of yarbles. Right now at New World Stages, a risible British adaptation of A Clockwork Orange is doing a bit of the old ultraviolence to its audience. Put synth-rock Beethoven on the P.A., get some fit young men to do choreography that involves whipping off their tops, and you will probably please some people. But for those who do not hanker for Chippendales studs doing dance-rapes-quick, can we have a moratorium on dance-rapes?-this Orange is rancid and confused, another sad example of an adaptation missing the point of its source material.
Dana Schwartz, Entertainment Weekly: Chances are, if you're interested in seeing a stage adaptation of A Clockwork Orange, you know what you're getting yourself into. This is a play that will raise your heart rate (for several reasons), but it left me uncertain whether it was celebrating or criticizing the testosterone-frenzy it depicts onstage. As a satire, I'm not entirely sure it succeeded, but it gave me plenty to talk about.
Jonathan Mandell, DC Theatre Scene: With the production's emphasis on superbly-coordinated ensemble dancing, it would be difficult to single out individual performances. This is true even though the cast includes such New York favorites as Matt Doyle, fresh from his acclaimed performance in Sweeney Todd, with a track record that includes starring roles on Broadway in Spring Awakening, War Horse, and Book of Mormon. He, like the rest of the cast, deserves kudos for being of high energy and in great shape, and blending together so well. But as Alex, Jonno Davies, making his New York stage debut, stands out, just as his character stands out.
Frank Scheck, The Hollywood Reporter: The sheer energy of the performers as they go through their strenuous paces must be admired, and Davis, repeating his London stage success and making his U.S. theatrical debut, is so physically charismatic you can't take your eyes off him. When his Alex is "cured" and becomes a shell of his former himself toward the end of the story, you feel an uncomfortable sympathy that makes you appreciate the sly brilliance of Burgess' writing. It's too bad so little of it otherwise comes across here.
Joe Dziemianowicz, NY Daily News: At its best, Alexandra Spender-Jones's all-male vision has energy to burn as it plays out on a spare black stage to a loud, nearly wall-to-wall score of original music and pop covers. But so much emphasis on choreographed movement backfires as it gets repetitive and muddies storytelling. Even violent acts, like one with a broken bottle, emerge like something out of Looney Tunes. In the end, Burgess' dark dystopia gets squeezed out into a pulpy "So You Think You Can Menace?"
Sara Holdren, Vulture: The result-both of the choreography and of the ensemble themselves-is to render all this violence shockingly un-shocking. First, because the movement is so crisp, so crafted, and so regular, it's impossible to feel the horror of what we know is actually happening. Long sequences occur in time to throbbing, often contemporary music, with nearly every jab, punch, and kick executed as if to the tick of a metronome (and the heart-stopping power of Beethoven, which dominates many scenes in the film, is woefully underused here). The performers eviscerate, molest, and pummel each other, but out in the audience, our guts are quite safe from any real emotional punch. There's something overly sleek, almost glib about the choreography: Should we really be allowed to witness a gang rape without ever feeling revolted or afraid?