RadiatorArts Presents THE HOLLYWOOD ADRIANA At The 2018 United Solo Theatre Festival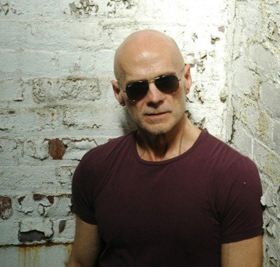 THE HOLLYWOOD ADRIANA was named One of The Top Five Events of The Week by METROSOURCE MAGAZINE when it opened the DIXON PLACE 2018 QT: RAINBOWS ACROSS THE DIASPORA reading series in January of 2018. The Hollywood Adriana has received the honor of being invited to both the world-renowned HOT! FESTIVAL at DIXON PLACE (July 2018 45-minute version), and to premiere the full script at UNITED SOLO THEATRE FESTIVAL (October 2018 90 minute duration). Hollywood Adriana is the eroticized love child of Reader's Theatre and Medieval Morality play: a poetic novella/solo performance piece designed for the stage, screen, and reader's chair. On the constructed stages of his surreal reality, Rupert's story of obsession, thwarted love, innocence lost, murder, suicide, and catharsis implodes the boundaries of time and place into a continuum of Now, unfolding through his encounters with Sarah Bernhardt, Ramon Novarro, Maya Plisetskaya, Hector Berlioz, hustlers, drag queens, and altar boys.
The Hollywood Adriana is dedicated to the memory of Silent Film icon
Ramon Novarro
(Feb 1899-Oct 1968) whose brutal murder was the inspiration for this story. The Hollywood Adriana makes a series of debuts in
Ramon Novarro
's 50th anniversary year. January saw the first reading at DIXON PLACE, July will be the HOT! FESTIVAL, while the premiere at UNITED SOLO THEATRE FESTIVAL will take place during October, the actual month of Novarro's death.
A multi-hyphenate theatre practitioner, Tadeusz von Moltke's work as artist/teacher/activist defies easy categorization: on screen as a principal in DJ Khaled/Jay Z/Future's rap video I GOT THE KEYS (platinum/EPIC RECORDS); on NYC classical stage as soloist in The American Premiere of Thea Musgrave's epic choral drama THE VOICES OF OUR ANCESTORS; on primetime TV co-starring in THE BLACKLIST (NBC) and MTV's VENUS CONCERT (writer/narrator); for Samsung/Punchdrunk's virtual reality movie creating the title role in THE MAN FROM THE SHADOWS. His solo video for Radiator Arts enhances Tamas Veszi's 20-panel installation DARK MATTER, a multimedia collaboration of protest art. In addition to THE HOLLYWOOD ADRIANA, he is writing an intellectual biography/appreciation of African American opera singer Shirley Verrett (1931-2010). Representation: Katherine Olsen, Encompass Arts.
Help fund the project by going to the link below.
https://secure.givelively.org/donate/brooklyn-arts-council/the-hollywood-adriana
Related Articles View More Off-Broadway

Stories

Shows
More Hot Stories For You