Photo Flash: Wakka Wakka Presents BABY UNIVERSE
Wakka Wakka, currently presenting the U.S. premiere of its latest original theatre piece entitled "BABY UNIVERSE (A Puppet Odyssey)," written and directed by Wakka Wakka members Kirjan Waage and Gwendolyn Warnock, has added 3 performances and 2 Talk Backs to its schedule. "BABY UNIVERSE" continues at the Baruch Performing Arts Center, 55 Lexington Avenue (enter on 25th Street just east of Lexington). Performances will now run through Sunday, January 9, 2011.
December 16 (post show Talk Back/Q&A "The Life of a Star") will feature Richard Rosenberg, President of the Amateur Astronomers Association. Mr. Rosenberg has moved from chemical engineering to applied mathematics to theoretical mathematics to computer software developer, and is now retired. The Amateur Astronomers Association is the largest astronomy club in the metropolitan area. He will discuss some of the interesting recent and not-so-recent events in the history of our solar system.
December 23 (post-show Talk Back/Q&A "Distance Measuring to Nearby Galaxies & Beyond") will feature Gerceida Jones, Ph.D. Fluid Dynamics, nominated to Who's Who in America as one of the outstanding professionals in the field of Education. She is currently a professor at NYU, her current course is "History of the Universe."
In a few billion years, the sun will swallow up the earth and the planets, and our solar system will be no more. Since time immemorial, humankind has spun tales of our own looming destruction. In the face of the fear, hopelessness and desperation such tales elicit, we have told stories of salvation. Stories of a messenger with superhuman powers offering deliverance. Stories of love and hope. "BABY UNIVERSE" is such a story. "BABY UNIVERSE" will explore the unavoidable repercussions of the way we live today. In this original piece presented with over 30 puppets ranging from 9 inches to 9 feet, masks, a Stephen Hawking inspired robot, animated video projection and a space-age score, Wakka Wakka spins the bizarre tale of "Baby Universe" - the ultimate savior, the last hope for deliverance, the messenger on whom the fate of an entire race rests.
The company of five puppeteers is: Melissa Creighton, Andrew Manjuck, Peter Russo, Kirjan Waage, and Gwendolyn Warnock. The set design is by Wakka Wakka and Joy Wang, the costume and mask design by Gwendolyn Warnock, the lighting design by Kate Leahy, the video design by Naho Taruishi, and the sound design by Brett Jarvis. The directing consultant is: Daniel Goldstein. The score for "BABY UNIVERSE" has been composed by Lars Petter Hagen. The creative producer and U.S. Executive Producer is Gabrielle Brechner.
Wakka Wakka's most recent work FABRIK: The Legend of M. Rabinowitz is about the life of the reAl Moritz Rabinowitz, an outspoken Polish-Jewish émigré to Norway, an entrepreneur who the Nazi's mistakenly dubbed "the leader of the Jewish Resistance in Norway." FABRIK opened in January 2008 at Urban Stages Theatre. The New York Times called it a "powerfully affecting production that capitalizes on the range of the art form (puppetry) and takes it to impressive heights." FABRIK has toured extensively throughout festivals, theatres and universities in Norway, the U.S. and the U.K. The production was nominated for a 2007-08 Drama Desk Award for "Unique Theatrical Experience" and was awarded a 2008 UNIMA Citation of Excellence.
"BABY UNIVERSE" is a co-production of Wakka Wakka, with Nordland Visual Theatre (where it had its World Premiere in September), in cooperation with Riksteatret.
The complete remaining schedule for "BABY UNIVERSE" (through January 9, 2011) will be: Wednesday, Thursday, Friday, Saturday, December 15, 16, 17, 18 at 8:00 p.m.; Sunday, December 19 at 2:00 and 7:00 p.m.; Tuesdays, Wednesdays, Thursdays, December 21, 22, 23, 28, 29, 30 at 8:00 p.m.; Wednesday and Thursday, January 5 and 6 at 8:00 p.m.; Friday, January 7 at 2 p.m., 8:00 p.m.; and 10:00 p.m.; Saturday, January 8 at 2:00 p.m., 8:00 p.m., and 10:00 p.m.; and Sunday, January 9 at 11:00 a.m. All tickets are $30.00, with $20.00 tickets for students and seniors. Tickets for all performances are available at 212-352-3101 (or online at www.theatermania.com).
PHOTOS BY: Jim Baldassare


BABY UNIVERSE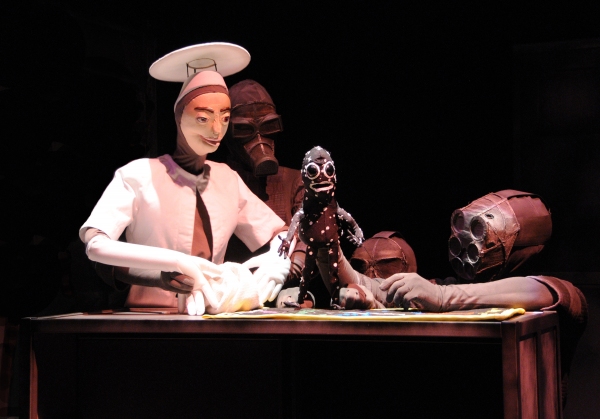 BABY UNIVERSE with his MOTHER

THE SCIENTISTS with BABY UNIVERSE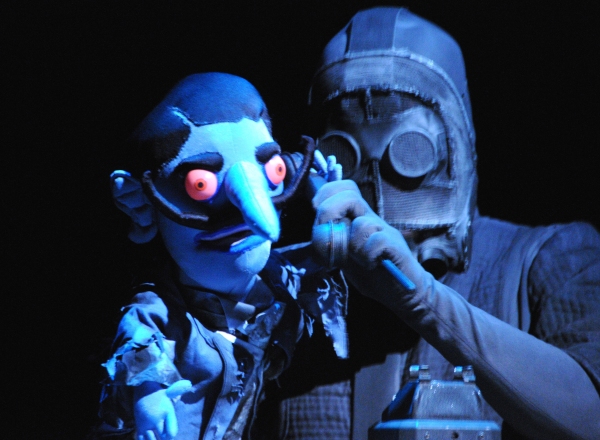 THE MOON on the phone

MOTHER with hand on mutation, BABY UNIVERSE, and MONITOR on wall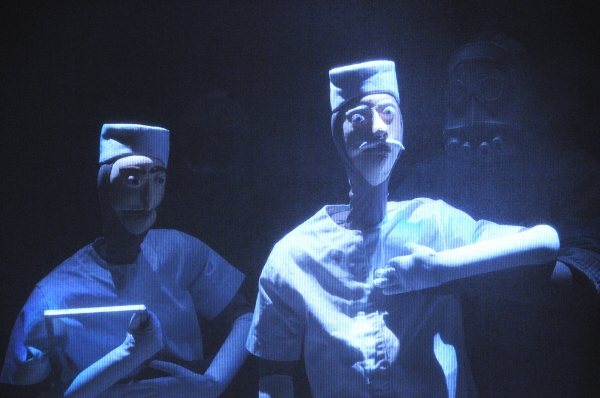 THE SCIENTISTS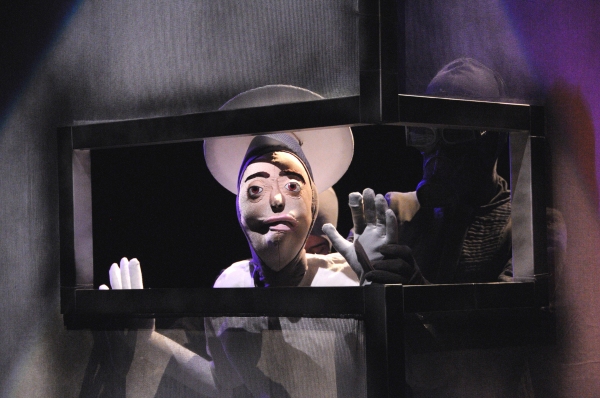 BABY UNIVERSE'S MOTHER

Upper: BABY UNIVERSE and Lower: THE MOON

THE SUN, as a dying, giant red star, and BABY UNIVERSE

THE MOON takes BABY UNIVERSE on a flight to meet The Sun

BABY UNIVERSE surrounded by the planets and a meteorite

APOCALYPSE RADIO scene with RADIO ANNOUNCER in front

MERCURY talking on the phone.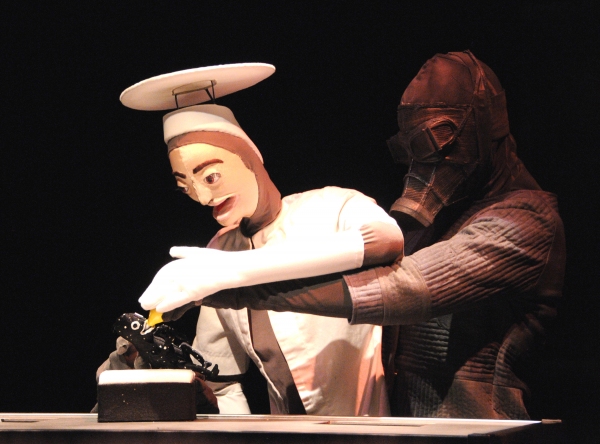 MOTHER feeding BABY UNIVERSE

THE SCIENTIST doing a dissection on an earlier version of Baby Universe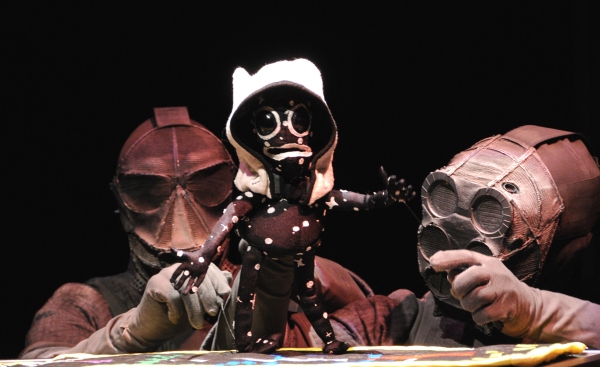 BABY UNIVERSE wearing his containment hat

More Hot Stories For You