Photo Flash: Theresa Rebeck's OUR HOUSE At Playwrights Horizons
Playwrights Horizons (Tim Sanford, Artistic Director; Leslie Marcus, Managing Director) presents the New York premiere of OUR HOUSE, a new play by Pulitzer Prize finalist Theresa Rebeck (The Butterfly Collection and Bad Dates at Playwrights Horizons, Broadway's Mauritius, co-author of Omnium Gatherum, author of the novel Three Girls and Their Brother). A scathing new comedy that shakes up Reality TV, OUR HOUSE is the final production of the theater company's 2008/2009 Season.
Directed by Tony Award winner Michael Mayer (Spring Awakening, plus The Credeaux Canvas and Baby Anger at Playwrights Horizons), the production has an Opening Night set for Tuesday, June 9 at 7PM. The limited engagement will run through Sunday, June 21 at Playwrights Horizons' Mainstage Theater (416 West 42nd Street).
The Cast features Morena Baccarin (TV's "Firefly" and "Stargate SG-1"), Katie Kreisler (Psych at Playwrights Horizons, Gone Missing, "Medium"), Stephen Kunken (Rock 'N Roll, Frost/Nixon and Proof on Broadway, Fabulation at Playwrights Horizons), Mandy Siegfried (Refuge at Playwrights Horizons, Blackbird, Stupid Kids), Jeremy Strong (Frank's Home at Playwrights Horizons, A Man for All Seasons on Broadway, Lortel nomination for New Jerusalem), Haynes Thigpen (Misalliance at Roundabout) and Obie Award winner Christopher Evan Welch (The Pain and the Itch at Playwrights Horizons, narrator of Woody Allen's Vicky Christina Barcelona, A Streetcar Named Desire at NYTW, The Marriage of Bette and Boo at Roundabout).
It's reality. Why shouldn't it be news? A cocksure TV bigshot (Christopher Evan Welch) faced with dwindling ratings installs America's favorite news anchor (Morena Baccarin) as host of a popular reality show. Meanwhile in Middle America, a houseful of roommates bicker over high-stakes real-world conflicts: Merv (Jeremy Strong) doesn't clean the bathroom. Someone ate Alice's (Katie Kreisler) yogurt. And the rent is long past due. Soon, as reality collides with Reality TV, a sobering drama becomes sexy entertainment, and we're eyewitness to a crisis that holds the nation riveted.
The production features scenic design by two-time Tony Award nominee Derek McLane, costume design by Tony Award winner Susan Hilferty, lighting design by Tony Award winner Kenneth Posner and sound design by Darron L West. Production Stage Manager is James FitzSimmons.
Playwrights Horizons' 2008/2009 Season is generously supported by The Harold and Mimi Steinberg Charitable Trust. Major support for OUR HOUSE was provided by The Blanche and Irving Laurie Foundation.
Playwrights Horizons is supported in part by public funds from the National Endowment for the Arts, the New York State Council on the Arts, the New York City Department of Cultural Affairs, the New York State Assembly and the New York State Senate. In addition, Playwrights Horizons receives major support from Carnegie Corporation of New York, Charina Endowment Fund, The Peter Jay Sharp Foundation, The Shubert Foundation and Time Warner Inc.
The performance schedule for OUR HOUSE will be Tuesdays through Fridays at 8PM, Saturdays at 2:30 & 8PM and Sundays at 2:30 & 7:30 PM. There will be an additional Monday night performance on June 8 at 8PM. Tickets, $65, may be purchased online via TicketCentral.com, by phone at (212) 279-4200 (Noon-8pm daily), or in person at the Ticket Central Box Office, 416 West 42nd Street (between Ninth & Tenth Avenues).
LIVEforFIVE, HOTtix and STUDENT RUSH are some of Playwrights Horizons' popular Arts Access initiatives, which allow the institution to reach out to those who may not be able to afford the cost of a full-price theater ticket. Playwrights Horizons is grateful to The Bank of America Charitable Foundation, lead sponsor of Arts Access at Playwrights Horizons. This program is also supported, in part, by the New York City Department of Cultural Affairs, McGraw-Hill Companies and the Elroy and Terry Krumholz Foundation.
A ticketing initiative created last season as part of the theater company's Arts Access program, LIVEforFIVE makes available $5 tickets for the first preview performance of each Playwrights Horizons production through a lottery via the company's website. 
Reflecting Playwrights Horizons' ongoing commitment to making its productions more affordable to younger audiences, the theater company will offer HOTtix, $20 rush tickets, subject to availability, day of performance only, starting one hour before showtime to patrons aged 30 and under. Proof of age required. One ticket per person, per purchase. STUDENT RUSH, $15 rush tickets, subject to availability, day of performance only, starting one hour before curtain to full-time graduate and undergraduate students. One ticket per person, per purchase. Valid student ID required.
A special open captioned performance of OUR HOUSE for theatergoers who are deaf and hard of hearing will be held on Sunday, May 31 at 2:30 PM. Funding for this program is provided, in part, by the Theodore H. Barth Foundation and the Theatre Development Fund's TAP Plus program in cooperation with the New York State Council on the Arts.
How to order tickets for the open captioned performance:
-Online: log on to www.playwrightshorizons.org
-Phone: call Ticket Central at (212) 279-4200 (Noon-8pm daily) via Relay Service (800) 421-1220
-TTY: call Ticket Central at (212) 279-4200 (noon-8pm daily) via Relay Service (800) 662-1220
-By fax: a printable order form may be found online at www.playwrightshorizons.org/tickets.html
For subscription and ticket information to all Playwrights Horizons productions, call TICKET CENTRAL at (212) 279-4200, Noon to 8PM daily, or purchase online at the Playwrights Horizons website at www.playwrightshorizons.org
Photo credit: Joan Marcus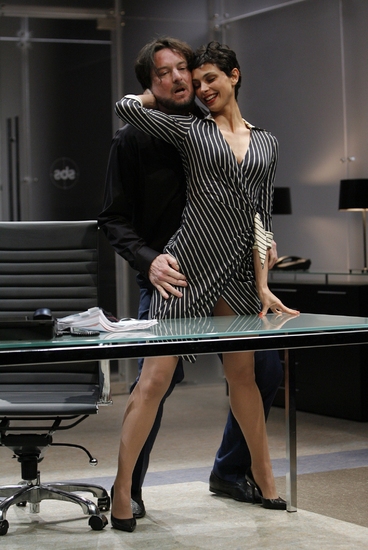 Christopher Evan Welch and Morena Baccarin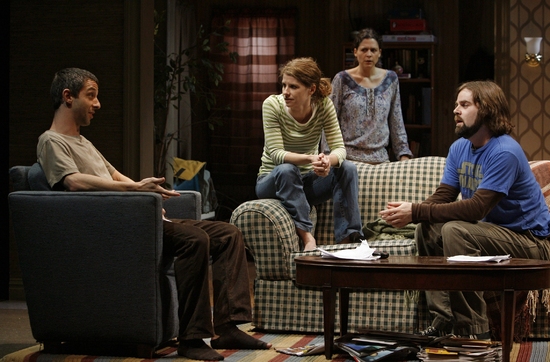 Jeremy Strong, Mandy Siegfried, Katie Kreisler and Haynes Thigpen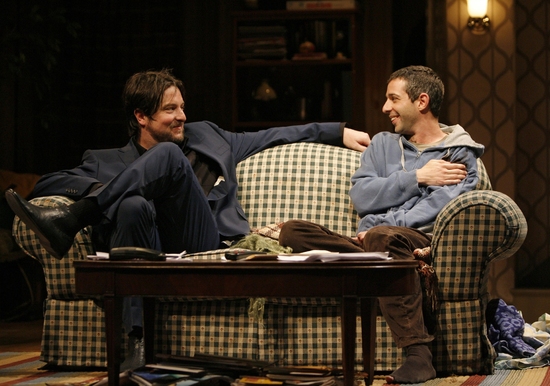 Christopher Evan Welch and Jeremy Strong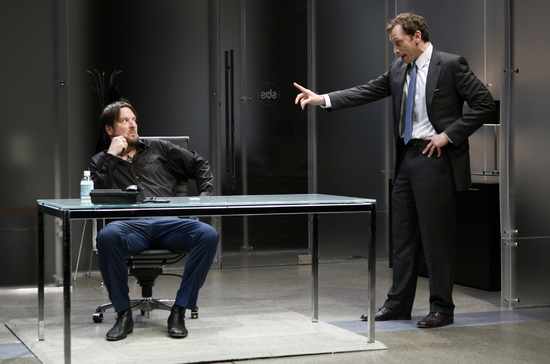 Christopher Evan Welch and Stephen Kunken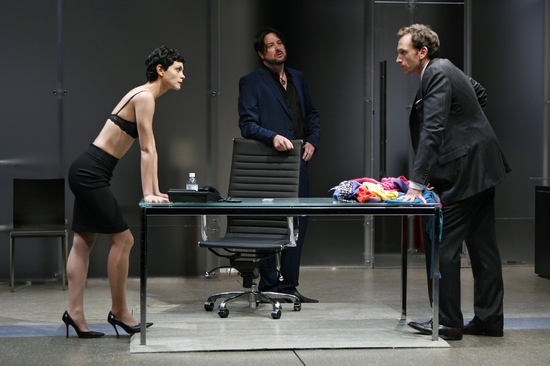 Christopher Evan Welch, Morena Baccarin, and Stephen Kunken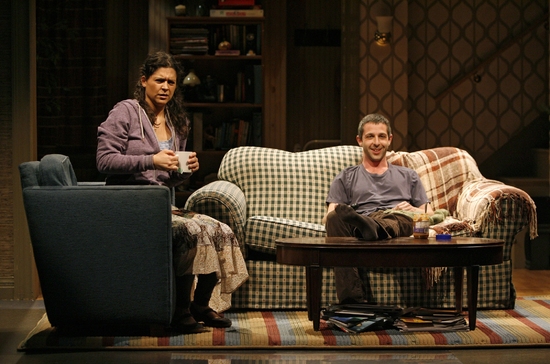 Jeremy Strong and Katie Kreisler

Christopher Evan Welch, Morena Baccarin, Jeremy Strong, Stephen Kunken, and Haynes Thigpen