Photo Flash: The Soho Playhouse Presents The New York Premiere Of Kerry Kazmierowicztrimm's WOUNDED
The Soho Playhouse presents the New York premiere Kerry Kazmierowicztrimm's WOUNDED as part of the Fringe Encore Series, featuring shows picked from Fringe Festivals all around the globe.
Originally presented at the Hollywood Fringe Festival, WOUNDED was nominated for every major Fringe award, including Top of the Fringe, Fringe First, and the Unleashed Award - and went on to win the Better Lemons Critics' Choice Award and The Female Director of Distinction Award, among others.
Critically received as "a very thought-provoking and timely play with excellent performances" (Guy Pico, FringeReview) and "a quiet, respectful examination of three intersecting lives" (Mark Hein, Theatre Ghost), WOUNDED tells the story of a woman who is the full-time caregiver for her husband after he has been severely mentally and physically injured in the Iraq war. It explores her struggle to find a balance between her own wants/needs and those of her husband, while putting the spotlight on some of the people affected by war whose stories aren't often told.
A percentage of the box office will be donated to the Veterans Yoga Project, an organization that supports recovery and resilience among our veterans, families, and communities.
All veterans and their families are invited to see the show for free by using the code VETERANS at online checkout. Please note that the show show is not suitable for children under the age of 13 and the piece does contain several triggers (loud noises, violence, and descriptions of disturbing images).
The cast includes Tanya Gorlow as ANGELICA, Kyle Felts as SAMUEL, and Scott Kuza as TOMMY. Art by Matthew Hill.
Kerry Kazmierowicztrimm is a Los Angeles-based playwright, musical theatre book-writer, lyricist and screenwriter. He's had over 140 productions of his plays and musicals performed in four countries, including three shows in L.A. in the last six months. He was a Finalist for the Eugene O'Neill Theater Center National Playwrights Conference and the David Ross Fetzer Foundation for Emerging Artists Grant, among others. For more info on his work, please visit www.kerrykaz.com
Liz Lanier is a generative theatre artist originally from Nashville, TN. Liz directed and co-wrote WOLF with Brian McLean this January for Son of Semele's Company Creation Festival. Last spring, she directed, wrote, and co-produced NARCISSUS & ECHO at the Hollywood Fringe Festival winning an ENCORE! Extension, as well as being nominated for several awards including Fringe First: World Premiere and Best of Operas and Musicals. Liz performs regularly with Trashcan Shakespeare and plays Hera on LESSER GODS, a serialized mystery podcast which you can check out at www.lessergodspodcast.com.
Tanya Gorlow (ANGELICA) is an actor, producer, and creator. Her favorite projects include HAMLET with Inner Circle Theatre, MUCH ADO ABOUT NOTHING, 12thNIGHT, ONCE UPON A PRINCE, and THE HOUSE.
Scott Kuza (TOMMY) did not pursue acting until 2007, when he landed a small role in a Mike Nichols film. Scott's acting career has steadily continued since. In the last 10 years, his work has included multiple films, as well as many national commercial campaigns. Over the past year, Scott has taken to developing his own projects; including co-producing A STEADY RAIN, and writing and co-producing his web-based series called LENNY & THE BLACKHAWK, which had its world premiere at the 2018 IFS Los Angeles Film Festival.
Kyle Felts (SAMUEL) has appeared in numerous stage and film productions during his ten years in Los Angeles. He is very excited to be working with such a talented cast, as well as the amazing people of the Fringe Encore Series.
Location: 15 Vandam St, New York, NY 10013. More information on WOUNDED and tickets are available here.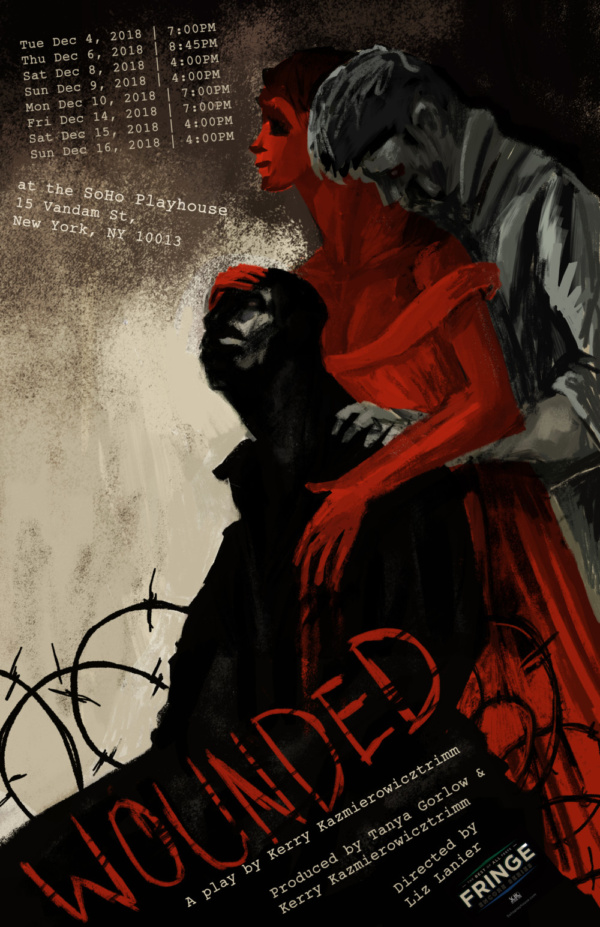 Poster art by Matthew Hill

Tanya Gorlow, Kyle Felts and Scott Kuza. Photo credit: Kerry Kazmierowicztrimm

Kyle Felts, Tanya Gorlow, and Scott Kuza. Photo credit: Kerry Kazmierowicztrimm

Kyle Felts, Scott Kuza, and Tanya Gorlow. Photo credit: Kerry Kazmierowicztrimm
More Hot Stories For You