Photo Flash: THE BLACK BOOK Celebrates Opening Night Off-Broadway
THE BLACK BOOK, a mystery thriller that challenges you to "read between the minds," premiered Off-Broadway on September 13th at the American Theatre of Actors (314 W 54th St). The play is written and directed by Phil Blechman and will will play a limited engagement through November 22. Scroll down for photos from the opening night festivities!
THE BLACK BOOK tells the story of a college student, who disguises his suicide note in a poem and leaves it in his poetry professor's classroom. The apprehensive professor, is compelled to delve into his student's past and unravel the clues within his poem in attempt to save him. THE BLACK BOOK propels you through a psychological chess game; challenging you to always stay one move ahead.
Featured in the cast are: Gabe Templin, Anto Pereira, David Siciliano, Margy Love, Sean Borderes, Haley Dean, Catie Humphreys, and Joe Reece.
The BLACK BOOK comes to Off-Broadway, after being offered a special opportunity in 2012 by The Araca Project, an initiative by The Araca Group that encourages theatre chosen alumni at select universities across America to produce their work at an Off-Off-Broadway theatre in New York City.
THE BLACK BOOK is being produced by Danny Bateman, Glo Gambino and Kate McCombs. Directed by Phil Blechman, the play's set is designed by Ann Beyersdorfer with lights by Susannah Baron, sound by Christopher Marc, and costumes by Jenn O'Brien.
The playing schedule for THE BLACK BOOK is as follows: Mondays and Sundays at 7 p.m., Wednesdays through Saturdays at 8PM. with matinees Saturdays and Sundays at 3 p.m. Tickets are $35 and are available at www.theblackbook.nyc or by calling 802-282-4289.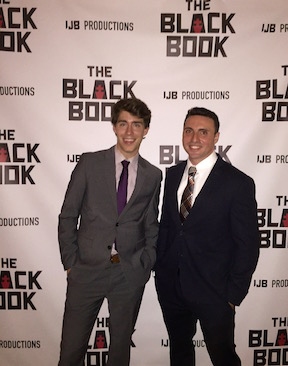 Producer of THE BLACK BOOK, Danny Bateman, and writer/ director, Phil Blechman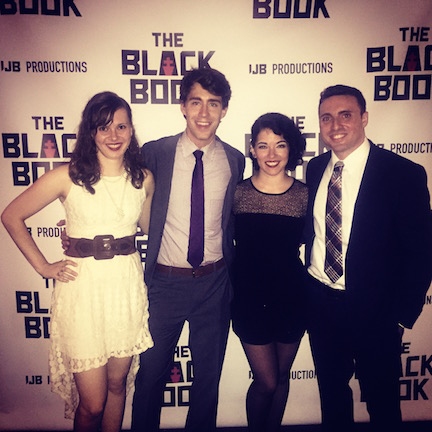 THE BLACK BOOK producers: Katherine McCombs, Danny Bateman, Glo Gambino with playwright/director Phil Blechman

THE BLACK BOOK costume designer Jennifer O'Brien and playwright/director Phil Blechman

THE BLACK BOOK scenic designer Ann Beyersdorfer and playwright/ director Phil Blechman

THE BLACK BOOK opening night cake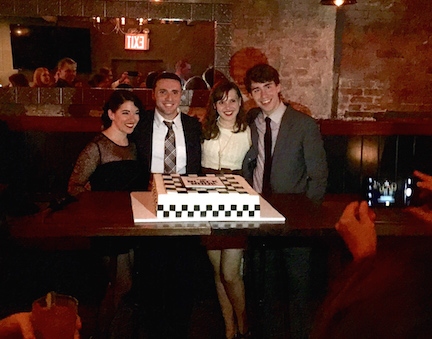 Glo Gambino, THE BLACK BOOK producer, with playwright/director Phil Blechman and fellow producers Katherine McCombs, and Danny Bateman.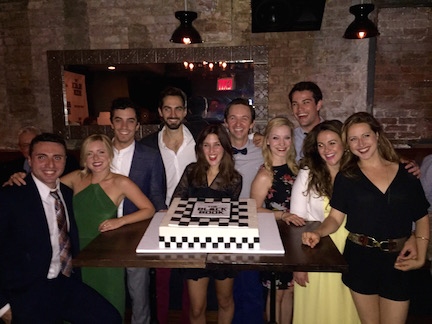 The cast of THE BLACK BOOK and playwright/ director Phil Blechman