Photo Flash: SILENCE! The Musical Celebrates 100 Performances
The original cast recording of SILENCE! The Musical was released by Sh-K-Boom/Ghostlight Records online at iTunes, Amazon.com for digital download, and available at: http://sh-k-boom.com/silencethemusical.shtml. Hard copies of the recording will be available in stores and for purchase at Amazon.com beginning January 10th.
SILENCE! The Musical also celebrates its 100th performance since beginning this summer.
The recording includes such song selections as "If I Could Smell Her C---", "Are You About a Size 14," and "Put the F--king Lotion in the Basket" and features original cast members Brent Barrett as Hannibal Lecter and Jenn Harris as Clarice Starling. Of course, enjoying the recording with fava beans and a nice Chianti is optional.
The SILENCE! The Musical cast recording is executive produced by Linda Nelson and Carolyn Inhoffer Montes and produced by Michael Croiter and Rich Affannato. Mark Hartman and Brian J. Nash are the album's co-producers. The CD was recorded, edited and mixed by Michael Croiter.
The music supervisor is Mark Hartman and music direction and orchestrations are by Brian J. Nash. The original cast recording of SILENCE! The Musical was recorded and mixed at Yellow Sound Lab in New York City.
SILENCE! The Musical, the unauthorized parody of The Silence of the Lambs, with book by Hunter Bell ([title of show]), music & lyrics by Jon and Al Kaplan, and direction & choreography by Christopher Gattelli (South Pacific, Newsies) currently stars David Garrison ("Married With Children," Wicked, Titanic) as Dr. Hannibal Lecter and Jenn Harris (Modern Orthodox) as Clarice Starling. The cast also includes Stephen Bienskie (The Last Session) as the notorious Buffalo Bill, Lucia Spina (Legally Blonde) as Catherine Martin, Deidre Goodwin (Chicago) as Ardelia Mapp. And Callan Bergmann (Lucky Guy), Pamela Bob (People Like Us), Harry Bouvy (Spamalot), Ashlee Dupré (Where's Charley?), Howard Kaye (Mamma Mia!), Topher Nuccio (Little Shop of Horrors), and Doug Trapp (Saratoga Trunk Songs).
SILENCE! The Musical is a hilarious parody based on the Academy Award winning film. Rookie FBI agent Clarice Starling matches wits with the brilliant but insane cannibal, Dr. Hannibal Lecter in order to catch the serial killer known as Buffalo Bill. Clarice faces her own demons while racing the clock to unlock Lecter's clues before another innocent girl is killed and skinned by Buffalo Bill. This laugh-out-loud naughty satire features a singing chorus of floppy eared lambs narrating the action as Buffalo Bill gleefully dances a hoedown while kidnapping hapless Catherine Martin. Even Dr. Lecter, scary as ever, sings about the life he'd like to lead someday outside the prison walls.
The New York Times cheers, "deliriously tasty," and The New York Post applauds, "Wickedly satirical, gleefully subversive" while Time Out New York declares that SILENCE! The Musical is "pungent, punchy and raunchy…will leave you wanting more" and Michael Musto of Village Voice exclaims "move over Assassins, Sweeney Todd and Capeman, there's a new killer musical in town."
Created by Jon and Al Kaplan in 2002, SILENCE! began as a collection of songs on the internet which immediately attracted a staggering number of fans. The Kaplans' subsequent screenplay SILENCE! The Musical was adapted by Hunter Bell into a live stage show, which also featured newly composed songs by the brothers. Fueled by a rabid cult following, SILENCE! shattered every box office record at the 2005 FringeNYC Festival, winning the award for Best Musical. SILENCE! The Musical met with further success in London where it garnered ecstatic reviews at the Above The Stag Theatre.
2011 marks the 20th anniversary of the release of The Silence of the Lambs film.
Set design for SILENCE! The Musical is by three-time Tony winner Scott Pask, with costume design by David Kaley, lighting design by Jeff Croiter, and sound design by Carl Casella.
SILENCE! The Musical is produced Off-Broadway by Victoria Lang, Rich Affannato and Donna Trinkoff. The playing schedule is Monday at 8pm, Tuesday at 8pm, Thursday at 8pm, Friday and Saturday at 7:30pm and 10:30pm and Sunday at 5:00pm at The 9th Space Theatre at Performance Space 122, (150 First Avenue at 9th Street). Tickets are $25 - $79 and are available by calling 212-352-3101 or through www.SilenceTheMusical.com.
Photo credit: Ritchard Druther


Jen Harris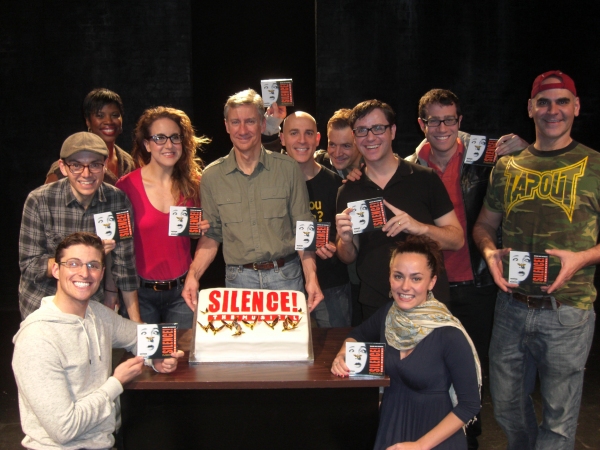 Cast and Crew of SILENCE!

The cast and crew of SILENCE!

Cast and crew of SILENCE!